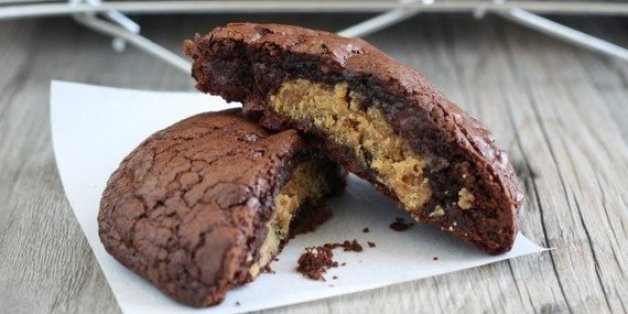 Chocolate peanut butter cookies that are so rich and deep in flavor. Fans of this classic combo will be in heaven!
When someone asks you to make a chocolate peanut butter cookie recipe, what does that mean? I decided to take a survey and got totally different answers: PB sandwich cookie with chocolate filling, chocolate cookie with peanut butter ribbon, chocolate cookie with PB chips, PB cookie with chocolate chips and glazed chocolate bottom… I concluded that there is no right answer. It just has to do with the balance of chocolate and peanut butter that you prefer.
I tried several variations before deciding to post this recipe. They all tasted good to me. Every batch was devoured by myself, family, and friends. The first batch was peanut butter cookies with chocolate chips. Yummy.
The second batch was a crispy chocolate cookie with a peanut butter filling. The chocolate flavor did not come through. (At least not in any acceptable amount to me!) Of course, that didn't stop me from eating them. Forced to make a decision, I finally decided that I wanted to really taste more chocolate.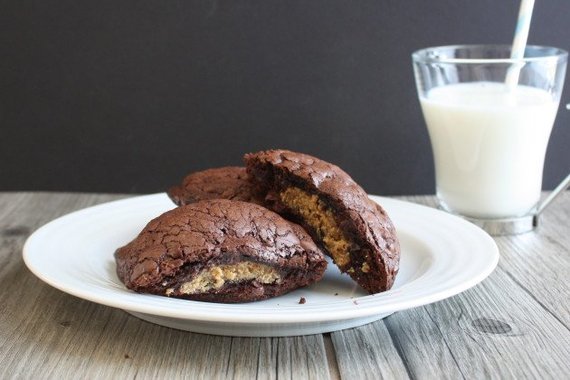 I think this cookie is the perfect balance for the chocolate lover in me. The mixture of bittersweet chocolate chips and cocoa powder give it the richest chocolate flavor you can imagine. Anything chocolate also requires a good dose of espresso to enhance chocolate's deep rich flavor. Don't worry, you can't taste the coffee. In case you have not already discovered this, coffee is a secret flavor booster for chocolate.
Have I been talking too much chocolate? Don't worry peanut butter fans, no amount of chocolate can mask the strong taste of peanut butter, especially in this cookie. A big ball of creamy peanut butter is sandwiched between two chunks of chocolate cookie batter and baked to perfection. Be warned though, these cookies are really rich and highly addictive.
We adore chocolate and peanut butter together! Don't believe us? Just take a gander at our chocolate peanut butter shortbread bars and this chocolate peanut butter pretzel bars recipe.
About Urvashee Patel
Urvashee blogs about delectable desserts on her blog,
Dessarts
. Lucky for us, she's sharing her delectable vegetarian dishes too as a
Vegetarian Fanatic
.