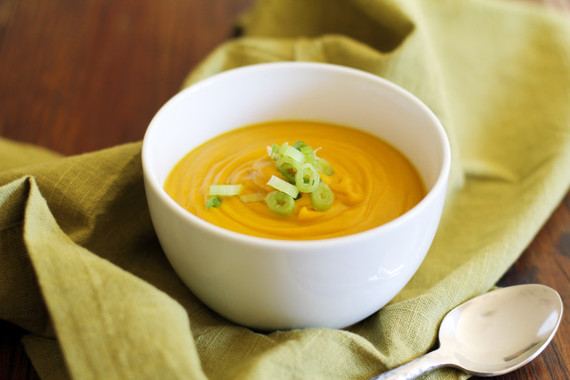 Certain foods are so well-matched, I'm convinced they somehow conspire through the soil in order to coordinate how to perfectly complement each other. Carrots and ginger are that way. The sweet, subtle flavor of carrots is perfectly offset by the creamy heat of ginger, making this an all-star combination for all sorts of foods. From smoothies to slaw, cake, or carrot ginger soup, the duo fits the bill for a match made in food heaven.
In spite of my love for all things vegetable, I figured I wouldn't care for carrot soup prior to making it. I imagined it would remind me of brown bag lunches from when I was in grade school, which included the same turkey sandwich, banana, and carrot sticks day in and day out. I'll trade you my carrots for your Twinkie -- fair? Drat.
But this soup turned out to be nothing of the sort. Instead of reminiscing on the brown-bag-days-of-yore, I reveled in the rich, creamy, flavorful, velvety texture and was thrilled that something so simple and nutritious could taste so amazing.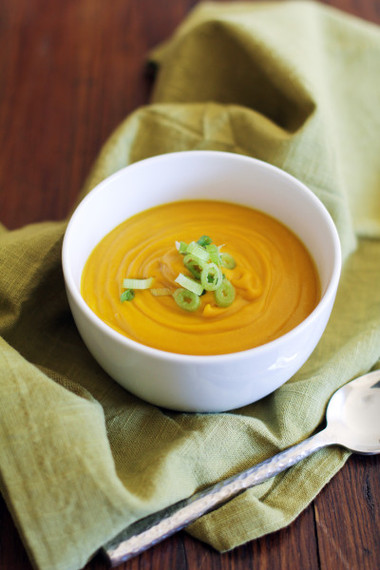 This soup is incredibly easy to make. Simply sauté the onion, carrots, garlic, and ginger with the spices, toss it all in a blender with the rest of the ingredients and blend until creamy bliss results. The warm ginger and spices bring a little heat and intrigue to the soup, and the coconut milk adds to the creamy flavor and texture, making this soup taste decadent and full of depth.
Coconut milk is a wonderful replacement for cream in many recipes, especially soups. It adds to the health benefit of the soup while contributing unique flavor. Coconut milk and Indian or Thai spices work well in a variety of creamy soups, including butternut squash soup, acorn squash soup, and this Coconut Curry Sweet Potato Soup. For those who are lactose-intolerant or simply try to limit dairy, this vegan soup is perfect!
Re-purpose those pesky carrot sticks in this carrot ginger soup recipe! If you need more to your meal, consider serving it alongside this Brussels Sprout Salad.
About Julia
Julia is known for her healthy, balanced approach to all kinds of recipes, vegetarian and meat alike, on her blog,
The Roasted Root
. She shares her commitment to delectable vegetarian dishes as a
Vegetarian
fanatic, proving that you can make the whole family happy without the need for meat.