Don't you love to see those clambake spreads on the pages of glossy magazines, seaweed and newspaper-covered beach with perfectly cooked clams, lobsters and corn? Me too! Of course how many of us can regularly dig ditches, start fires at the beach, collect seaweed and all the perfect sized rocks and then layer those delicious ingredients one by one for the perfect meal? Even if you actually had a beach to use, are you going to go to all that trouble?
Making a clam bake in your kitchen is the perfect solution! This is a cross between a low country boil and a clam bake. It uses the cooking method of the low country boil, but the traditional ingredients of a New England Clam Bake.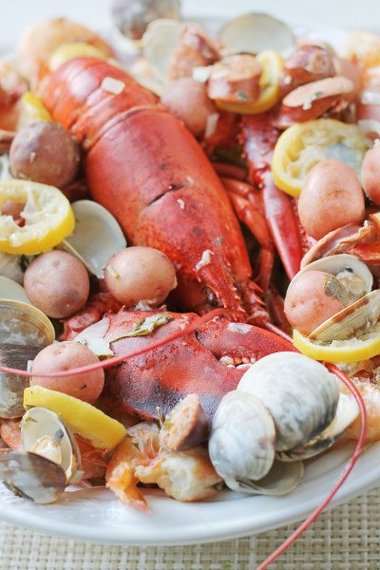 I was first inspired to make a clam bake in the kitchen by Ina Garten's Kitchen Clambake. I couldn't believe how easy and quick it was to do at home! Since then I have adapted it to work for my family including no seaweed collecting, ditch digging or sand getting on your plate.
You can vary the ingredients based on your preferences; I included littleneck clams, chorizo sausages, shrimp, small red potatoes, corn on the cob and a lobster to top it all off. This is such a versatile meal that easily feeds a crowd -- and if you have a pot large enough, you can double or triple this meal.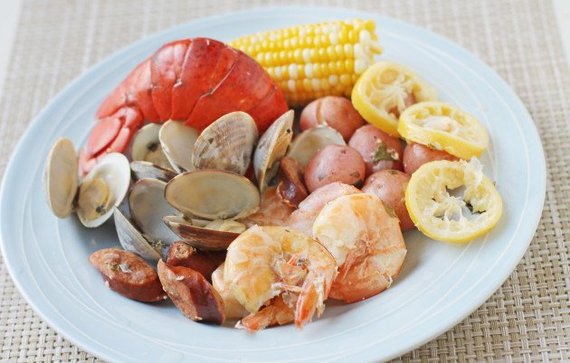 Start your meal with my Herbed Tomato Ricotta Tart while you are preparing this one pot meal. You may want a simple green salad or this Cucumber Tomato Salad for a crisp, colorful side and don't forget some warm crusty bread to soak up the delicious juices.
Finally, what better way to end this summer Sunday supper than with S'mores! Try these Grilled S'mores or a Banana S'mores Sundae for a sweet ending!
About Mary
Mary Kay is known for all sorts of lovely family meals on her blog, Homemade Cravings. Around these parts, she's known for her fabulous Sunday Suppers.