Adorable reindeer cupcakes are impossible to resist. Imagine your holiday party dessert table with a few dozen of these sweet treats!
I absolutely LOVE the month of December!! Such is my love of the holiday season that I drive my family absolutely crazy. At this point, I am pretty sure they just indulge me. I can't tell you HOW many times I've heard my husband whisper to our son, "Just do it…it means so much to your mom".
That should probably bother me, but it totally doesn't. I want all Christmas all the time, by any means possible. So?
Of course, my oven is working overtime this month. There are so many people to bake for, and so many ideas crammed in this brain of mine. There is inspiration everywhere this time of year, particularly for cupcakes. I'm always working through ideas in my mind -- swirls of frosting, candies, even the occasional cookie or pretzel stick all come together to form a picture.
It's normal to think in frosting, right?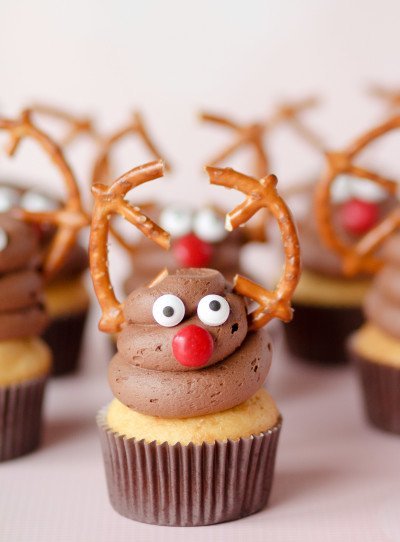 I've done Snowmen cupcakes and even North Pole cupcakes in the past, but this month, Reindeer Cupcakes were in my sights. Once I had these cute guys in my mind, I had to make them and see if they would come together as cute as I imagined. And I'm SO happy to say that they did!!
I really love it when simple and cute come together -- the less fussy the better. These Reindeer Cupcakes are nothing more than a swirl of frosting, some broken pretzel twists, sugar eyes, and a red candy nose. Completely edible and sure to bring a smile to a sweet little face!!
Imagine them on your holiday dessert table, along with Chocolate Peppermint Fondue, Homemade Candy Cane Joe Joes, and even this Red Velvet Cheesecake Brownie recipe. It'll be a festival of red, white and sprinkles. Amen.
About Kristan
Kristan is known for her candy creations and hilarity on
Confessions of a Cookbook Queen
. We know where her true genius is, though: fanciful fanatical
cupcake
creations!