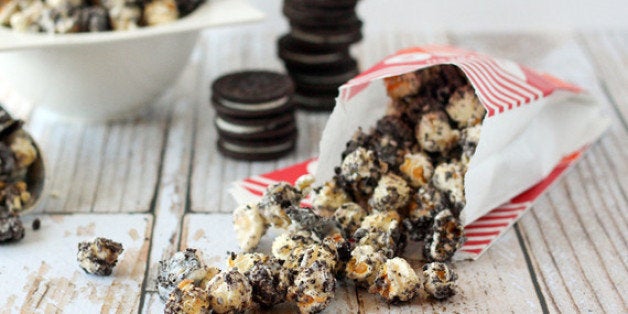 So, popcorn. I love it. These days, I take one night each week off from working. Typically Mondays. That's my TV and popcorn night. Lots of butter, lots of salt, and no work allowed. Okay, maybe I'm on Pinterest or Facebook a little, but that hardly counts. If it wouldn't make me fat, I'd eat popcorn every night. And popcorn plus Oreos? A match made in heaven.
You can call it cookies and cream, cookies 'n cream, or Oreo, but those are minor details. This stuff is gooood. I use mushroom popcorn because it pops up really big and full. Carries more white chocolate and Oreos that way, you know?
After you pop the corn, you want to make sure to pick out all the unpopped kernels. If you let your air popper preheat for a couple of minutes before popping your corn, you shouldn't have too many to pick out. It's a bit of a pain in the rear, but it's a really important step because once they are covered in white chocolate and Oreo dust, you won't see them coming until you're on the way to the dentist to fix a chipped tooth.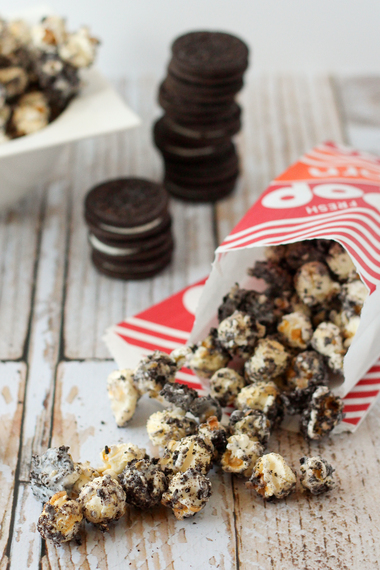 After you pick out all those little hard kernels, toss in your mini Oreo cookies. Then you'll pour over the melted white chocolate; toss it around until everything is good and coated. Then comes the best part, the crushed Oreo cookies. Sprinkle those over, give it a toss again so they stick to all that white chocolate, and then spread it on a sheet tray to harden.
If you don't want to eat this all (or don't want to let yourself eat it all), I think it would be a great gift. It would look really fun packaged up in some clear cellophane bags with some ribbon tied around the top. Who wouldn't want to get Oreo popcorn for a gift?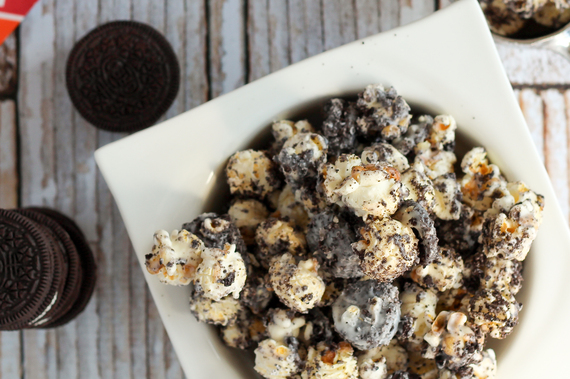 If popcorn isn't your thing... well... umm... I don't even know where to begin. If you insist on not liking popcorn, and you've still made it this far in this post, may I suggest some muddy buddies?
But really, rethink popcorn. Start with this popcorn -- I promise you'll love it.
Rachel freely admits she could eat popcorn every day on her blog Rachel Cooks. Given her love of snacks, we decided she'd be a perfect addition as a Snack Fanatic.