Pumpkin spice toffee cookies to celebrate the season of sweaters and crisp, campfire evenings. Pop them in lunchboxes for a sweet surprise.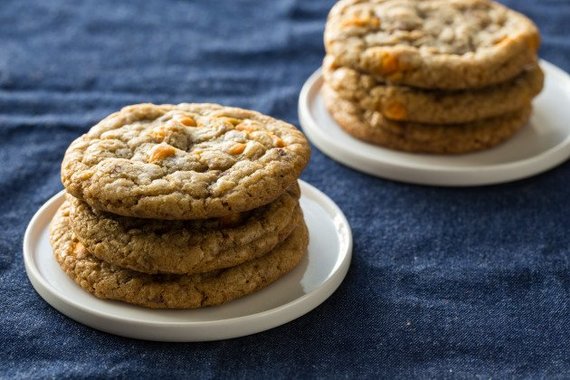 If you've found yourself at Target within the last few weeks, you've probably noticed the pumpkin spice EVERYTHING trend. This fall flavor craze has made its way into so many products, it's almost overwhelming.
I'm typically not one for food trends; however, this is one trend that I can most definitely get behind. If you follow My Baking Addiction, you know that I am obsessed with pumpkin pie spice – from September through December; it pretty much ends up in allthethings.
At the urging of my friend Amber, I found myself perusing the holiday aisles at Target for far too long. Bag after bag continuously flew off the shelves and into my cart – that's my story and I'm stickin' to it!
How could I possibly resist pumpkin spice morsels and M&M's? I was even lured in by the Pumpkin Spice Eggo Waffles – I'm telling you it's a problem. The one thing that I can't behind though is pumpkin spice gum – no, just no.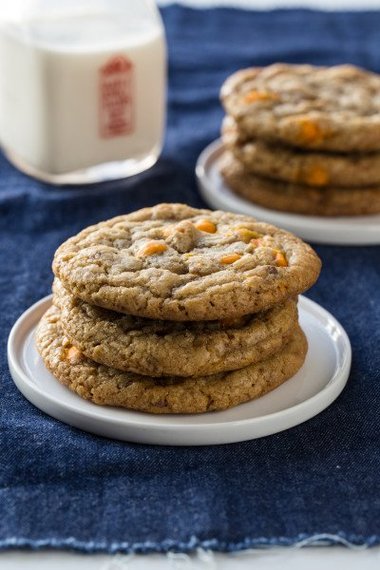 The idea for these pumpkin spice toffee cookies came about after seeing a boxed mix at Target. And even though I am SO not a box-mix snob, I thought I'd take this fun flavor combination and use it as inspiration for homemade cookies.
I started with one of my absolute favorite cookie base recipes, but instead of chocolate chips, I used Nestle Toll House pumpkin spice morsels. Now, I'll admit that I wasn't a huge fan of these morsels straight out of the bag, but I did really enjoy the sweet pumpkin spice flavor that they added to these cookies. Plus, the pop of orange really makes them quite festive.
If you're a lover of the chocolate and pumpkin combination, I'd highly recommend subbing out the toffee chips for dark chocolate chips. They were super delicious and the flecks of orange and brown make them perfect for Halloween.
If you love pumpkin as much as I do, you'll definitely want to check out this recipe for pumpkin pie muddy buddies and these incredible pumpkin cupcakes here on Food Fanatic.
Get Jamie's Pumpkin Spice Toffee Cookies Recipe on Food Fanatic now!

About Jamie
Jamie has an addiction to all things baking, as you'd guess from her blog, My Baking Addiction. She creates all things cookies just for us Food Fanatics, though.