Brownie Brittle No-bake Mini Cheesecakes are a mouthful in more ways than one! Delectable little desserts in mini size means it's okay to have two, right?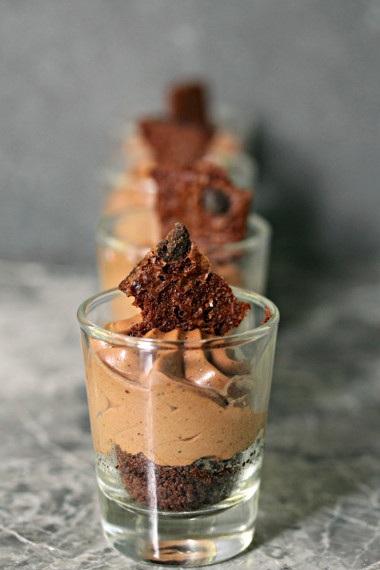 I am completely addicted to making no-bake cheesecakes. Every single summer this happens to me. It's a total obsession at this point.
There must be two dozen no-bake recipes on my site. Most of them seem to be cheesecake based. There's the odd one that's not, like my lemon icebox pie, but for the most part my blog is a sea of no-bake cheesecake again this summer.
There is a logical reason for it. Quite simply, it's hot.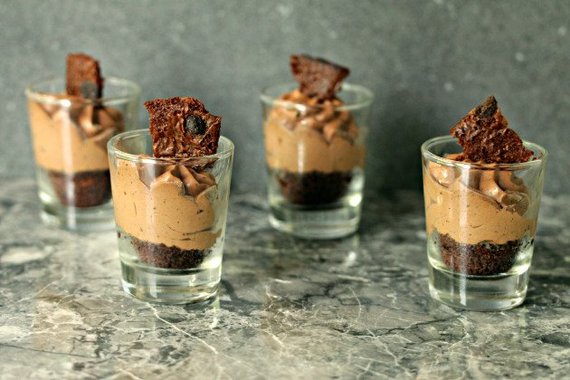 We bought my folk's home after my father passed away. I'll be honest with you, my dad was a bit of a cheapskate. He put a new air conditioner in years ago, but he had a tight budget for it, so he ended up with an A/C unit that is not big enough for the house.
We really need to invest in a new one. Our last place had a top of line unit and my house would stay as cold as Alaska. I could bake to my heart's content and the house would stay cool.
This house is a whole different story. If you turn the oven on for more than 5 minutes you may as well just kiss your day goodbye. You're going to spend the rest of it wiping sweat of your brow and griping about how hot it is.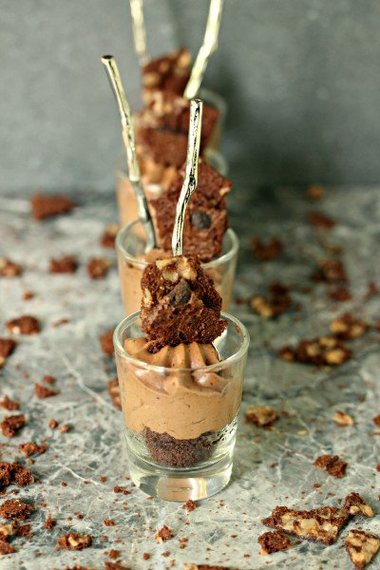 So to combat the heat, I keep my oven door shut from May until October. Then I morph into the no-bake-cheesecake-making-machine for the entire summer. Right now I have these little beauties and a pistachio and cherry no-bake cheesecake in my fridge. My life is not difficult. Not one little bit.
Now is the time I convince you to become as obsessed as I am. You must give in to your no-bake cheesecake cravings, specifically with this brownie brittle no-bake mini cheesecakes recipe. Whip up some today!
If you're anything like me, you are likely also obsessed with Brownie Brittle. If you haven't discovered it yet, you're really missing out. Go track some down, you're going to need it to make this cheesecake.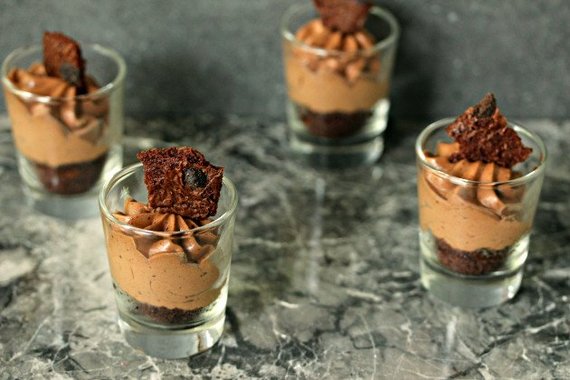 After you take your first bite, please do not try to track me down to yell at me because you gained 10 pounds eating Brownie Brittle. It happens to all of us the first time we try it. You can burn off some calories on your way to the store to buy more Brownie Brittle. See, I'm helping you. I'm a giver. You're welcome.
We're pretty sure Kim's marble bark with pistachios and fleur de sel could stand the addition of brownie brittle too. Don'cha think?


About Kim Beaulieu
Kim covers everything from desserts to grilling on her two blogs,
Cravings of A Lunatic
and
Kiss My Smoke
. At Food Fanatic, however, she's dedicated to all things
Chocolate
, and we're SO glad!