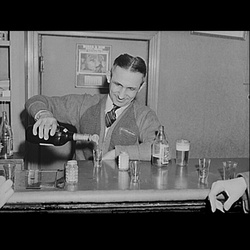 Getting on a bartender's good side can mean the difference between service with a smile, or service with a resentful spittle float. Luckily, bartenders are largely very easy to charm. All of them. All -- Julieanne Smolinski
PBR or Perrier-Jouët, it always tastes better if the person serving it genuinely cares about you, and luckily, whether they do is largely up to you.
Just because you're only there for an hour or two doesn't mean your bartender doesn't want to be your best friend. Here are a few easy tips to help you enchant the bejesus out of them.
First, show up to the bar a little drunk. This way, half of the bartender's work is already done.
If the bartender is very busy, she will need a lot of notice that you are thirsty and in need of a drink. Cough, clap, bleat. Make a windmilling gesture with your arms. Even better: Make a little cash fan to wave at her, like an elegant, antebellum debutante.
If the bartender is really slammed, he is probably very tired and in need of a little respite. Why not order something super complicated? Something with many ingredients and a lot of steps -- maybe something that requires muddling, or better yet, being gently layered from a blender. This will give him a little "me" time for quiet self-reflection.
If the bartender, however, does not seem to be very occupied, she is probably very bored and would probably like to know a little about you. If you don't want to talk about your personal life, just tell her how you think the president is doing, your feelings about rain or what actresses you think are not pretty enough to be on TV.
Remember, the bartender wants you to be happy too. A good way to let him know you're having a great time is shouting. Try something like, "I'm having a great time!" Or, "I love this song!"
View All 11 Ways to Become Besties with Your Bartender »
More from Food & Wine:
Best Cocktail Bars in the U.S.
5 Signs Your Bartender Is Doing It Wrong