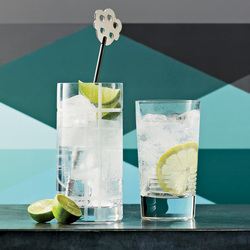 There's nothing simpler than a classic gin and tonic. But the old-school cocktail can be made fizzier, boozier and more intense. Mad genius Dave Arnold reinvented the G&T with high-tech equipment, but there are easier ways to do it at home. Here, eight ways to dress up and remake one of the world's greatest drinks.
1. DIY tonic water. If commercially produced tonic waters are too sweet for you, make your own tonic syrup, then mix it with club soda.
2. Add herbs. Chopped tarragon makes the aromatic cocktail even more deliciously herbaceous.
3. Do honeydew. Muddled honeydew is the perfect addition to a gin and tonic made with rose-and-cucumber-infused Henrick's gin.
4. Add grapefruit. Tart pink grapefruit juice and a couple of dashes of Peychaud's bitters transform the gin and tonic into a terrific cooler.
5. Make it boozier. Adding Cynar, a bitter artichoke liqueur, accentuates tonic water's natural, mouthwatering bitterness. Use a citrusy gin like Tanqueray No. Ten.
6. Spa it up. Take some inspiration from the refreshing waters served at spas and add muddled cucumber and fresh mint. It's ultra-refreshing.
7. Freeze it. Follow this recipe to make a gin and tonic sorbet. It's the ultimate gin-lover's dessert.
8. Add even more lime. In Mexico, bartenders add fresh lime juice to gin and tonics instead of simply garnishing the cocktail with a lime slice.
Photo © Lucas Allen
Related:23 Classic Cocktails
Campari Cocktails
Modern Summer Cocktails
Reinvented Class Cocktails
Beautiful Cocktails