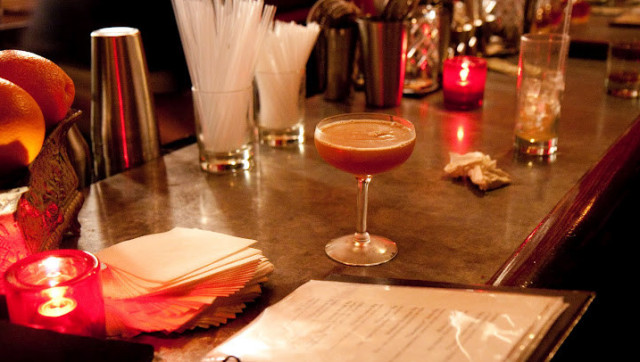 By Justine Sterling, Food & Wine
With lightly sweet flavors and a soft fizziness, hard sparkling ciders from American craft producers are a fantastic fall alternative to sparkling wine or soda water in cocktails. At Woodberry Kitchen in the Chesapeake Bay, Maryland ciders are served both by the glass and in the restaurant's locavore cocktails such as a Whiskey Smash with a semi-sweet cider produced just an hour and a half from the restaurant. "Distillery Lane's Celebration Cider is made in a style much like what our founding fathers drank in colonial times," says beverage director Corey Polyoka. "They press whole apples in an old wooden press and ferment it completely dry (until all sugar has been converted to alcohol)."
Slideshow: America's Best Bars
Polyoka preps his version of a Whiskey Smash in the reverse order of most fizzes. Bartenders mix housemade bitters and sparkling cider into a tumbler with three large ice cubes. Then they shake high proof bourbon, local honey, fresh lemon juice and rosemary and add it to the glass. "Normally cocktails are made up of tastes from around the world--cordials from Europe, spirits from all over, yuzu, all these crazy citruses," Polyoka says. "This cocktail's flavors have a sense of place."
PHOTO GALLERY
American Sparkling Cider Cocktails
More from Food & Wine:
More of America's Best Cocktail Bars
America's Best Beer Bars
Best Pizza Places in the U.S.
Best Burgers in the U.S.
Best Fried Chicken in the U.S.