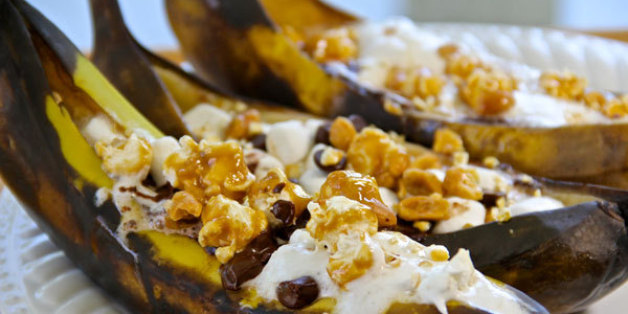 I was 25 years old when I experienced my first grilled banana boat. I'll never forget the warm summer evening, where my friend Justin Green looked over the backyard fire pit we congregated around and asked, "Elie, you ever had a banana boat?"
With the remnants of s'mores in my mouth and melted marshmallows still sticking to my fingertips, I defeatedly admitted, "What's a banana boat?"
Recognizing the opportunity to blow my mind with such a simple dessert from his childhood camping days, he explained the process at a high level: slit open a banana lengthwise, pile in marshmallows and chocolate chips, seal the banana up in foil while still in its original peel, and throw it on the fire.
I was blown away. The banana's peel was dark and brown, but what remained of the interior was a juicy, caramelized banana topped with gooey marshmallow and melted chocolate. I'll never forget the experience, and it inspired me to see what other desserts I could cook on the grill. The result?
These three super easy, impressive and warm desserts you can cook on the grill in just a couple minutes:
Ingredients:
6 ripe large bananas, unpeeled
6 tablespoons chocolate chips
6 tablespoons miniature marshmallows
Crunch 'n Munch Buttery Toffee (Orville Redenbacher's Gourmet Kettle Korn Microwave Popcorn is an awesome alternative)
Directions:
Cut 6 (12-inch) sheets of heavy-duty foil. Heat gas or charcoal grill
With a sharp knife, make deep lengthwise cut inside curve of each banana, careful not to cut all the way through. Open slit to form a pocket. Crimp and shape 1 sheet of foil around each banana, forming boats.
Hold each banana in hand, fill pocket with 2 tablespoons chocolate chips, 2 tablespoons marshmallows and sprinkle some Crunch 'n Munch Buttery Toffee or Orville Redenbacher's Gourmet Kettle Korn Microwave Popcorn
Return each banana to its foil boat. Seal top of foil, leaving 2 - 3 inches headspace. Place on grill over medium heat. Cover grill; cook 8 to 10 minutes or until marshmallows soften.
Banana peel will turn black when heated -- no worries, the dessert will still taste awesome
Ingredients:
6 Flour Tortillas
2 Tablespoons butter, softened
2 teaspoons butter, softened
2 teaspoons cinnamon sugar
2 large ripe bananas, sliced
1 cup semi-sweet chocolate chips
2 cups miniature marshmallows
1 tablespoon Peter Pan Peanut Butter
1 can Reddi-wip Original
Directions
Get the tortillas on the grill and let them get warm using a low heat
Remove tortillas to a work surface, lightly brush each tortilla on 1 side with butter and sprinkle lightly with cinnamon sugar
Top half of the buttered side of each tortilla with some of the banana slices, chocolate chips, light spread of peanut butter, and marshmallows
Fold the other half over the gilled half, pressing lightly
Use a spatula to place each taco on the grill rack until lightly browned, and crispy to your liking. The chocolate and marshmallows should be starting to melt, flip halfway through the cooking time
Top with Reddi-wip. Devour
Ingredients:
1 pint fresh strawberries, stems removed (cut large strawberries in half if needed)
1/2 store-bought angel food cake
3 tablespoons sweetened condensed milk
1 can Reddi-wip Original
Chocolate chips
8 wooden skewers
1 can PAM Grill Spray
Directions:
Soak skewers in water for 15 minutes; remove and pat dry. Spray grill with PAM. Preheat to medium heat.
Cut angel food cake into 1 1/2-inch cubes. Brush each cube lightly with sweetened condensed milk (keeps the cake from drying out, gives a nice sweet crust). Start skewering the strawberries and cake cubes, alternating at your discretion.
Insert chocolate chips randomly into each piece of cake for your guests as a surprise. Don't put them in all, leave them guessing!
Place them on the grill, turn every 30 seconds until all the sides get good grillmarks.
Once ready, serve them with the Reddi-wip 

ASAP

Brag on Pinterest