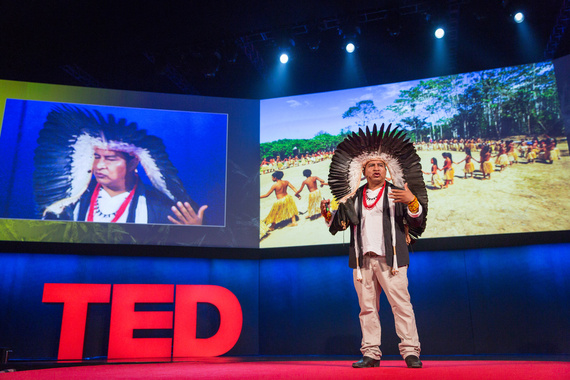 Tashka Yawanawá at TEDGlobal 2014 (photo courtesy of TED)
As a boy, Tashka Yawanawá watched as the culture of his people was nearly wiped out by outsiders. Now, he is the chief of those people, the Yawanawá, of the Rio Gregório Indigenous Territory in the state of Acre, Brazil, and this week he was a speaker at one of the largest conferences in the world, TEDGlobal 2014.
Click here to follow the talks: http://conferences.ted.com/TEDGlobal2014/.
Tashka joins the ranks of past TED speakers like Bill Gates and Jane Goodall. The motto of TED is "Ideas Worth Spreading," with participant speakers sharing ideas in short presentations of 18 minutes or less. The conference this year, which opened Oct. 6 and runs through Oct. 10, is called "South!", takes place in Rio de Janeiro, Brazil, and features speakers and performers from all over the world, addressing a wide range of topics -- from heritage food, samba music and painting favelas to cancer detection.
Of the 65 speakers at the conference, he is the only indigenous person presenting. Wearing traditional headdress and jewelry made by members of his community, he opened his talk on Tuesday with a song, as is traditional in his community, and then told the story of his people.
The Yawanawá were nearly annihilated last century by rubber tappers and missionaries bent on exterminating Yawanawá spirituality and culture. "They were treating us like children," he explained. "As if we were not responsible for ourselves, for our futures." Tashka left his community as a young man to study in the United States and returned determined to help his people recover from the near-fatal blow to their existence. Eventually, he became leader of the community.
Tashka and his wife, Laura, have worked to secure the Yawanawá territory, rejuvenate the culture, and develop socially and economically empowering relationships with select outside actors. In his presentation, he described how difficult the process has been, especially given the Brazilian government's reluctance to recognize the rights of indigenous people.
In Latin America and the Caribbean, there are roughly 40,000,000 people who belong to close to 600 indigenous groups. Their stories, like Tashka's, are heart-wrenching, profound, and at their core, hopeful, particularly as their worlds intersect with the issue of climate change.
Tashka is particularly interested in advancing a new model of sustainability that allows the Yawanawá to both protect their home, the rainforest, and engage on equitable footing with the outside world. Such a model is a valuable tool in response to the problem of climate change, a topic about which many people are confused, polarized, or entrenched in outdated ways of thinking.
Tashka described how the rainforest is a vital part of our Earth and should be protected. "[The rainforest is] for every human being," he said. "When you walk in the rainforest you feel peace and harmony."
Tashka's TED presentation has come just months before Lima, Peru, is set to host the international climate negotiations at COP 20, and global focus will laser in on identifying opportunities for climate policy and finance to align with other public and private investments and commitments -- with the goal of ensuring that forests and other ecosystems continue to provide critical support for stable climate and resilient societies.
"We are all connected," said Tashka. "Whatever you do affects me, whatever I do affects you. We have to take care of each other."
Note: This article has been updated since its original publication.
This report was filed by Ann Clark Espuelas. Follow her on Twitter.