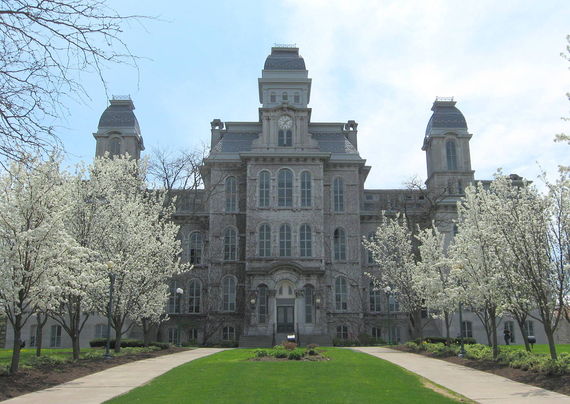 Syracuse University, Hall of Languages
Students at my alma mater, Syracuse University (SU), showed true school spirit recently by rallying to convince university officials to rid the college's $1.2 billion endowment of the fossil fuel industry and make smarter investment decisions that take into account what's best for our planet.
The organizing group, Divest SU and ESF (State University of New York College of Environmental Science and Forestry), is dedicated to encouraging the two universities to withdraw investments from the top 200 fossil fuel companies. Group members started a social media campaign, wrote letters to the editors of local Syracuse newspapers, and held a campus rally late last September to pressure the administration to divest.
But so far, Syracuse University officials have resisted the pressure--despite firm divestiture resolutions adopted by student associations. The members of the Socially Responsible Investment Matters Committee declined to strip fossil fuels from the endowment after concluding that such a move would not be practical or fiscally prudent.
Students at other universities have successfully instigated changes. Stanford University announced in May of last year that it will not make direct investments of its $18.7 billion endowment in publicly traded companies focused on coal mining. The university's investment advisors cited the findings of the United Nations' Intergovernmental Panel on Climate Change (IPCC) report about the fossil fuel sector's contribution to the climate change problem, as well as the fact that the use of coal for electricity generates high greenhouse gas (GHG) emissions and that cleaner alternatives are sufficiently available.
Suing for Change
The divestment battle is far from over. In November, a group of Harvard law students and undergraduates--relying on unique legal theories--sued the university over its refusal to rid the school's endowment of fossil fuel investments. A successful lawsuit against Harvard could change the game completely. The university's endowment, which is the largest of any university and surpasses the gross domestic product of many countries, experienced returns of 15.4% in the last year and now stands at $36.4 billion.
Environmentalist Bill McKibben is known as the grandfather of the divestiture movement here in the United States, but students have really carried the banner for change. These students have the right idea. Every dollar moved out of funds that support fossil fuels to renewable energy and forest conservation is a step in the right direction.
Models of Divestment
I wish I could have been in Syracuse to join that late September rally. But I was in New York City covering the People's Climate March and the UN Climate Summit. And there was plenty of action on the divestiture front in the Big Apple. One day before the Summit, the Rockefeller Brothers Fund (RBF)--a foundation whose endowment was built on donations from John D. Rockefeller's Standard Oil Company--announced plans to divest from investments in fossil fuels.
RBF's effort starts immediately by limiting the fund's exposure to coal and tar sands, with a goal to reduce these investments to less than 1% of the total portfolio by the end of this year. The fund will commit 10% of its $868 million endowment to investments consistent with the foundation's sustainable development program goals to advance energy efficiency, decrease dependence on fossil fuels, and mitigate the effects of climate change. The fund's commitment helped the divestiture movement achieve a major milestone: schools, cities, foundations, and religious institutions accounting for $50 billion in total assets pledged to disassociate from fossil fuels.
RBF joined a list of 181 institutions and local governments, as well as thousands of individuals who have pledged to divest from fossil fuels. But the Fossil Free Campaign aims to further build on the momentum generated from the People's Climate March by launching Global Divestment Day next month, on February 13, to encourage more organizations to join the cause. The organizers see divestment as a key strategy in the lead-up to the United Nations climate talks in Paris in December.
Out of Fossil Fuels--and Into Forests
But the movement is not just about divesting from these fossil fuel entities. It's about making sure that these investments are directed toward companies and projects that can help stave off catastrophic climate change. Forest Trends, an international nonprofit based in D.C., is doing its part to ensure that investments flow in the right direction.
Reducing deforestation, which causes an estimated 15-17% of GHG emissions, is a critical element to any climate change plan, as the latest IPCC report makes abundantly clear. Rajendra Pachauri, IPCC chairman, noted that this report was "essentially the first time that we have given so much importance to forestry and we have clearly stated that if we want to limit climate change to 2 degrees Celsius we have to stop deforestation and expand forest area."
However, figuring out a way to pay for the emissions reductions associated with limiting tropical deforestation is a constant challenge. Tropical forest countries, dealing with fiscal constraints and conflicting spending priorities, are struggling to meet the upfront costs of conservation, improved agriculture productivity and low-emissions rural development. Countries such as Germany and Norway have pledged billions of dollars to these efforts, but public dollars are generally limited. The private sector has traditionally participated in the financing of these projects through the voluntary carbon markets, but these contributions fall far short of what is needed to address the problem.
Forest Trends has moved to fill the financing void by creating innovative financial tools to help carbon, biodiversity, and water markets work for conservation and sustainability. Building on the momentum behind investments in green bonds--designed to encourage money to flow to projects that have environmental benefits, such as renewable energy--Forest Trends' staffers developed a new financial mechanism to allow tropical forest country governments to invest in sustainable agriculture and forest conservation at a much lower cost of capital. This solution brings governments, donors, and private-sector actors together to support emissions reduction projects in countries with sprawling forest lands.

If even a fraction of the $50 billion so far divested from the fossil fuel industry could be redirected toward forest conservation, it would make a world of difference for the future of our planet. The students marching in Syracuse that day get this. Forest Trends does, too.
This report was filed by Gloria Gonzalez. Follow her on Twitter.