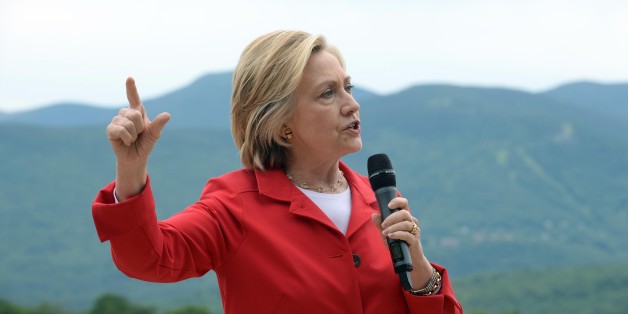 This week Hillary Clinton vowed that as president she will ensure America gets 33 percent of its energy from clean, renewable resources like wind and solar power by 2027. This is a bold plan. But more importantly, it is an achievable one.
Our nation has abundant clean energy resources and tapping them will generate jobs, make the air safer to breathe and tackle climate change--the greatest environmental crisis of our time. An ambitious goal like this will accelerate clean energy around the world, as costs are driven down, technology is unleashed and innovation takes hold.
I have been fighting climate change for two decades, and people often ask me how I remain hopeful in the face of extreme weather and grim forecasts. The answer is simple: I see countless solutions spreading across the nation and across the world. But we need more investment.
Clean, renewable power is one of the brightest solutions we have. By seizing this enormous opportunity, Clinton's plan will slash climate change pollution and create much needed jobs.
Clinton's video announcing her clean energy commitments.
It will also unleash American innovation. Clinton knows American companies are already pioneering new ways to generate energy that don't run out and don't pollute. Their progress can be seen in every state across the country.
Renewable power accounted for nearly 70 percent of new U.S. electricity generation in the first half of this year, according to the Federal Energy Regulatory Commission. Several states generate at least 12 percent of their electricity from wind, including Oregon, Kansas and Oklahoma. Iowa and South Dakota get a full 25 percent of their power from wind energy.
The average cost of solar and wind power has dropped by about 60 percent since 2010, and in several regions, wind power is the cheapest form of electricity, bar none. Investment continues to grow, topping $38 billion in 2014. And nearly 250,000 Americans worked in the wind and solar industries last year in good paying jobs in states across the nation.
These gains happened at rapid speed. Back in 2004, 56 PV solar installations were created in the US; last year we added 6,200. America has demonstrated the ability to innovate, reduce costs and dramatically scale up clean energy.
Clinton will take us to the next level. She plans to see over half a billion solar panels installed by the end of her first term as president. And she calls for generating enough clean energy to power every American home within 10 years of taking office. With these commitments in place, America could get 33 percent of our electricity from renewable energy by 2027.
These goals are fully within reach. The U.S. Department of Energy is known for routinely underestimating renewable deployment, and yet it forecast that America could get 35 percent of electricity from wind power alone by 2050. Clinton's plan puts us firmly on that path.
In the coming months, Clinton will lay out the policies and incentives that will unleash this growth. Already she has thrown her support behind the Environmental Protection Agency's Clean Power Plan, the first-ever national limits on carbon pollution from power plants. This historic breakthrough will be finalized in the next few weeks and spur further investment in renewable power.
Clinton's leadership on clean energy and climate action stands in stark contrast to the entire field of GOP presidential candidates. Only two Republican hopefuls acknowledge the science of climate change. The rest deny the facts and try to stop the EPA from cleaning up carbon pollution. They discount the suffering climate change has already wrought, from drought-stricken farms in California to flooded towns in Minnesota and scorched homes in Washington State.
Clinton is facing the climate threat head on. She knows we must act now in order to protect future generations from unchecked climate change. Her clean energy commitments ensure we will act boldly.