Here in Rome, people crowd the streets to catch a glimpse of Pope Francis. His wise pronouncements and humble manner inspire thousands of pilgrims and tourists to pack his appearances at St. Peter's Basilica. This week the pope is drawing yet another group to the Eternal City: international leaders on climate change and environmental protection.
The Vatican is convening a conference here called "Protect the Earth, Dignify Humanity" on Tuesday. UN Secretary-General Ban Ki-moon will give the keynote address, and economist Jeffrey Sachs and other sustainability experts will be in attendance.
Why are these worldly leaders gathering in the heart of the Roman Catholic Church? Because Pope Francis has declared that addressing climate change is a moral imperative.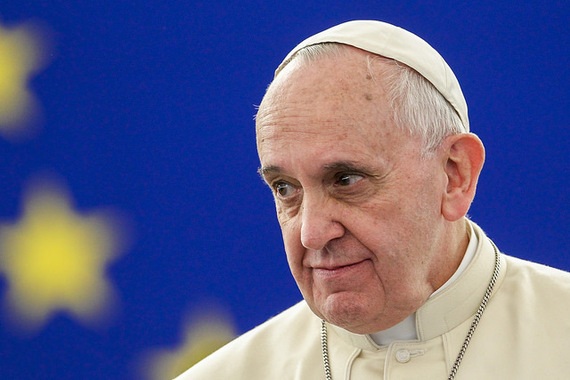 Photo credit: Martin Schulz
The pope understands that climate change is a humanitarian crisis that threatens the entire human community, especially the poor and most vulnerable among us.
Days after Typhoon Haiyan pounded the Philippines in 2013, Pope Francis spoke about climate change, saying, "We have in a sense taken over nature," and the results have been devastating. That one cyclone -- among the most powerful ever recorded -- killed more than 6,300 people and left 4 million people homeless. Storms have always threatened the Philippines, but now they are packed with greater intensity and hitting a region that's seen 8 inches of sea level rise since 1970.
When climate change supercharges weather patterns, the disadvantaged often suffer first and most. Latino farm workers in California have had their livelihoods crushed by ongoing drought. Impoverished laborers in eastern India became homeless this month when heavy rains destroyed thousands of huts. And women around the globe are 14 times more likely to die than men are when extreme weather hits.
The movement for climate justice is growing, and Pope Francis' personal engagement is contributing a powerful call to action. This summer he will release an encyclical -- one of the highest forms of Catholic teachings -- on climate change. It is expected to link protecting the environment to fighting global inequality.
The encyclical will reach beyond the world's 1.2 billion Catholics to the millions of others who respect his moral authority. It is also expected to influences the next round of Sustainable Development Goals that the UN will consider this September, and the international climate talks to be held in Paris this December.
The commitments made in both these arenas have the power to lift millions of people out of poverty and shield future generations from unchecked climate change. We must seize this opportunity.
When I first started working on climate change two decades ago, the issue got little coverage, and most of it focused on melting ice caps and distant glaciers. Now that extreme weather is hitting home, it's clear that this is about human well-being. It's about shielding people from danger, promoting justice, and making our communities more resilient places to live.
This starts with protecting the planet and the resources we all depend on. As Pope Francis tweeted on Earth Day, "You have to keep the land so that it can continue to be, as God wants it, the source of life for the entire human family."