Let's be frank -- I am not a fashionista.
The last time I may have even been remotely on the cusp of being fashionable was well-over a decade ago, (unless you count my penchant for neoprene as being avant-garde!) But we all wear clothes and most of us like to feel comfortable, look presentable and each of us likely have a favorite sweater or pair of jeans that have endured relationships, economic down-turns, are staples of whatever fashion statement we are making and evoke a sense of self. It is also likely that such cherished garments were well made, handcrafted with care and designed with purpose. Last night I had the privilege of attending a terrific event hosted by a company that has been designing with purpose for 160 years and can arguably be described as one of the creators of American fashion - Levi Strauss & Co. An inspiring dialogue over dinner + drinks illuminated what the venerable family owned business is up to, namely hatching the antidote to fast fashion in the relatively new Eureka Innovation Lab - Wellthread for Dockers - a new collection of pants, blazers and t-shirts that seeks to fulfill a cradle-to-cradle business model. Now you may ask yourself "why does someone who isn't a fashionista care about fashion?" Well it's simple really, I care about utility. I care about quality. I care about saving energy and our ever-dwindling resources like water. I care about equity for all the people I share our home planet with. And moreover I get goose-bumps of excitement when I hear about innovative ideas others are putting into practice that help achieve (simultaneously) the goals of all these things I care about. And when the vehicle for reaching these goals of sustainability is something that is present and accessible to everyone (clothes!) then I say genius and bravo.

Designing clothes that are more durable and last longer may seem counter-intuitive to a company that is trying to sell more things, but Levi Strauss & Co. would like to form long-term relationships with its customers and build faith in its products. (At NRDC we'd suggest that people should prioritize the choice of long-lasting durability along with efforts to minimize social, health and environmental impacts). Heading up this sustainability enterprise for Levi's is Paul Dillinger, who became the first fashion designer to be awarded a First Movers fellowship at the Aspen Institute, where corporate executives develop ways to integrate social and business value. Dillinger devised the plan for Wellthread with each step in the production process and the supply chain in mind. The role of the Eureka Innovation Lab is to experiment and test out theories that weave responsibility into all stages of design, manufacturing and usage - from the cotton fields to the factories to the market and beyond.
"By having this little lab to test and substantiate ideas at small-risk scale, we're then able to deploy these new best practices at large scale," Dillinger offered. Wellthread's experimentation has resulted in a new process which utilizes specialized garment-dyeing to reduce both water and energy consumption with cold-water pigment dyes for tops and salt-free reactive dyes for pants and jackets. In addition, the apparel is dyed in the factory, not in the mill, which allows for greater inventory agility because the garments are dyed-to-order = less waste. Coming up with ways to use roughly 30% less water and energy than conventional methods of manufacturing is a hallmark of the Wellthread collection. And operationalizing a practice that saves time and money is obviously good for business. (My colleague Linda Greer has pioneered best practices in the textile industry, through an NRDC program called Clean by Design which uses the buying power of multinational corporations as a lever to reduce the environmental impacts of their suppliers abroad.)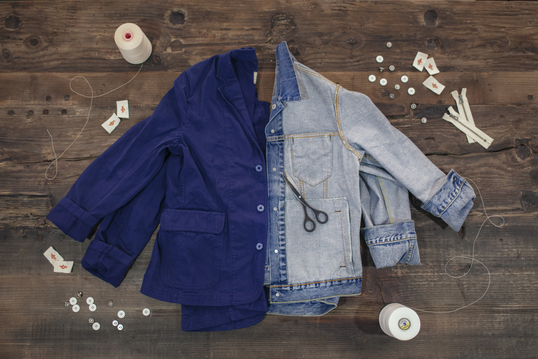 The approach for designing Levi's sustainable collection was also inclusive - Dillinger and his team did not dictate specs by email to the factory overseas, but rather collaborated in person with key managers from trusted suppliers, to leverage their knowledge and garner input so that the pieces they were designing actually took into consideration what would be viable & efficient in the factory in Bangladesh. The true test will come this spring when the collection is available for purchase. Perhaps Wellthread can serve as a launch pad, a great model to follow and a path forward to promulgate sustainability through-out all of Levi's other enterprises. The good news is that pressure to clean up the act of the apparel industry is also being applied in the actual countries where much of the manufacturing is happening, such as in China. Take for example the Institute of Public & Environmental Affairs, an NGO created by Ma Jun that is making significant headway on reducing pollution and getting the industry to more generally clean up its egregious compliance problems.
A woman at last night's dinner asked Dillinger if he thought that this new effort was geared towards a niche market, to which he succinctly replied... "Sustainability is not a market. It is an obligation."
I could not agree more.