One morning, during a visit to Rwanda, I was surprised to see the typically bustling streets of Kigali at a standstill. No cars were on the roads, and businesses were halted. When I asked why, I learned of Umuganda - the last Saturday of each month when everyone, from the president to a farmer, gives back to their community through coming together in an act of service. My initial thought was: Why don't we do this in America? When do we come together to clean up our communities? How can we restore our pride in our neighborhoods?
As our busy lives consume us, we often forget our own community and our potential impact on the world around us. It may be ironic that in a country wounded just 20 years prior, Rwandans' sense of pride in their country is stronger than ever. But it's a direct result from initiatives like Umuganda, which have given citizens the opportunity to restore dignity in their country with their own hands.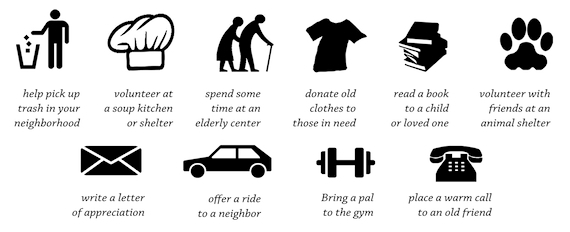 To commemorate the 20th anniversary of the Rwandan genocide, Kwibuka20 is encouraging a worldwide morning of service called "Global Umuganda". In observance, the company that I founded, SAME SKY, is hosting "Umuganda Under the SAME SKY" on March 29th from 9am-12 noon. It is an opportunity to stand alongside genocide survivors and perform an act of kindness in remembrance. We are partnering with three parks (NY's Central Park, Brooklyn's Prospect Park, Jersey City's Van Vorst Park) to work on clean-up projects. If you are in the metropolitan area, we invite you to join us.
If not, here are 50 simple acts of kindness to give back while impacting people in your world: smile...prepare a meal for a homeless person...call your mother to tell her you love her...compliment someone...write a handwritten note...thank a policeman, doorman, fireman, or postman...ask someone "how are you?"... write a thank you letter to your parents...hug your loved ones...offer someone else your seat on the bus...give an inspiring book to a struggling friend...say "I love you"...read to a child...practice patience... refrain from gossiping...turn off a leaky faucet...babysit for a single parent... donate an hour of your professional services...eat locally...donate blood...cook dinner for a busy parent...recycle...mentor local youth...visit a senior center...pick up trash...be grateful...refrain from littering...donate clothes to a local shelter...walk a neighbor's dog...visit an animal shelter...volunteer at a soup kitchen...visit an orphanage...leave a generous tip... send a nice "just because" card to a family member...rake someone's yard... be a courteous driver...hold the elevator...let someone get ahead of you in line...spend time with the elderly...write a letter of appreciation... introduce yourself to someone you always see around...hold the door for someone...send flowers to a friend...call your sibling to catch up...grab your friends for a workout...give your neighbor a ride...appreciate the day.
Umuganda's success in Rwanda is a prime example of how a nation divided reunited through acts of kindness and service to one another in their community. Similarly, Lady Bird Johnson led a capital beautification project that inspired American citizens in the '60s to take action. She said, "Ugliness is so grim. A little beauty, something that is lovely, I think, can help create harmony which will lessen tensions." The initiative restored a sense of pride in our country, even encouraging cities to start their own beautification programs. Lady Bird Johnson's spirit has inspired communal programs such as Keep America Beautiful's Great American Cleanup.
It's a good start, but we need to take an even greater responsibility to improve our community together. We can learn so much from Rwanda by reflecting on how Umuganda began as a 'do good for your neighbor' act and grew to become a national movement. When a country's people come together aspired to build a better nation, a greater nation results.
On March 29th, share your Umuganda act on Facebook, Twitter, and Instagram with the hashtag "#umuganda" and tag @sameskybracelet to inspire others to make a difference.