It was dusk when we arrived at Jacqueline's Rwandan village -- an uphill spread of endless mud homes. Stepping out of the car, I was greeted by children coming from all directions, barefoot and wide-eyed; they all seemed excited to see me. Jacqueline took my hand, carved a path through the children and led the way to her home. As we walked, and soon hiked, the children followed and more children joined us all the way to Jacqueline's home. When we arrived, nearly dark now, Jacqueline's five children welcomed us into their home. I was so excited to finally meet these children whose lives have been turned around since their mother started working for Same Sky. We saw the mattresses Jacqueline was able to buy for her children and we listened to her proud and heartfelt stories of her children's enrollment at school.
Jacqueline is the living example of what Same Sky strives to do -- empower HIV+ women in sub-Saharan Africa, and in turn provide their children with role models. Same Sky empowers through employment -- we pay women in Rwanda and Zambia 15 to 20 times the average sub-Saharan wage to hand-crochet jewelry. Our artisans use their marketable skills to crochet sophisticated jewelry that is sold worldwide.
Today, above all days, is reason to celebrate Jacqueline's daughters and our artisans' children. As declared by the United Nations General Assembly it is the International Day of the Girl, which is a day set aside for people to join forces and promote girls rights. Today we can focus on the demanding global issues of our time, like the fact that only 30 percent of girls in the world are enrolled in secondary school, one in seven girls in developing countries are married off before the age of 15 and by 2015 girls will make up 64 percent of the world's adult illiterate population. At Same Sky, we salute this day with great excitement and hopeful thoughts that together we can mend these statistics.
We have seen the effects that empowered mothers have on their daughters -- and its ability to change over 600 million lives. The Girl Effect is an organization that magnifies the potential of girls in developing nations. When a girl stays in school past 12 years old, or marries when at her discretion instead of at 15, she has the power to change the role of women in her community. A huge factor in deciding which path to take is whether they have a role model or not to visualize what success looks like.
Everyday Jacqueline's children see their mother wake up early, make porridge and head to work. They see her come home, happy and satisfied with a good paycheck so that she can buy school uniforms and textbooks and provide food for the family. Not long ago, Jacqueline's children slept on their mud floors. They felt inferior to others who had mattresses, and didn't want to attend school. But now that Jacqueline has been able to buy mattresses, her children no longer have these feelings of inferiority and unworthiness that can eventually lead to victimization or community divides.
While there, in Jacqueline's home, I felt a sense that the whole village could disappear with one large rainstorm. Yet, since her employment with Same Sky, Jacqueline has restored her dignity and has become optimistic with her savings to move into a new concrete home. Her kids have inherited this hopeful attitude for a long and peaceful future.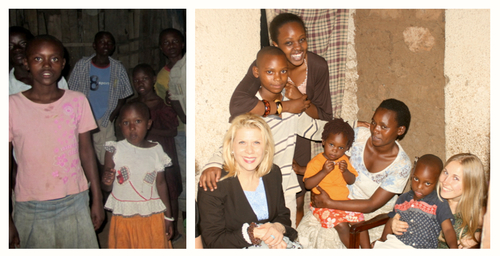 Celebrate International Day of the Girl by tuning into the organizations that devote themselves to changing the world. The Girl Effect, 10 X 10 and Same Sky are all great places to start. During International Day of the Girl we, at Same Sky, seek to create a global campaign where people can begin to understand that educating girls in developing nations will change the world, one girl at a time, under the Same Sky.