There's a crisis in philanthropy that no one's talking about. I'll put it simply: in the United States, women control the majority of the money, but there's a philanthropy gender gap: funding for women's issues still falls short.
Women control almost 60 percent of the wealth in the U.S., so why is it that only 7 percent of foundation funding goes back to women's issues?1 This 7 percent means that out of every one dollar granted by U.S. foundations, less than 8 cents returns to fund programs for women and girls. 2
If money is power, why don't we believe that it is our right as women to use it -- both to better ourselves and other women? Why aren't women helping each other more?
Is the lack of funding for women's issues the fact that women simply don't see women's empowerment as their issue, or as something that they can affect? Maybe there is a lack of education or information on the actual needs that exist, or perhaps women simply aren't familiar with the organizations that do great work for women and girls. Maybe they feel that they can't even make a big enough impact, so they don't even try. Women are taught to be competitive with each other, and there has been extensive research that, even at high levels in corporations, women don't advocate for each other, let alone advocate for women who work for them. This social conditioning runs so deep that high-level women often are not supportive towards other women who are promoted to their level-- they're actually threatened. 3
It seems to me that as women make more money and become more involved with philanthropy, they don't regard women's issues as their issue or their priority -- and there needs to be a renaissance. There needs to be a resonating change so when women realize their own power, they see the value in empowering other women.
I knew there was more to this story, and I needed answers. I needed to know what was really going on in the sphere of women's philanthropy. As I researched, I stumbled upon a promising new trend, and it's good news:
In fact, women are actually donating more and more to women's and girls' issues worldwide, and it's because of the way the wealth in the United States has been shifting. Women are earning more, and so they give more.
Here's what we know: Women will control two-thirds of all U.S. wealth by 2030. 4 Women will inherit 70 percent of the $41 trillion in intergenerational wealth over the next 40 years. 5 Women are the fastest growing segment in small business -- there are 8.9 million women-owned businesses in the U.S. that employ 7.8 million people, and the number keeps growing. 6 Communities like Stiletto Networks, where high-powered women are banding together to connect and perpetuate this growth, are becoming even larger. 7 Women passed men in earning bachelor's degrees in 1995, and men have yet to catch up again.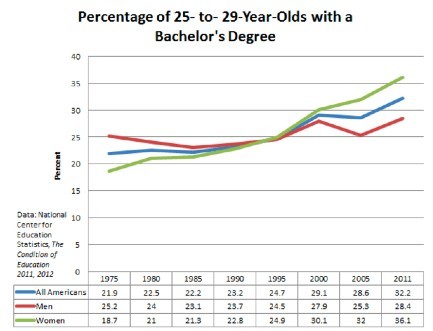 Source: Jordan Weissman, "Why Women Will Rule the Economy of the Future in 1 Graph"
And, to put it bluntly, there have been about half a dozen recent studies that show that women just donate more than men -- regardless of education, age, or income.
Furthermore, women are more actively involved with the charity of their choice, are more hands-on, and want to see solid proof that their donation is effective. It's important for women to have a deeper level of communication with the organizations and charities, and they love to hear about the impact of their gift. When women give, they give to connect with humanity -- to be an active, integral member of global change. 8
But back to our new trend. Here's some more proof: women's funds didn't decline with the declining economy in 2009. They increased. We saw Women Moving Millions exceeded their goal of raising $150 million for women and girls, and the Global Fund for Women awarded $8.7 million in grants in 2009 -- this isn't pocket money, this is real change. 9
This is happening because women are realizing that when they give back to women, they give to something larger. Remember, women reinvest 80 percent of their available resources into their families, where men only reinvest 30 percent. Investing in women, especially through education, leads directly back into her community, the economy, and the future.
But how do we continue to build this trend? How do we keep the momentum of women helping women? Because the fact is, even as we give more and do more, the need is still huge. Women are 60 percent of the world's hungry. 10 Women are at least 56 percent of the world's trafficking victims. 11 Girls make up 57 percent of the world's children not in primary school. 12 We need to invest in women, and we need to do it now. Hillary Clinton said, "When women are free to develop their talents, all people benefit." If we don't continue in this trend, and if we don't keep pushing to support our fellow women, all of our futures will suffer. 13
It is time for women to stand proudly, together, united, and show their support for organizations and charities that do incredible work for women and girls. As an added bonus, new research also shows that even spending small amounts of money on others simply makes us happier. 14
Women have the chance to make a real impact. We have the means -- for women everywhere, for ourselves, and for future generations.
••••••••••••••••••••••
For more information, and for the easiest way to make a change, please explore these incredible, truly effective organizations:
Same Sky Foundation: http://www.samesky.com/same-sky-foundation
Women's Funding Network: http://www.womensfundingnetwork.org/
Vital Voices: http://www.vitalvoices.org/
Women for Women: http://www.womenforwomen.org/
••••••••••••••••••••••

1 "Women's Wealth and Philanthropy," VirginiaTech, http://www.wlp.givingto.vt.edu; Betsey Brill, "The Power of Investing in Women," Forbes, http://www.forbes.com, (March 28, 2011).
2 Bruce DeBoskey, "Women Changing the Face of Philanthropy," Denver Post, http://www.denverpost.com, (July 22, 2010).
3 Michelle Duguid, "Female tokens in high-prestige work groups: Catalysts or inhibitors of group diversification?," Organizational Behavior and Human Decision Processes, Volume 116, Issue 1 (Elsevier, September 2011), Pages 104-115.
4 Robert Frank, "What Wealthy Women Really Want," Wall Street Journal, http://blogs.wsj.com, (Nov 23, 2011).
5 Betsey Brill, "Women in Philanthropy," Forbes, http://www.forbes.com, (Aug 18, 2009).
6 Akoshia Yoba, "National Small Business Week 2014: Women-owned Small Businesses Are Making Strides," Huffington Post, http://www.huffingtonpost.com, (May 13, 2014).
7 Jaqui Kenyon, "How Stiletto Networks are Blazing the Business World," Forbes, http://www.forbes.com, (May 16, 2013).
8 Fran Hawthorne, "In Pursuit of the Female Philanthropists," New York Times, http://www.nytimes.com, (Nov 8, 2012).
9 Betsey Brill, "Women in Philanthropy," Forbes, http://www.forbes.com, (Aug 18, 2009).
10 "WFP Gender Policy," World Food Programme, http://www.wfp.org.
11 "Trafficking in Persons Report 2010," US Department of State, http://www.state.gov, (2010).
12 "Half of All Out-of-School Children Live in Conflict-Affected Countries," UNESCO Press, UNESCO, http://www.unesco.org, (Nov 7, 2013).
13 Hillary Clinton, "Remarks at the UN Commission on the Status of Women," United States Mission to the United Nations, http://www.usun.state.gov, (March 12, 2010).
14 Elizabeth Dunn, Happy Money (Simon & Schuster, 2013), 107.