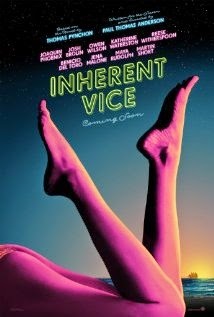 At the end of Paul Thomas Anderson's
Inherent Vice
, LA Detective Christian "Bigfoot" Bjornsen (Josh Brolin) who sports a flattop busts down the front door of the private eye Larry "Doc" Sportella's (Joacquin Phoenix) house. In Anderson's
The Master
Phoenix played Freddie Quell, the primitive on whom Lancaster Dodd (Phillip Seymour Hofmann), the L. Ron Hubbard type figure of the title, will attempt to work his cure. In
Inherent Vice
, Phoenix as a dopper investigator has a similar animal energy, but the goodness, as well as his potential a Christian soldier, is less camouflaged. Bigfoot puffs on Doc's joint, then eats the roach, and his whole tray of marijuana leaves, Zig Zag papers and all. "Are you OK, brother," Doc asks. "I'm not your brother," Bigfoot says, "But you could use a keeper," says Doc. Anderson's
There Will Be Blood
was based on an Upton Sinclair novel and
Inherent Vice
is adapted from the Pynchon.
The Master
which was about the attempt to change human beings, wasn't based on anyone's novel. However, in revisiting the origins of scientology, one of the most perverse forms of therapy ever conceived, in a supra-realistic setting (reminiscent in some ways of the vertiginous realism Kazan employed in
East of Eden
), the movie exuded the density and intensity of a great 19th century novel-- like say Zola's
Germinal
. But
Inherent Vice
is neither a movie with novelistic leanings nor simply a good adaptation (nor by the way are any of Anderson's other aforementioned films, period pieces -- though
Inherent Vice
and
The Master
do have the courage to sport the now anomalous and forbidden sight of women with actual pubic hair). It's a novel in film form, a complex modernist work inspired by the work of an equally complex writer. Mickey Wolfmann (Eric Roberts), a realtor who's building a massive development called Channel View Estates surrounds himself with members of the Aryan Brotherhood, despite his Jewish background. He gets kidnapped and tells Doc "I made people pay money for shelter and all along I didn't realize, it was supposed to be free." Shasta Fay Hepworth (Katherine Waterston), Doc's former girlfriend, who has run off with Mickey says about him, "Mickey was so powerful he could almost make you feel invisible." Golden Fang Enterprises presided over by Dr. Rudy Blatnoyd (Martin Short), a dentist, is a drug cartel that runs on the principle of "vertical integration" and owns a death ship (a la B. Traven) called The Golden Fang. They provide the drugs and profit from their addicted clientele's stay at the rehab they run. The locutions and conceits come fast and furious as does the unpredictable soundtrack which finishes with Chuck Jackson's '60s soul classic
"Any Day Now,"
rather than a more predictably druggy sound. So much is going on that you feel you're on the defensive, intellectually at least. You almost wish this movie version of the Pynchon novel were a book whose pages you could flip back and forth in at will.
{This was originally posted to The Screaming Pope, Francis Levy's blog of rants and reactions to contemporary politics, art and culture}