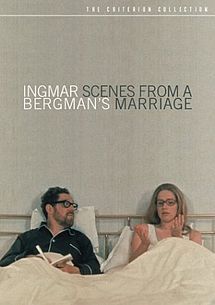 At the time of it's original release in 1974 Ingmar Bergman's
Scenes From a Marriage
was the perfect antidote to the wave of post-modernism which hovered like a horrible tsunami, threatening to place the iteration of most emotional states in quotes. Ivo van Hove's stage version
at New York Theatre Workshop
has the same net effect as the movie, which is to place you right in the line of fire--in this case of an unsettling portrait of human bonding. There have been three recent adaptations of Bergman movies for the theater. Carey Mulligan starred in Jenny Worton's staging of
Through a Glass Darkly
. That production seemed like little more than an inspired read through of the script. Van Hove did a
Cries and Whispers at BAM
, which might have surpassed the movie, playing upon the conceit of our culture's obsession with self-recording. In his current adaptation of
Scenes from a Marriage
, van Hove plays upon the idea of duplication. The audience is divided up into three separate groups who witness and overhear Bergman's couple Johan and Marianne played by three different sets of actors. It's like cubism. The chronology of a relationship is broken by having it portrayed by three couples instead of one. Modern man is both thin skinned and lives behind thin walls in glass high rises where he can see and hear his neighbors (there is a little bit of
Rear Window
too in van Hove's choreography). Thus as couple number #1 argues about aborting a child, you hear in the background another iteration of them arguing and Marianne saying,
"There's more to life than sex. If you're not happy find yourself someone more exciting."
Our experience of these overlays also correlates to the inner life of characters who seem like they are hearing scripts playing over and over again in their heads. A sidelight to this is the constant marital strife and gossip of breakups which is the palette of discourse. This is beautifully orchestrated in one scene where schadenfreude about the vitriol between a visiting couple, Katrina (Carmen Zilles) and Peter (Erin Gann) prefigures Marianne and Johan's own impending implosion. The theme of inexorable longing is a light motif that runs through van Hove's production. If his Johans and Mariannes are duplicable and all the more haunting for the ways in which most couples will recognize themselves in them, they constitute a class whose existence is predicated on treating life as a commodity suffering from planned obsolescence and in need of constant upgrading. The above has been a description of Act I of the production. Act II in which all three couples are on the stage at the same time, is a little like taking the cubist landscape and flattening it out, in this case by turning the action into Greek tragedy. The talented Mariannes (Susannah Flood, Roslyn Ruff, Tina Benko) and Johans (Alex Hurt, Dallas Roberts, Arliss Howard) are turned into the chorus. It's amusing at first and certainly a change of pace, but the novelty of hearing domestic complaints rendered like Handel's Hallelujah Chorus wears thin, producing tedium and predictability in place of the powerful and at times bracing cacophony that constituted the first act of the play.
{This was originally posted to The Screaming Pope, Francis Levy's blog of rants and reactions to contemporary politics, art and culture}