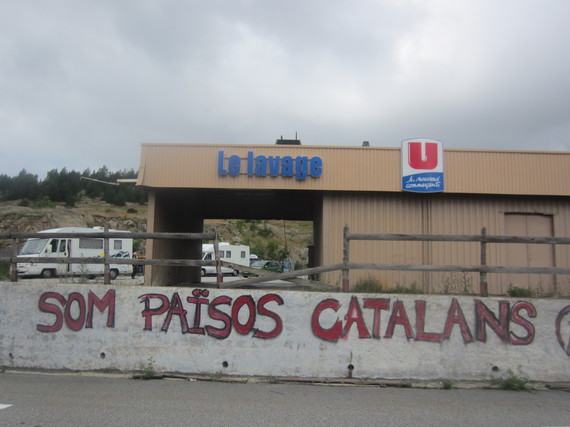 There is square in the Gothic quarter of Barcelona named after George Orwell. Orwell famously fought in the Spanish Civil War and out of his experience wrote Homage to Catalonia.
In November the Catalan people who occupy that part of Spain that is closest to the Pyrenees (Cerdanya is the name of a part of the Eastern Pyrenees that is shared by France and Spain) vote in a referendum on the subject of independence. Catalan is still a vital language that is spoken and taught in schools in Barcelona and Valencia where there are large Catalan populations.
The desire for independence might be thought to emanate from the Spanish Civil War in which Catalonia supported the Loyalist cause and suffered reprisals during the years of Franco's rule. But the provenance of Catalan nationalism is even deeper and might be said to go back as far as the Treaty of Westphalia in 1648, in which, as a result of the Thirty Years War, Spain's Phillip IV ceded parts of Catalonia to France.
The town of Llivia remains today as an island of Catalan and Spanish culture in what is French territory and if you visit the Cergagne Museum -- the Cal Mateu Farm, the restored estate of Francois Sicard, a French official appointed by Louis XIV, who governed in the area, you can further understand the roots of the region's historical conflicts. Catalans are true irredentists to the extent that they want to return the integrity of civilization that existed before it was divided up by diplomats. So climbing toward Font- Romeu-Odiello-Via on the Eastern or Oriental Pyrenees as it's called (which is also a route used by bikers training for the Tour de France) you will find Catalan graffiti on a wall below a French car wash called Le Lavage reading, "Som paisos Catalans" which translates "we are a Catalan country."
photograph by Hallie Cohen
{This was originally posted to The Screaming Pope, Francis Levy's blog of rants and reactions to contemporary politics, art and culture.}