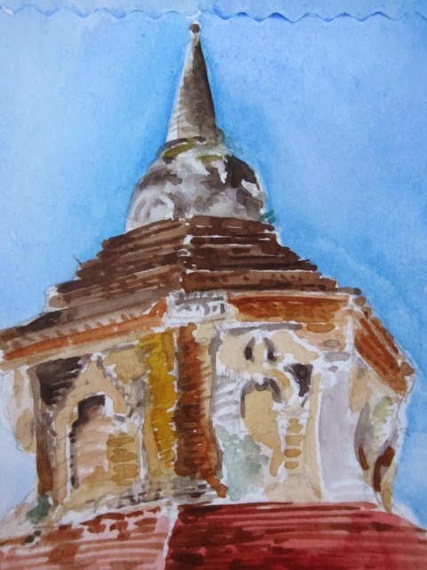 Here is a quote taken off of the wall of the
Chiang Mai City Arts & Cultural Center
, in front of which stands the
The Three Kings Monument
. This statue commemorates three Thai kings who were instrumental in the forming of Chiang Mai in 1296.. The center is a repository of the history of this Northern Thai city which was the center of a Lanna Culture that goes back over 700 years to the time when King Mangrai founded the civilization of the two rivers, the Kok and the Ping.
"In the past, it was believed that the city had a life of its own, its identity, its own mind and horoscope that determined the lifestyle of the city."
This anthropomorphizing of the urban structure saw Chiang Mai constituted of organs and body parts. One of the few remaining examples of ancient architecture in Chiang Mai, is
The Chedi of the City Navel
, a relatively diminutive octagonal structure which lies on the South Side of the Cultural center. Built in the 13th century this small but auspicious looking building once housed the royal palace and from its name existed at the very center of the body--what the Japanese call the core or hara from which ki energy derives. The transsexual behind the ticket counter, who nods to the intrusion of modernity, also has a curiously regal demeanor, as if he were the contemporary incarnation of some Lanna royal.
(Watercolor by Hallie Cohen)
{This was originally posted to The Screaming Pope, Francis Levy's blog of rants and reactions to contemporary politics, art and culture}