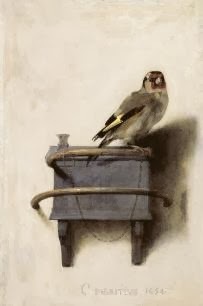 The Goldfinch
--both the Donna Tartt novel and the 17th century masterpiece by Fabritius--is much in the news lately, the former on the bestseller list and the latter in the
"Vermeer, Rembrandt and Hals: Masterpieces of Dutch Painting from the Mauritshaus"
show currently on exhibit at the Frick. Here is Francine Prose in an essay about the book (
"After Great Expectations,"
The New York Review of Books, 1/9/14), meditating on the painting,
"When we look at Fabritius's painting...we still understand a truth about visual art that we seem to be forgetting about literature and the language in which it is written: what moves and delights us, what makes us return, again and again to discover what a work of art can tell us, is finally not the image, but the artfulness with which it was created."
Prose has reservations about the book, whose technique she compares invidiously to that of Dickens. She even goes so far as to quote the passage from
Great Expectations
in which the novelist unearths Miss Havisham's cobwebbed digs, to underscore what's the real deal. Celebrity paintings like
The Goldfinch
and
The Girl With the Pearl Earring
have seen their superstar status increased even further when they're appropriated by authors whose books become bestsellers. Tickets for the Frick show have been hard to come by. But if you look at
Officer and a Laughing Girl,
a Vermeer that's a staple of the regular Frick collection, you could easily feel the same kind of reservations about the The Girl With the Pearl Earring, as Prose felt about the literary version of The Goldfinch. Officer and a Laughing Girl has four elements that blow all comers out of the water: the open mullioned window which is the source of the light, the wall map which is the source of historical context, the soldier with his big dark hat who sucks the air out of the room and of course the enigmatic laughing maiden. Is she seducing or being seduced?
The Girl With the Pearl Earring
is a tronie, an idealized portrait, whose power derives from its control. However
Officer and a Laughing Girl
exemplifies both the craftsmanship Prose is talking about and the power of the object or set piece on which it's applied--in this case the breathless apprehension of a new world.
{This was originally posted to The Screaming Pope, Francis Levy's blog of rants and reactions to contemporary politics, art and culture)