Travel agencies are cranking up for the summer season, and Paris as always is high on visitors' lists. The usual stuff will always be here: domes, towers, bridges, palaces. But those who dare to dance with their dreams and their ghosts -- and those who are ready to acknowledge that art does not always equal prettiness -- might want to traipse across the Seine to one of the world's most provocative museums, the Palais de Tokyo and spend a half day wandering through an atlas of often troubling fantasies that rumble beneath the consciousness of the world we all inhabit.
The building itself, high modernist architecture constructed during the inter-war years wanders with the topography in a series of balconies, caves and spiraling stairways to house at any given season at least a half dozen installations. This spring's program is a particularly remarkable atlas of conscious, unconscious and semi-conscious images and videos under the rubric "The State of the Sky" (which in French can also be read as The State of Heaven).
You walk along a great balcony and below you are shifting still images on the floor and walls video clips that recall dreams and notions of limitless skies that at once define the capsules of our hopes and wonderings through the last two millennia. Entitled New Ghost Stories, they are the work French intellectual George Didi-Huberman and Austrian artist Arno Gisinger. Move forwarded and psychoanalyst Gerard Wajcman and art historian Marie de Brugerolle have covered more walls and floors with scenes of collapse and lamentation along with dreams of redemption from the Russian Revolution to the fall of the Berlin Wall to the collapse of the Twin Towers on Nine-Eleven, including bits of Eisenstein and Passolini along the way.
Turn 90 degrees and you find more stills of great texts mixed with hodge-podge boxes of strange tools that recall the intellectual fashions and explorations of the last two centuries. Altogether the length of a football field, this double assemblage of sounds and images requires time and reflection as you're encouraged to walk through and amidst these scenes of the modern era and reflect upon your own place in that story.
Then pass through a large door toward a spiraling stair. Before descending the steps you'll pass two large word images from the 1960s American poet-performance artist John Giorno that may distress sensitive grandmothers and provoke small children.
At the foot of the stairs in a darkened room a looped film plays of a decaying, abandoned concrete town. Trees and weeds sprout up everywhere. An enormous Ferris Wheel appears, its seats set in orange scoops riddled with rust. You realize this is a tour through an ambling set of eyes of Chernobyl, the first major nuclear power plant meltdown that brought premature death to nearly 1 million people, most from cancer. Polish sculptor and video artist Angelika Markul won the 2012 Prix Sam for the film. She called it "Bambi At Chernobyl."
Two large rooms around the corner from Chernobyl are given over to the young French sculptor and painter David Douard (currently hot in the high end art market) whose electric tube, wire and foundtain constructions evoke at once childhood play things and nightmarish torture toys from which steel garden flowers bloom.
The Palais de Tokyo was never conceived as a restful museum. Its curators aim to tempt, to tantalize and very often to torment us with the brilliant sights and dark sorrows that accompany us into the night and bring us encouragement toward new days. Toward the end of the current show there is, however, some solace. A team of young contemporary dancers move about the exhibits and tap visitors offering to engage them/us in quiet dance movements, roaming from room to room, across the ramps, urging the visitors to close their eyes that they might experience the art installations delicately by touch, by sound and by movement.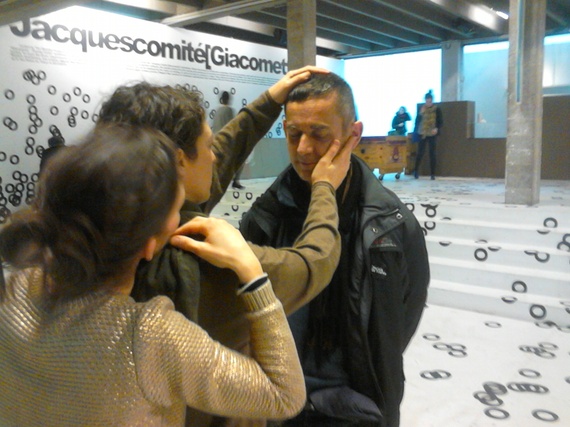 At the very end a large windowed room above the Seine includes bicycles to ride away any accumulated anxieties.
Photos by author unless otherwise indicated