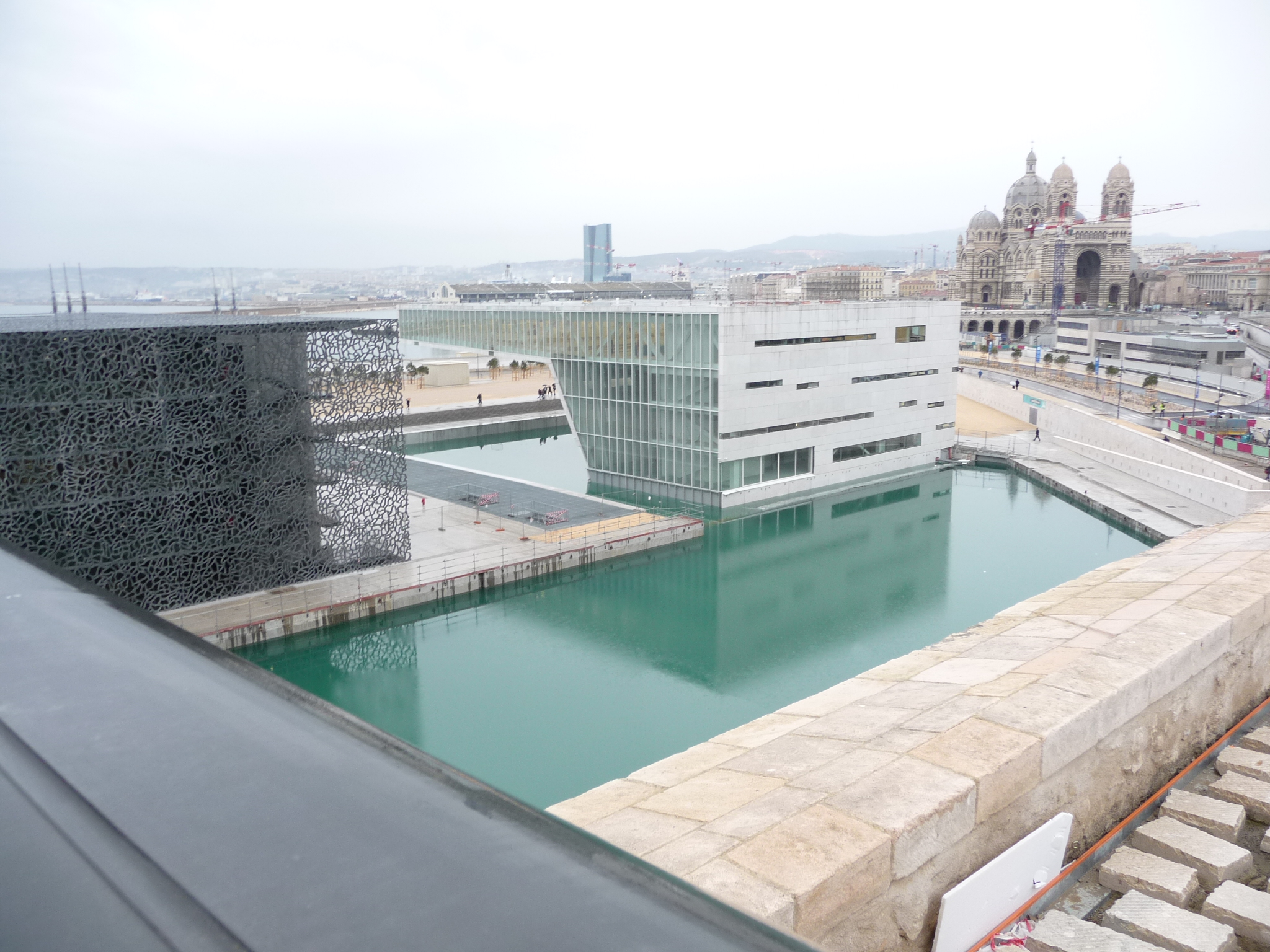 Photo: Christophe Sevault
That's the line: bring in one of Frank Gehry's (self-described) paper wads turned titanium, hire the Japanese wunderkind team Sanaa for $200 million to transform a dead mining pit (Lens, France, outside Little) or engage the brilliant naughty boy of global architecture, Rudy Ricciotti: presto, your bedraggled, crime ridden slums will be reborn as beacons of rich civilization and high art.
They call it the Bilbao Effect.
It's not completely wrong. Bilbao has profited immensely from the Gehry Guggenheim outpost even if the museum offers only modest spaces for hanging art. But lost in the Bilbao blather are several details. Massive money trucked in from Madrid. Twenty years of high-class urban clean-up and planning. The convenient proximity of San Sebastian, the seaside resort town that has long been a Euro-trash destination. And the arrival of cheapo no-knee-room airfares offered by Ryan Air and Air Berlin that really launched the tourism boom.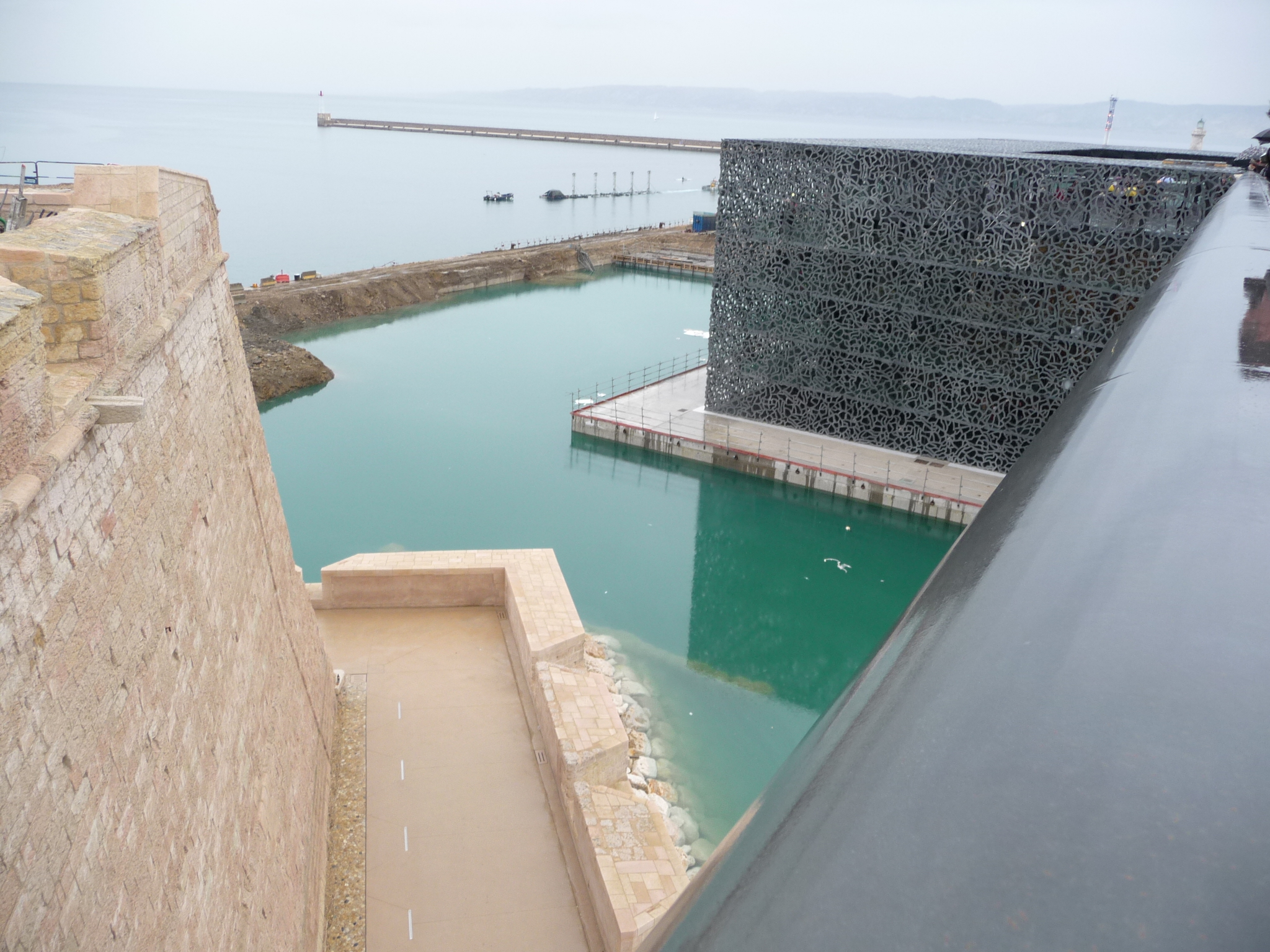 Photo: Christophe Sevault
Now, it's Marseille, this year's European Culture Capital 2013. Marseille of course has long been the dark hole of French cities. Famously drug ridden, exasperatingly divided by warring neighborhoods, political clans, and mafia capos, and persistently snubbed by its vastly richer neighbors, Arles and Aix-en-Provence, the most remarkable thing about the billion dollars spent to realize this years Culture Capital title is that all the factions appear to have mostly cooperated. That's the subtext for speech after speech celebrating the Marseille's dazzling new museums, its dance and concert programs, its wild architectural risk taking, its mixing of the old port with the new art.
You walk through the old town, famous for its pickpockets and purse snatchers, and unlike other comparable cities (especially Paris), the common folk are all mixed in with the chic hotels: grandmothers in head scarves, daughters in stylized afros, kids handsomely tattooed. Underwear hangs from the windows of not yet tarted up apartment buildings. Dark skinned eight-year-old kids shoot off firecrackers outside 4-star hotels. There's little sign of the constipated glares that are the hallmark of the Paris museum and tourist zones. (Nor are there the fast-food chains that dominate the Champs Elysée -thanks, it's said, to local mafia who simply said no to MacDo and Pizza Hut.)
All charming for this Culture Capital year, say many local critics, but then? One local group, who call themselves Le Fric (the dough or the cash) are more than mildly skeptical. They say it doesn't matter how multi-culti this year's museum shows are--and it's true, the museums are mostly dedicated to the notion that Marseille is a cultural center for all the Mediterranean peoples: Magrebians, Greeks, Syrians, Tunisians, people for whom a 300 Euro rent bill is a bone crusher. The Culture Capital designation, they say, really only has one objective: to push the poorer and darker people out to the suburban housing projects. "Instead of drawing on the savoir-faire of the locals, [the Culture Capitalists]," one of their leaders said, they have imported all the expert [artistic planners] from outside," denouncing the whole enterprise as a front for evicting the dark and the poor--just as Paris has done.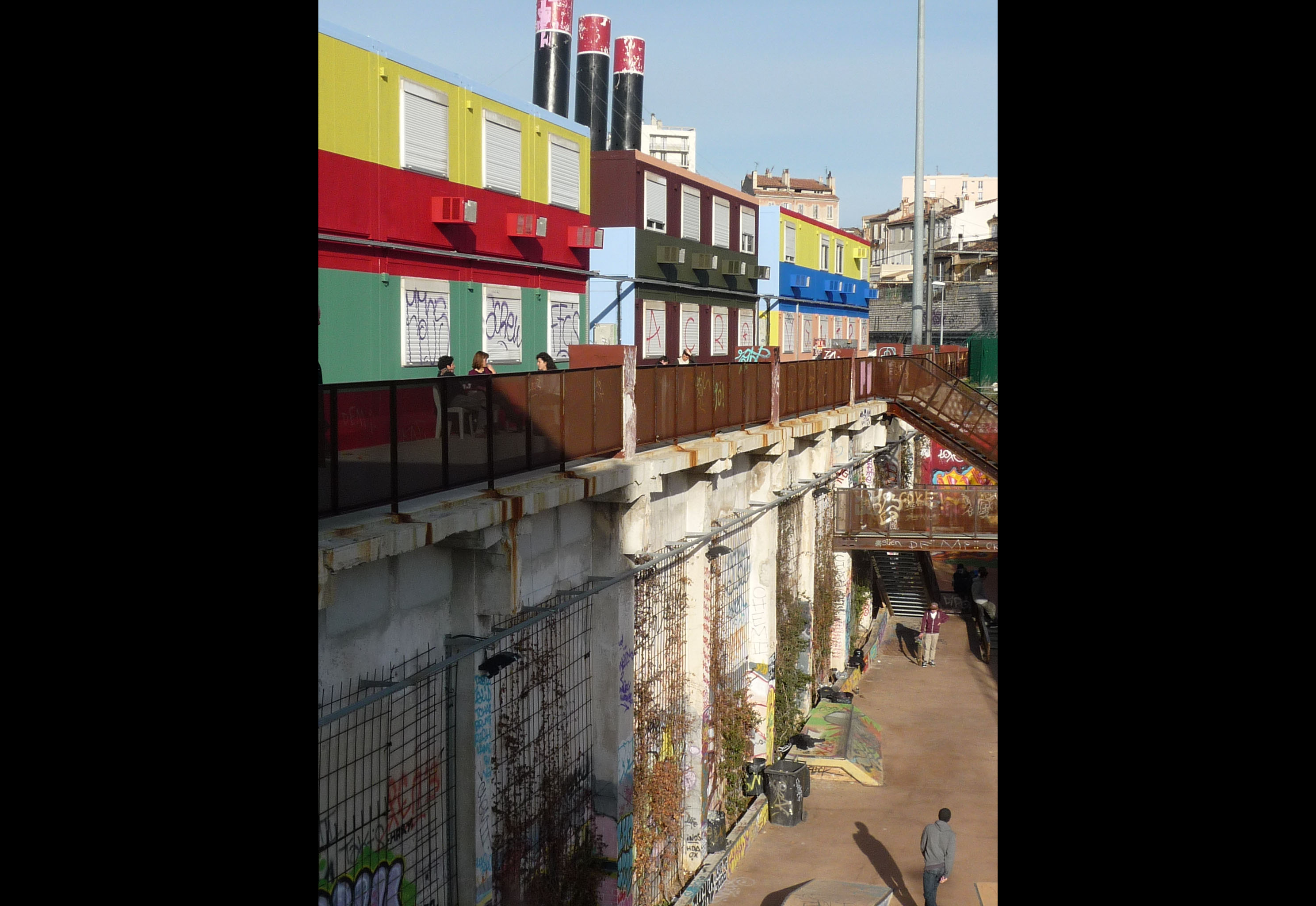 La Friche: Converted Tobacco Factory
Photo: Christophe Sevault
They could be right -- and yet the curators of public art for Marseilles 2013 and at the abandoned tobacco plant (La Friche) and the wharf gallery (J Project) are fiercely focused on integrating genuinely local artists and performers in the whole artistic mix--and even more, driving home the demographic reality of a trans-cultural Mediterranean.
Yet the clash of cultures remains persistent. In Aix, half an hour north of central Marseilles the restaurants are pricey, the streets immaculate, the population decidedly blond. The street art -- like the polka-dot skin applied to the city's famous plane trees by Japanese artist Yayoi Kusama -- is equally expensive.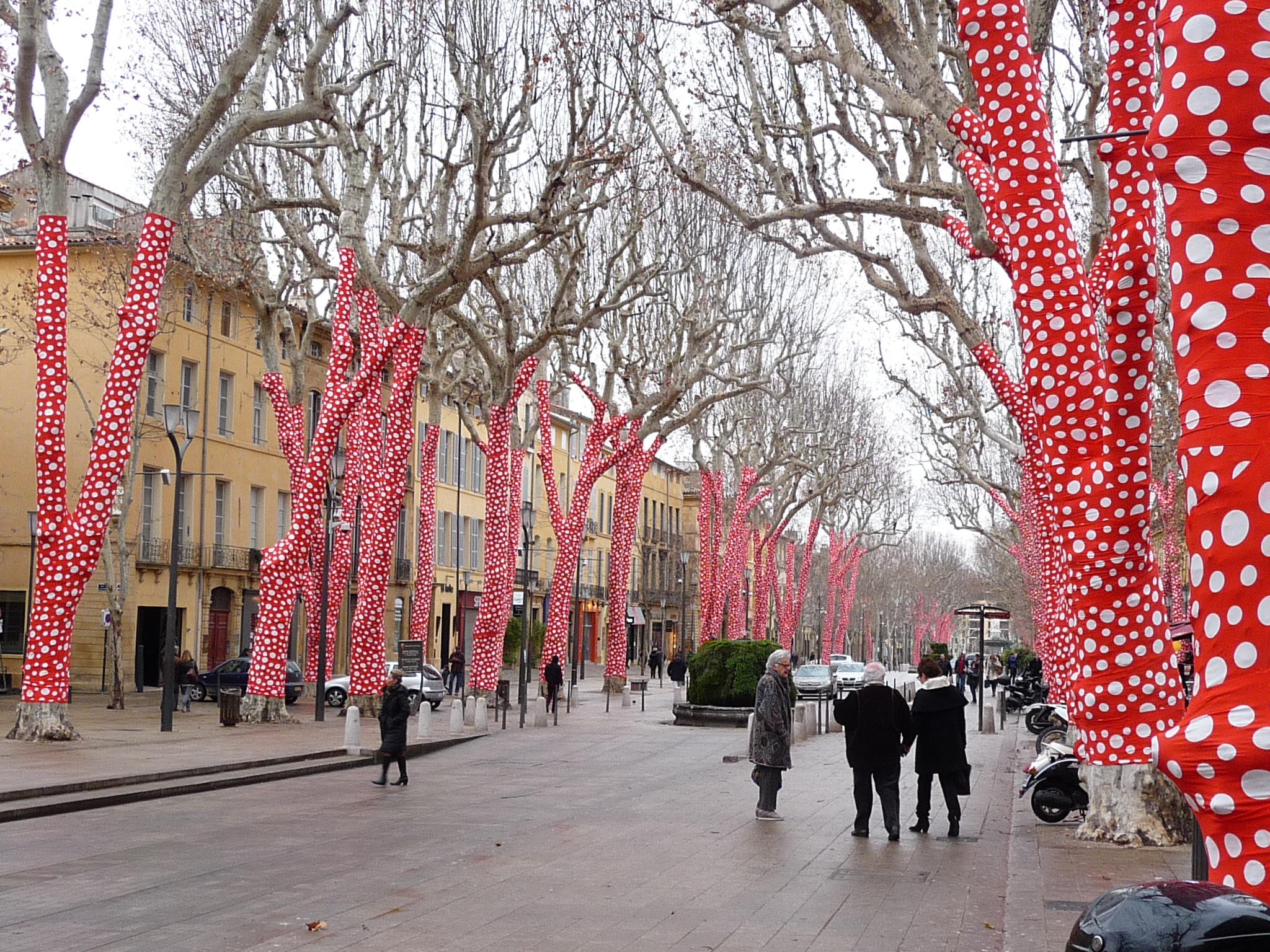 Photo: Christophe Sevault
At Aix's small but quality Musée Granet there's a range of video art pieces, by far the most interesting Israeli Sigalit Landau video piece depicting the violent mechanical shaking of an olive tree (branches of peace) whose fruit is gathered up in a net by a Palestinian worker. Most startling is Spaniard (and in her youth anti-Fascist militant) Carmen Calvo's photo montage of newlyweds with huge spying eyes in place of heads.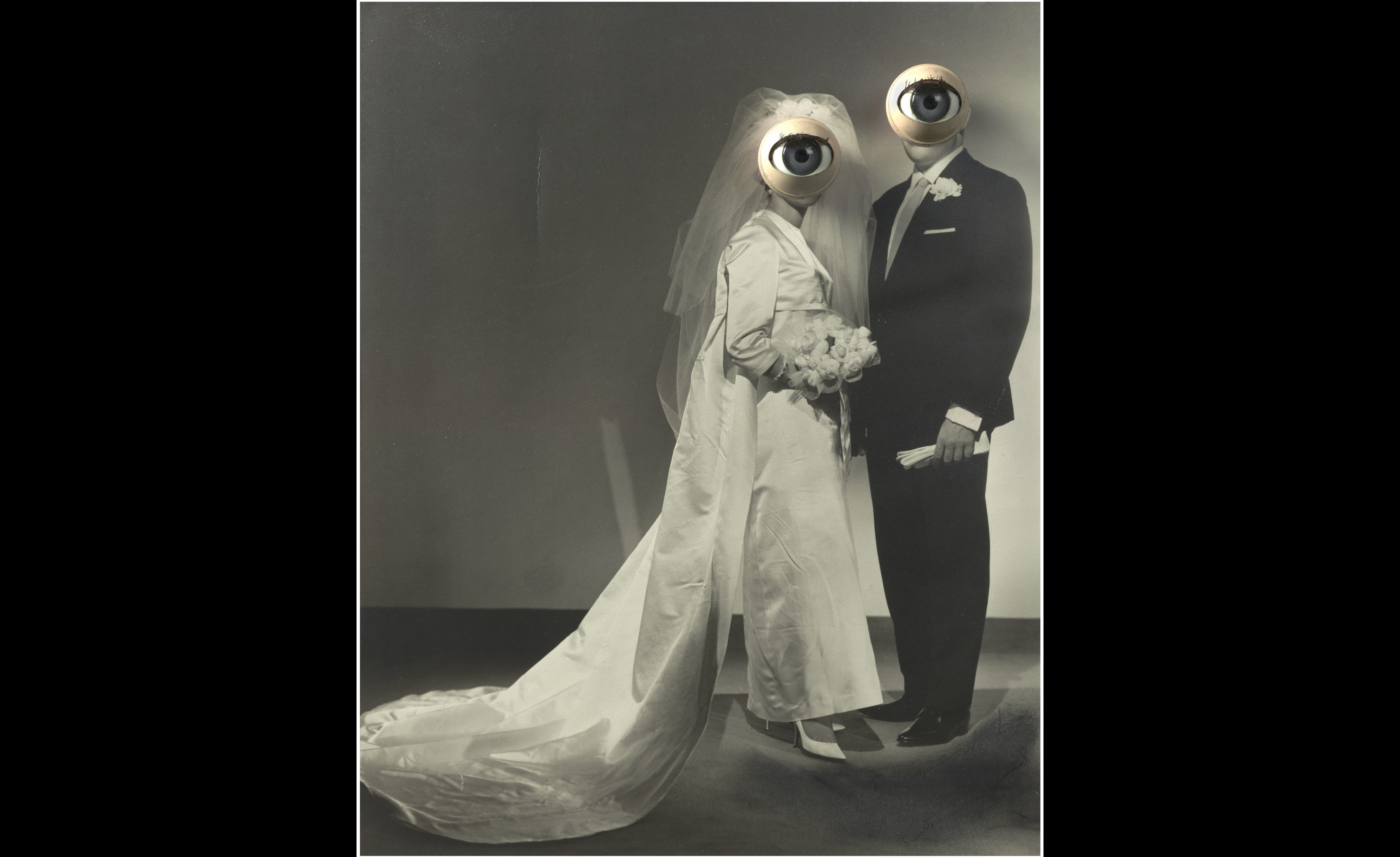 Photo: Musée Granet
Around the corner and down the street in the private and generally daring Hôtel Gallifet, the sometimes interesting Chinese émigré artist Huang Yong Ping has confected a pyramid of blocks and overgrowth rusted metal plates in the courtyard oddly labeled Bin Laden's last home. While the concept is interesting -- nature overcomes all -- and the effect sharper after a snowfall, many of my fellow travelers on a recent visit shrugged, suggesting that it resembled an abandoned chicken coop, or a Gypsy encampment.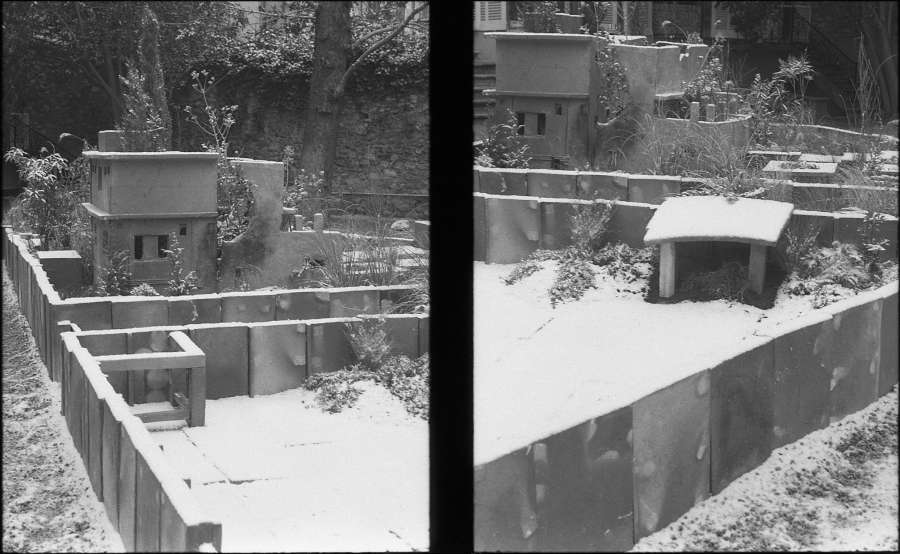 Photo: Celine Laurent
On the inside of the Gallifet a series of high contrast kitsch photographs retell the story of Red Riding Hood as a hot seduction of a (literally) bare-assed wolf by a far from innocent "maiden."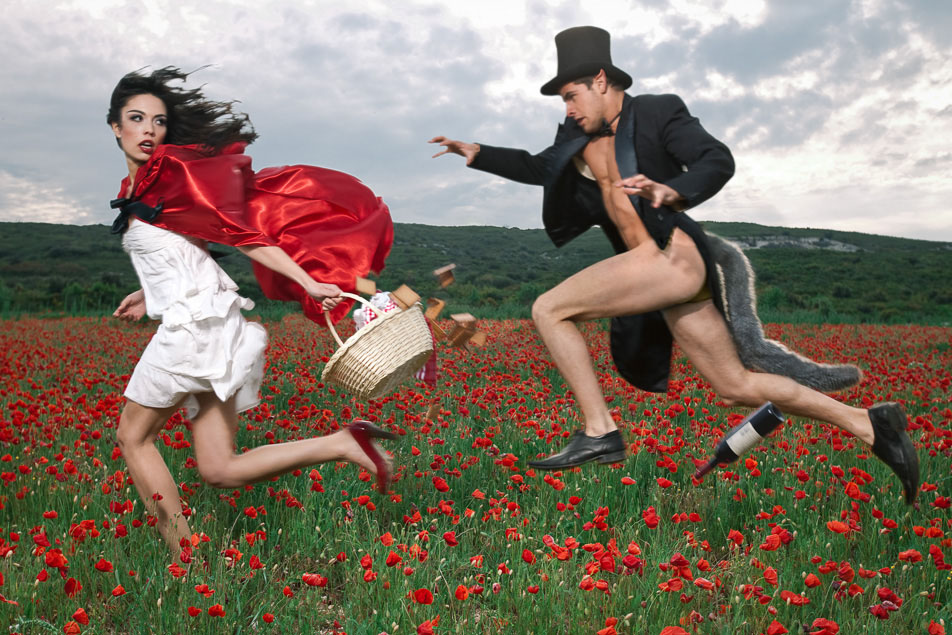 Little wonder that the mothers and fathers of Aix and Arles have for decades scowled at collaborating with gangster-ridden, polyglot -- and vastly more creative -- Marseilles. But then who should be surprised that class and cultural differences are so blatantly displayed in the art offerings of the two towns? Taken as a whole, both towns are increasingly populated by what has come to be called the new Creative Class (a great many of them Brits and Americans). No question a proliferating Creative Class is a good thing for a town. It nurtures actual artists. It draws tourists. Which feeds hotels and restaurants, which generates employment. But beyond that?
Art project consultant Thomas Sezcik stirred up a hornet's nest a couple years ago at Art Basel Miami Beach with his lecture, "Why Art and the Creative Class Will Never Save Cities." Sezcik, a major international art development consultant and director of Arthesia arthesia.com was blunt: self-described "culture capitals" are good short-term boosts for most any city. But then they fade as longterm development motors. Worse, said Sezcik, the cities and regions disgorge vast millions on what he labeled "archi-porn," bringing in global architects to construct magnificent new buildings -- which after the first run often are sparsely visited and ultra expensive to maintain.
Worst of all Sezcik attacked full frontally the standard assumption that the arrival of the Creative Class simulates innovation and imaginative urban growth. To the contrary, he argues citing a fist-full of studies, tight funding for the arts turns them conservative: "once [creative industries] find a formula [of] how they can sell a product - a special type of website or special strategy - they tend then to sell the same thing over and over."
Is it always so? Certainly not, but usually. And as for Marseille? A small handful of local critics are warning that the usual gentrification that accompanies the Creative Class will soon wipe out the low rents in the center city and along the port, driving the poor and generally friendly "popular" classes from across the Mediterranean out into the block house suburbs. And the artists themselves -- most imported from distant terrain for Culture Capital 2013 --will only be able to stay downtown if the city keeps creating artists' residences like La Friche. Against the nay-sayers, Marseille for now seems awash in waves of hope and optimism, and excitement over the fact that for the first time in some centuries, right/left, brown/white, urban/suburban appear to have linked arms to replace the city of crime and bloodshed with a citadel of wonder and art.
Takeaway message: This is a good time to visit no matter the likely gentrification that will almost surely wash away the ancient city's singular story.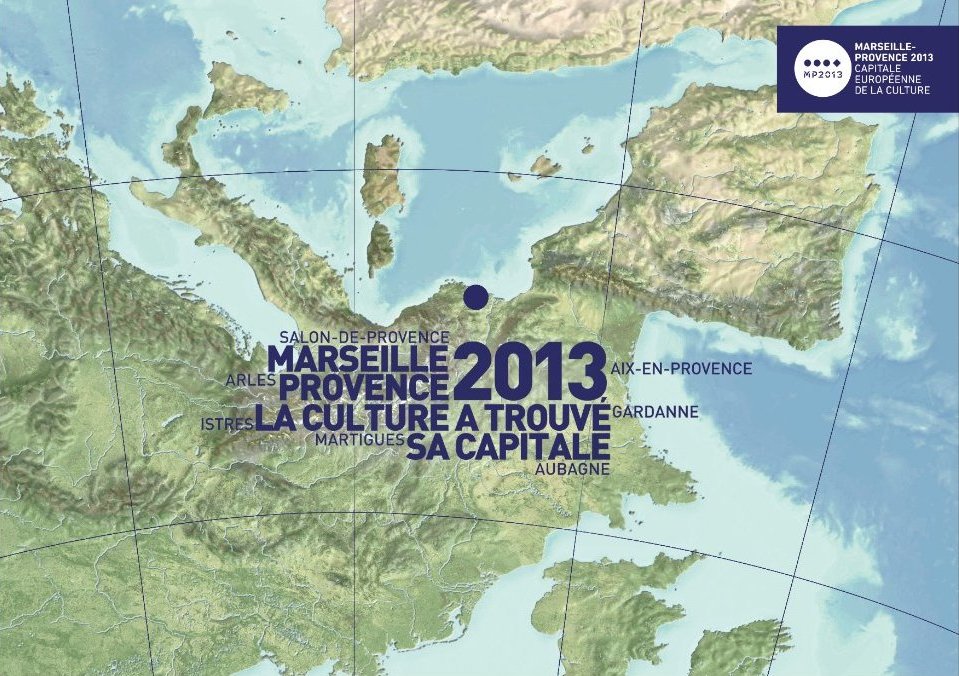 PHOTO CREDIT: (c) LEG.jpg