The stereotypes are global. France's Second City, like America's Second City, is the nation's murder capital. But Marseille has also been chosen Europe's Culture Capital 2013. What gives?
Aside from Amsterdam, there's nowhere you can go this year on the Continent with such a high concentration of new daring (if sometimes questionable) architecture and provocative contemporary art.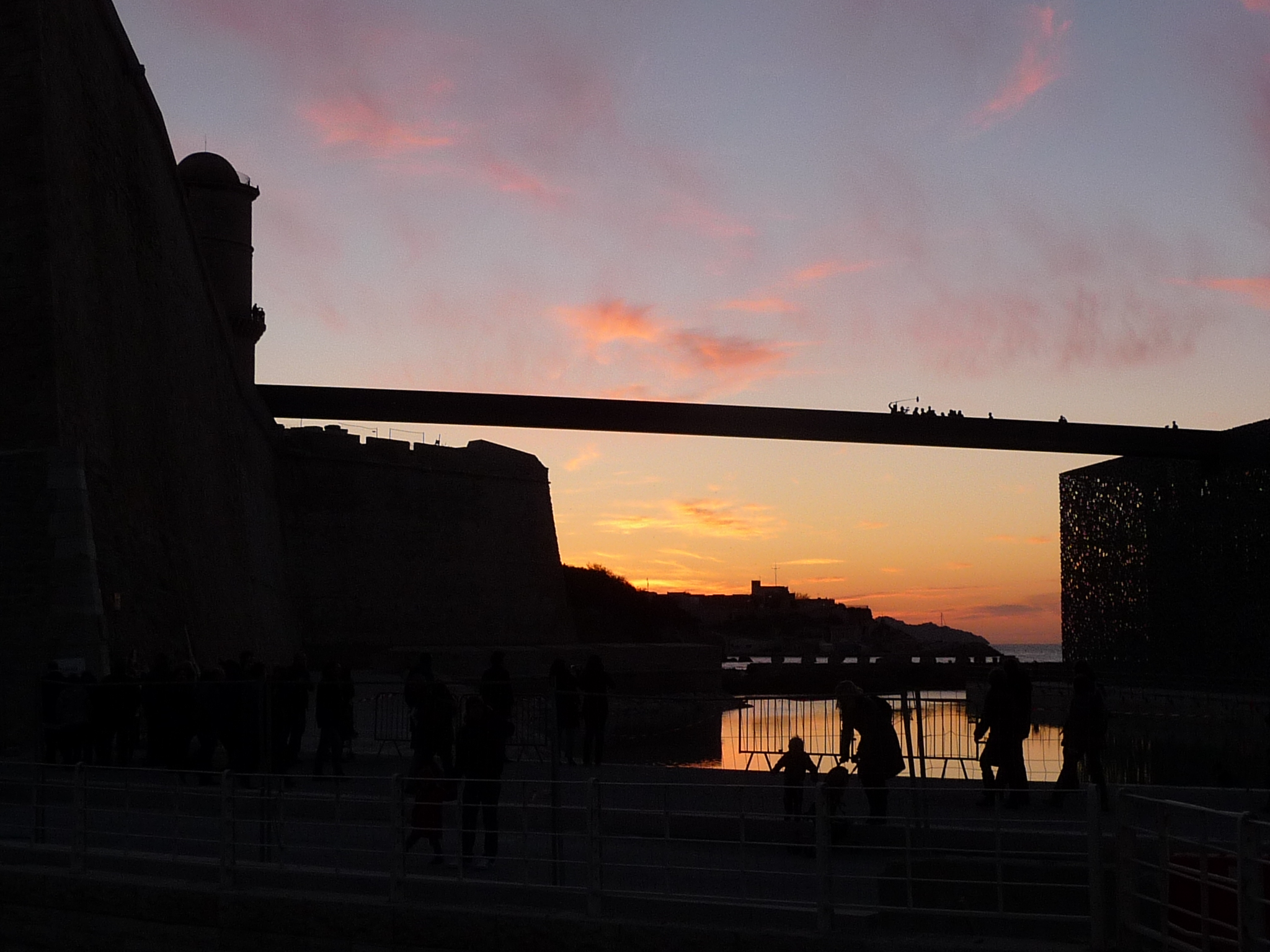 All photographs by Paris architect Christophe SEVAULT
Nearly all visitors will likely start with architect Rudi Ricciotti's just about finished MuCEM, the National Museum of European and Mediterranean Civilizations. Note the "s" and note the "national."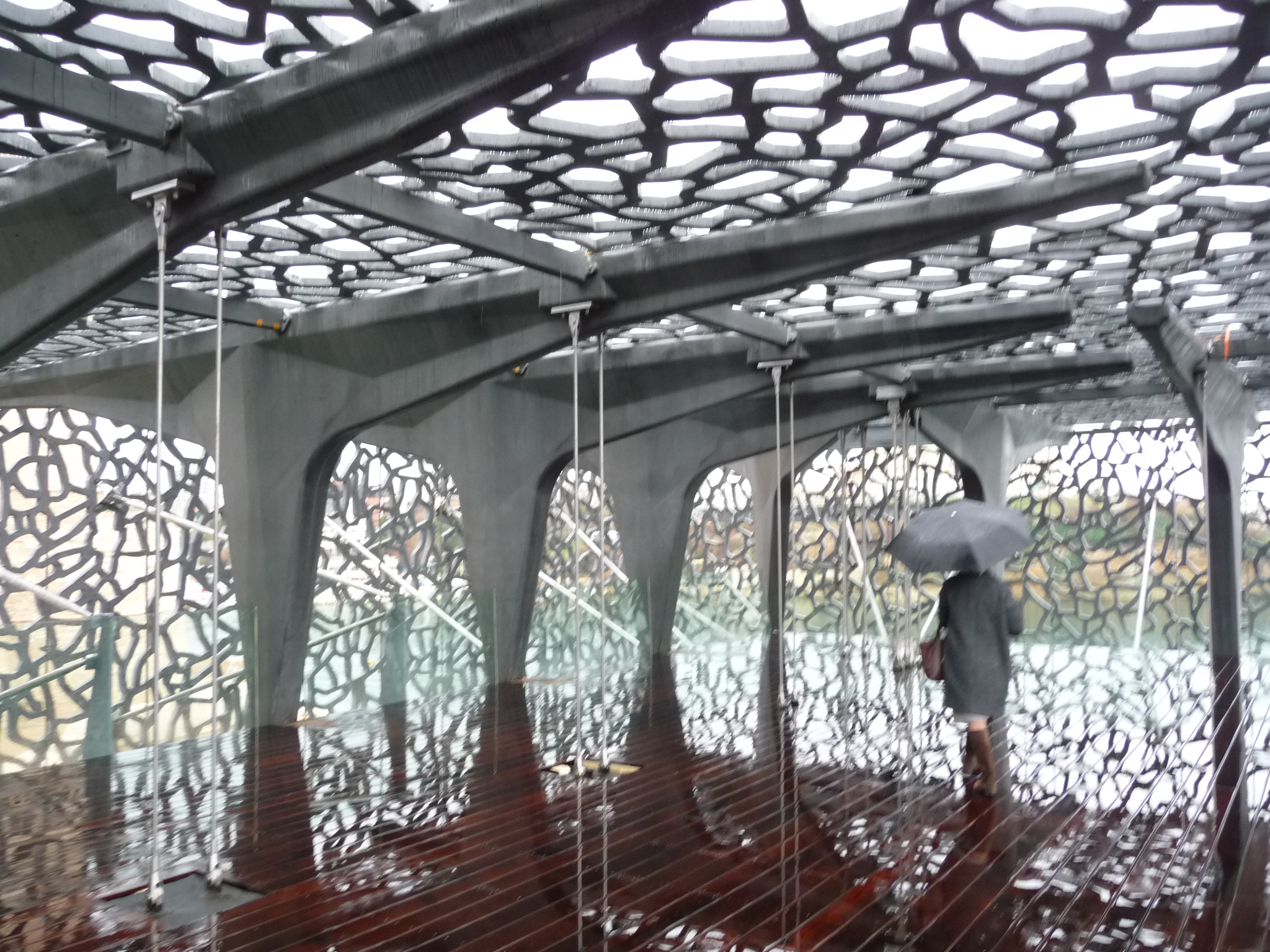 This is France's first genuinely national art museum headquartered outside Paris. It and three others within walking distance also seem radically dedicated to the notion that the overbearing "civilization Française" is only one among many Mediterranean civilizations. The best way to get to the MuCEM is by foot across a long seemingly unsupported black concrete catwalk from the old city ramparts into the new structure, which is also enveloped outside by dazzling black concrete lacework and inside is supported by twisting black columns that might be tree trunks.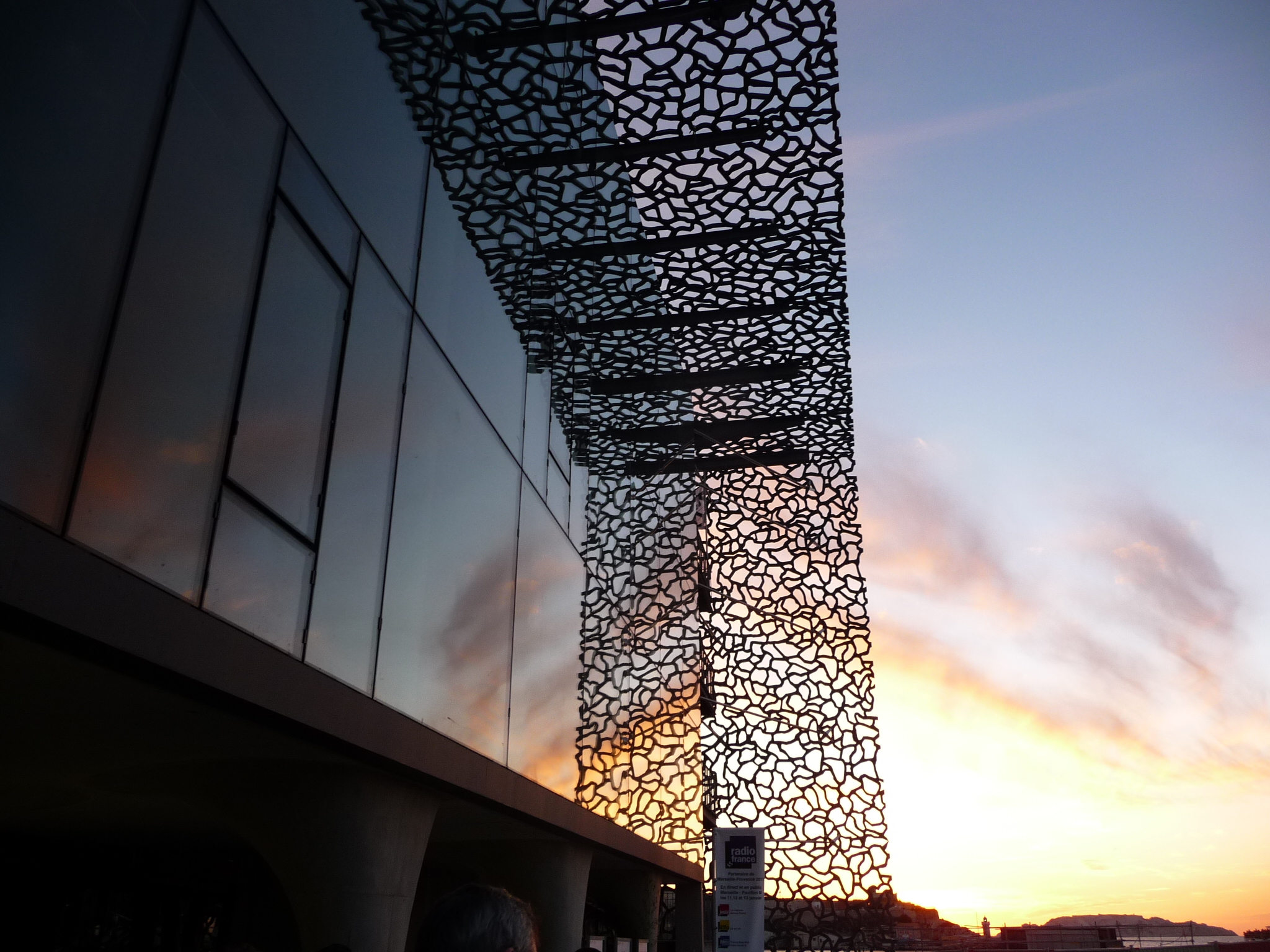 Ricciotti, who also designed the Cocteau Museum (described in my last post), is Europe's current architectural badboy, infamous for blasting his bureaucratic overseers and the politicians who, as he said on the opening weekend, demand either obeisance or payoffs that have turned "architecture into an existential profession." A permanent collection of 50,000 Mediterranean antiquities and folk art will arrive in June, transferred from the Museum of Popular and Traditoinal Art in Paris, along with two temporary shows of contemporary mediterranean work.
The MuCEM, which sits at the edge of the old port, has alas been crowded by another daring but far less successful semi-under water white block that boasts a dramatic 150 foot cantilevered arm going... nowhere -- designed by the Italian architect and publisher Stefano Boeri. Opening in middle-March it will house a continuous series of concerts, films, colloquiums and exhibitions.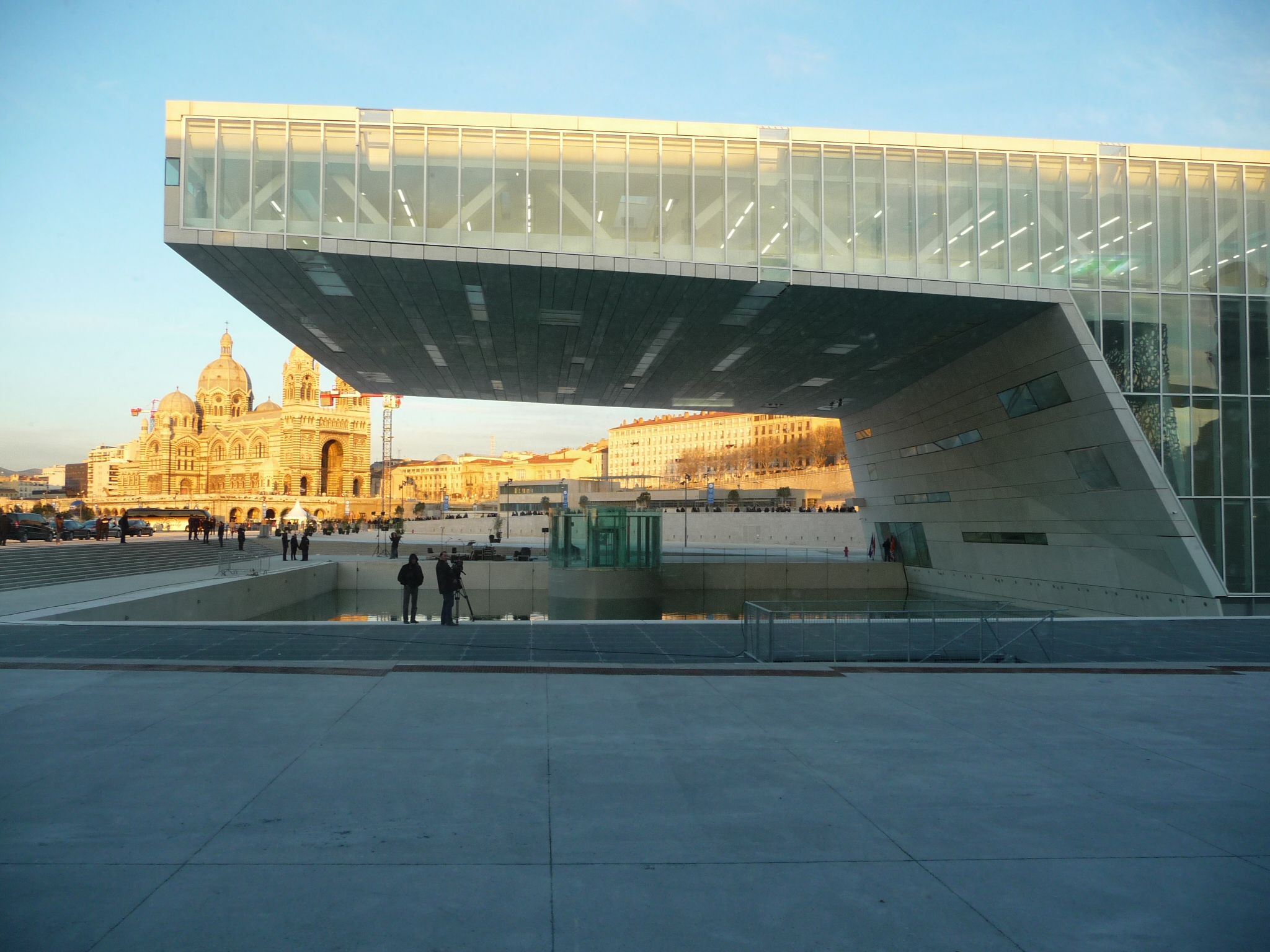 These two are surely the most dramatic new buildings brought to Marseille by this year's Culture Capital, a program devised in the 1980s for the European Commission by France's then Socialist Culture Minister Jack Lang and the late Greek actress Melina Mercouri. Often the Culture Capital designation results in little more than a brief tourism boom, but against all odds, Marseille's bid for the title has drawn in more than 800 million Euros (a little more than a billion dollars) in investments aimed at resurrecting France's and one of the Mediterranean's oldest and most polyglot cities.
Maybe more startling, the nature of the city's demographics has placed its poor, its homeless, its immigrants from everywhere at the heart of town or on the slopes right next to it. Result: unlike Paris or London or Amsterdam the art centers are fully integrated beside and among the sweating masses. Two of the most interesting converted museums find themselves one on top of an active freight wharf and the other inside an abandoned tobacco factory that doubles as an artists' residence and concert hall.
First the wharf, known as J1 that later next summer will house a giant Le Courbusier show but also houses what sits curators call "participatory" art drawn from thousands of snapshots selected and organized to illustrate ordinary home life, while in a separate gallery a revolving collection of kid's drawings changes regularly, each collection chosen by a single working artist. Ever skeptical of such pop projects, I was knocked out by the children's watercolors that evoke Miro, Picasso and Pollock.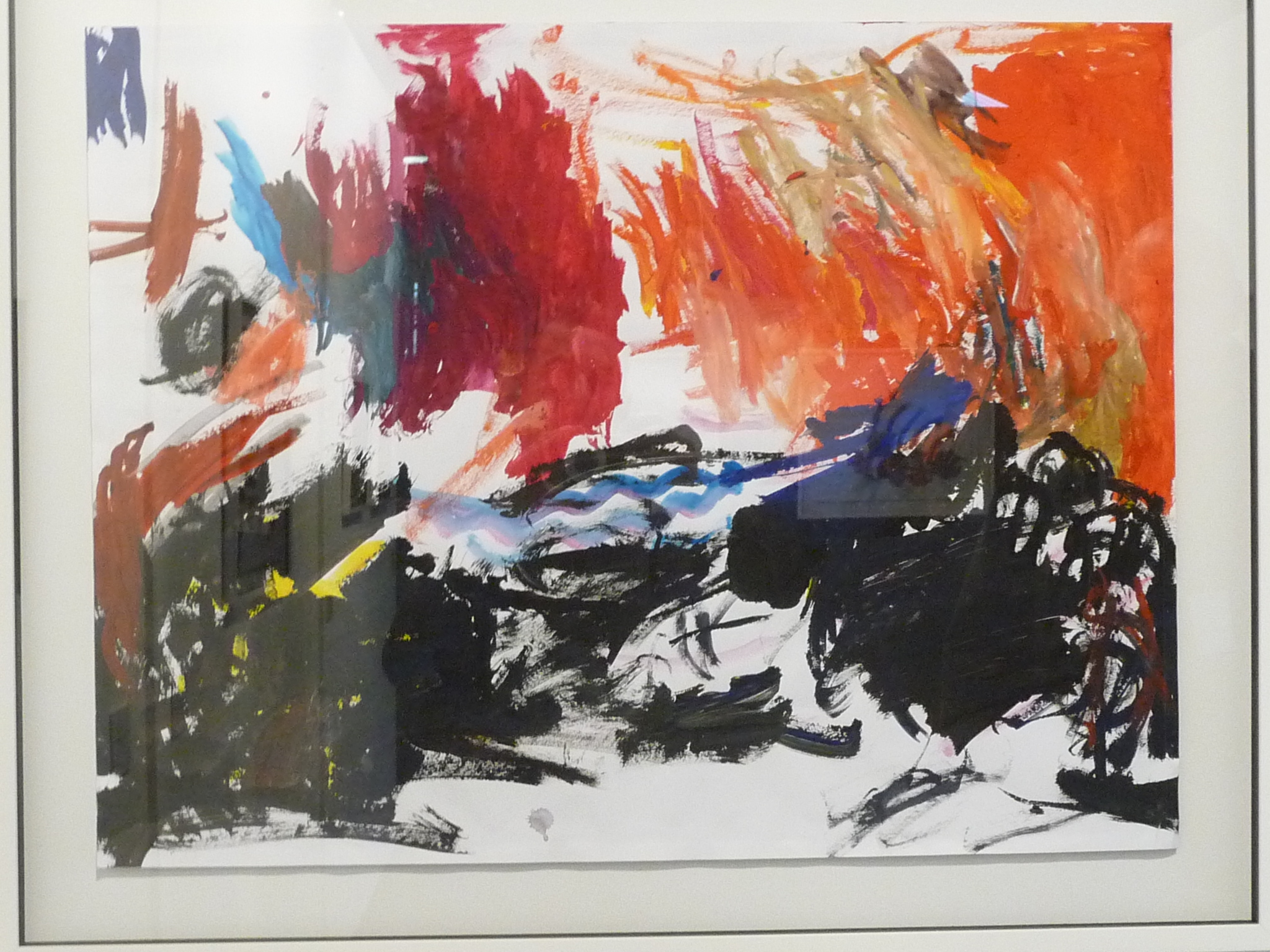 Further down through the second story of the wharf -- just next to a dock for the ferries headed to and from Corsica, Algeria and Tunisia -- is a stunning collection of Greco-Roman antiquities and panoramas juxtaposed with a half dozen videos in which homeless people from Morocco to Spain to Albania speak full face into the camera about their lives in today's "austerity" climate above the broken traces of ancient glory.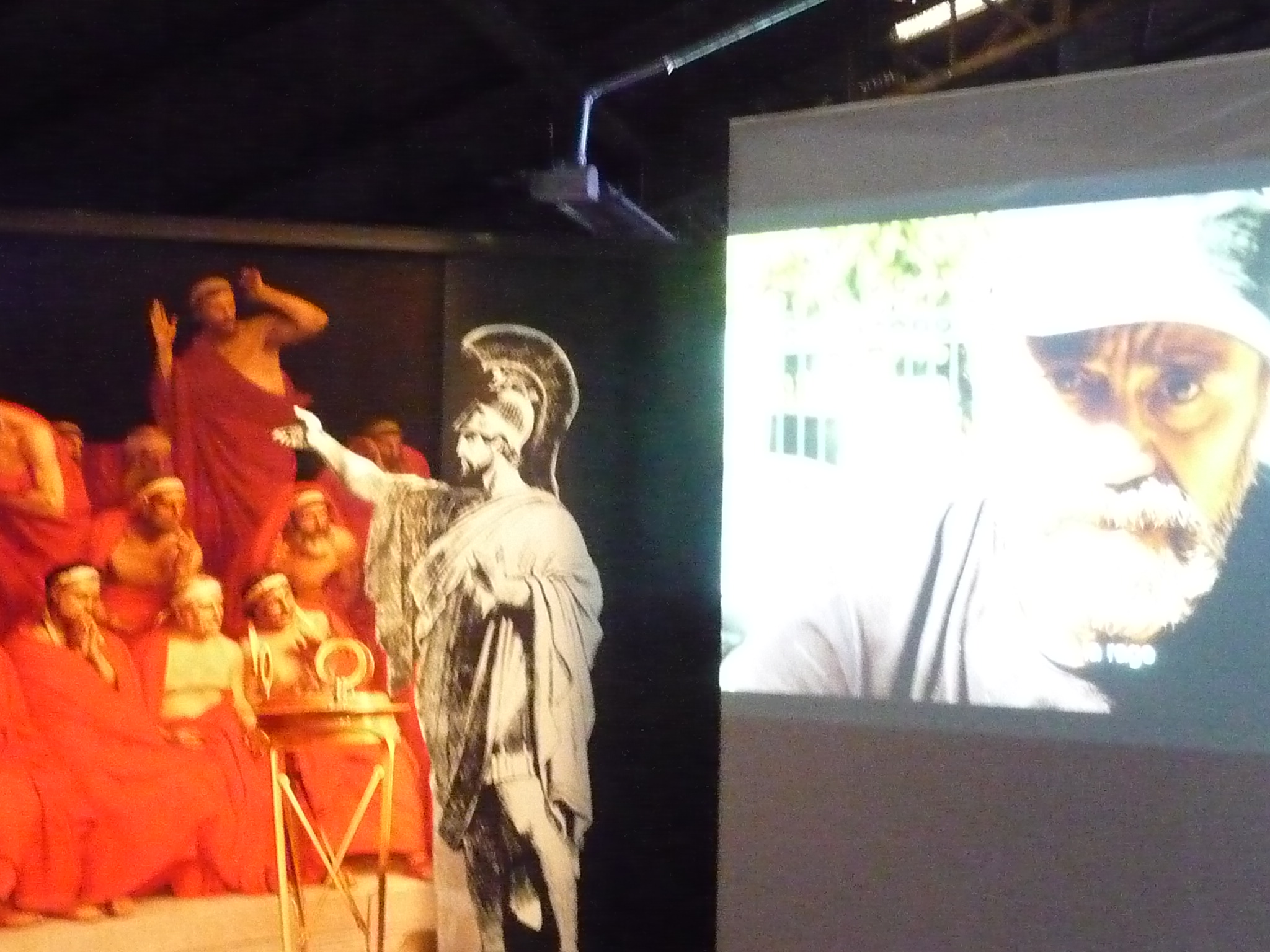 Back up the hill from the docks, right beside the neo-classic Saint-Charles rail station, sits the one-time tobacco factory turned into a contemporary art house, concert space and artists' residence. It's now called La Friche (roughly Wasteland) Inside are two floors of artwork, an enormous rooftop terrace, plus a housing wing, a restaurant and several garden plots.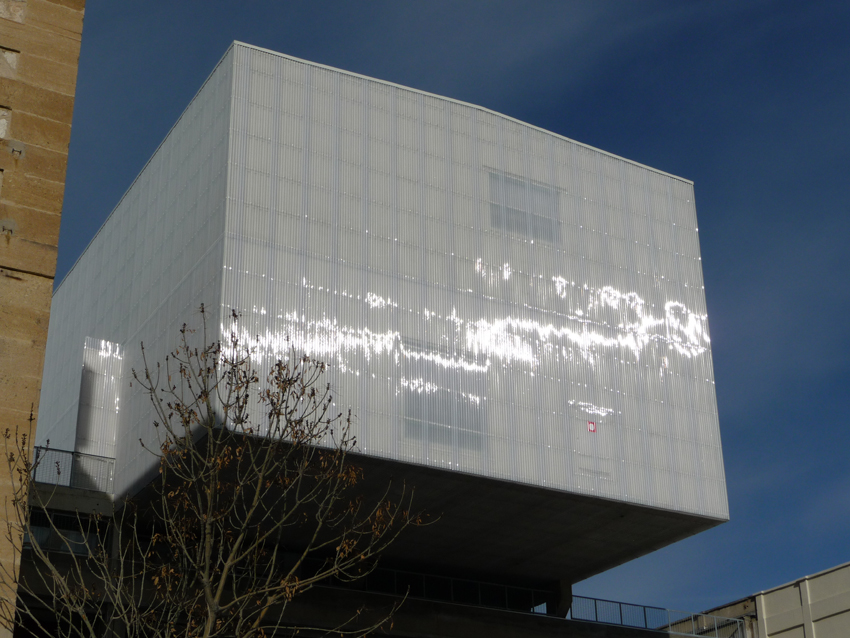 Again, the pieces come from all over the Mediterranean: Egypt, Israel, Palestine, Greece, Tunisia, Algeria, Spain and more. Below are three of the most stunning ones: first a series of glass hearts in black cages by by Lebanese sculptor Anaël Pigeat, then a pregnant holy virgin by Spanish sculptor Javier Perez, and an enormous copper chastity belt created by Egyptian sculptor Lara Baladi.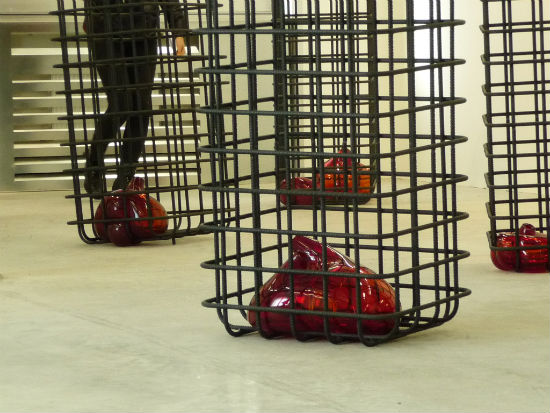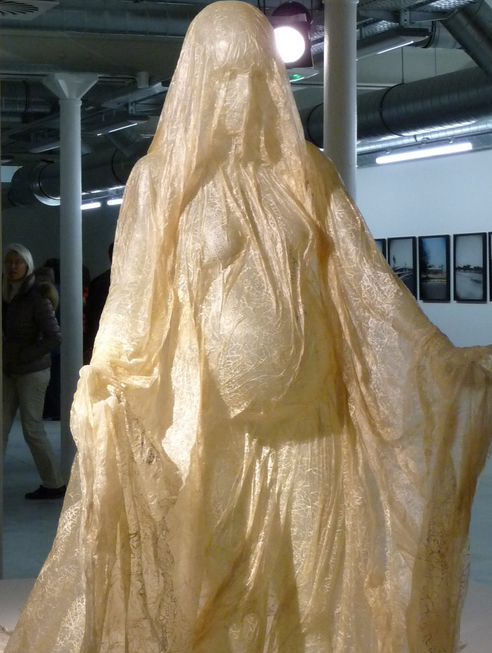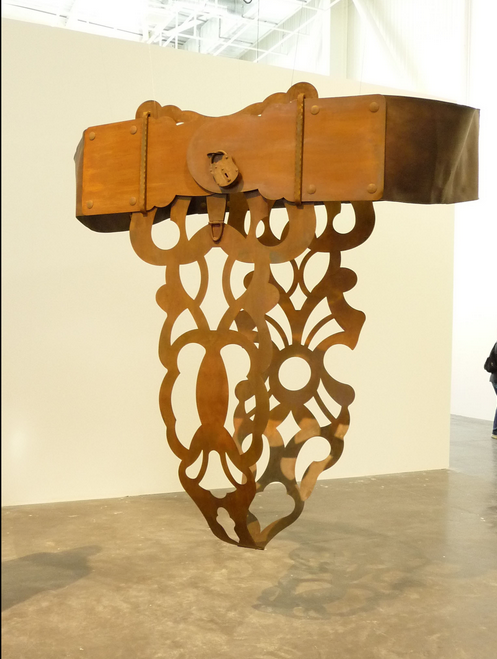 Outside on the terrace is a lonely staircase and hiding cave wrought in concrete by Israeli sculptor and painter Sigalit Landau.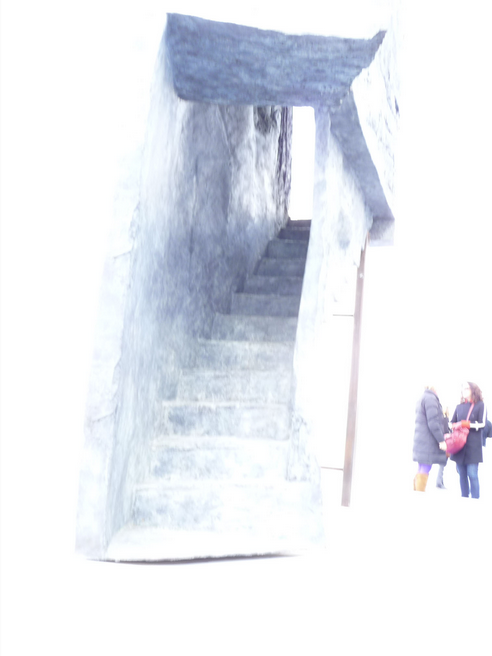 Though artist Landau describes the work as specifically directed at the fear that Israelis bear of having to go underground to avoid random rocket attacks, she is quick to say that Palistinians face the same sort of daily assault--as do ordinary people from Syria to Mali.
Next Up: Can art redeem a city, notably the city that has the highest murder rate on the continent and was made famous by gene hackman in The French Connection?