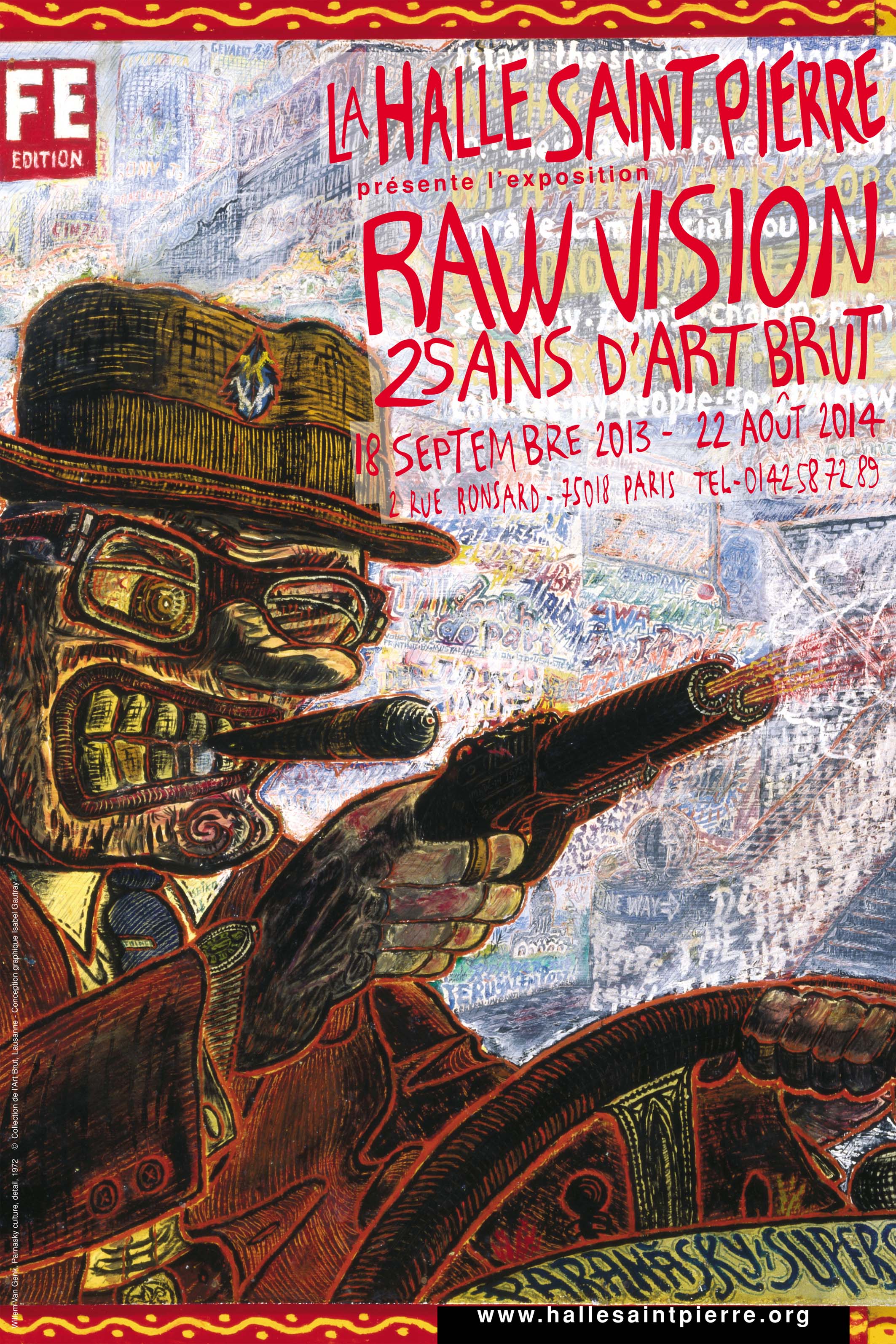 Photo: Halle St. Pierre
The more we intrude upon each other on our so-called smart phones, babbling to each other wherever we are, not knowing if the other is reposing on a temple throne or on the toilet, the more alone we all seem to be. If there is any single emotion that seems to mark what has been called "outsider art" it is surely the utter, horrifying, thoroughly transcendent sense of "aloneness." Not solitude or meditation or calm transcendence, but the radical terror that we are each of us and all of us alone without measure. Before the fires of Hell. Before the teeth of the jungle. Ravaged by savage sex. Before our fate as barren skeletons. Before the judgment of the supernatural.
Outsider "masterworks" are more and more sought after by museum curators across Europe and America. Here in Paris their master temple is without question the Halle St. Pierre, a one-time market on the left foot of Montmartre that has since 1995 become a museum dedicated to what Jean Dubuffet called called "Art Brut." This fall's show also marks the 25th anniversary of the British magazine Raw Vision.
Roughly half of what's one the walls is American: American evangelicals, black and white. American acid heads. American dissectionists (literally in one case). And a corral of psychically unbounded visionaries from Africa, Europe and Japan.
As compelling and alarming as any is Alex Grey's vibrant, embracing cadavers. Grey, grew up in Ohio obsessed with dead creatures, then eventually after a number of acid trips found a job preparing corpses at Harvard Medical School. He calls his 21-part series "The Sacred Mirrors."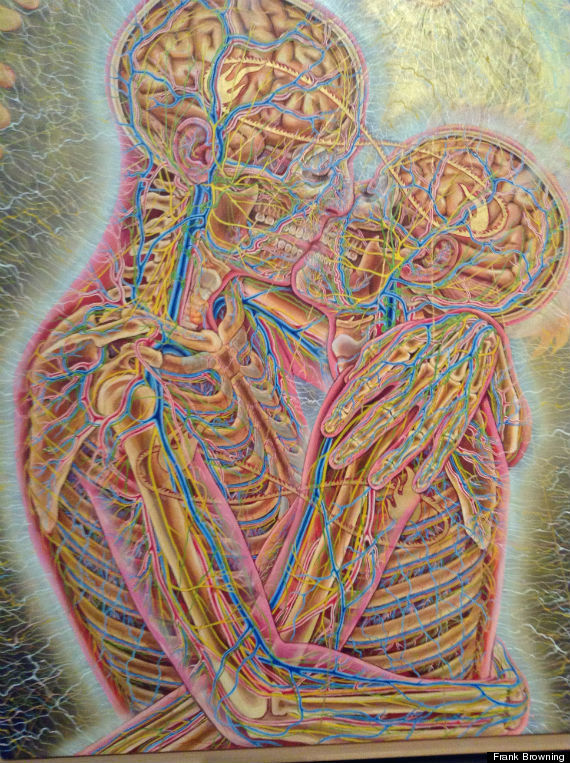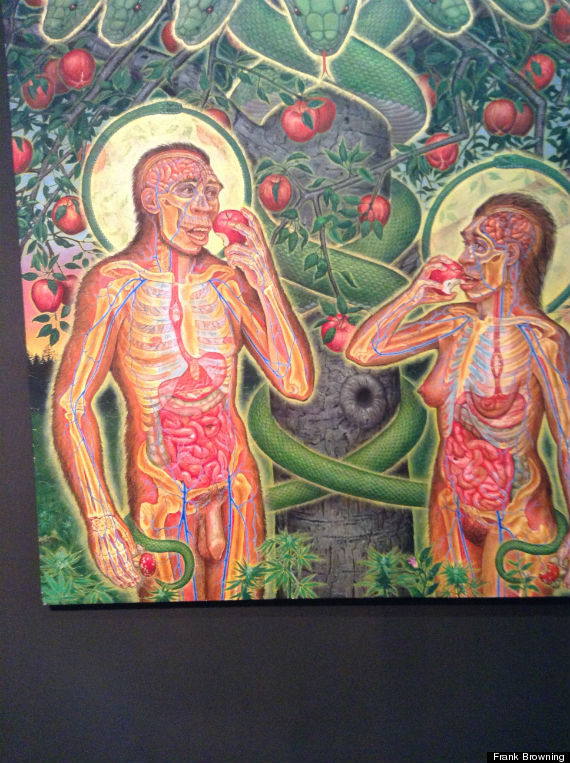 Bound southward to New Orleans for a journey on the dark side with Roy Ferdinand, who also spent a piece of his life working in morgues.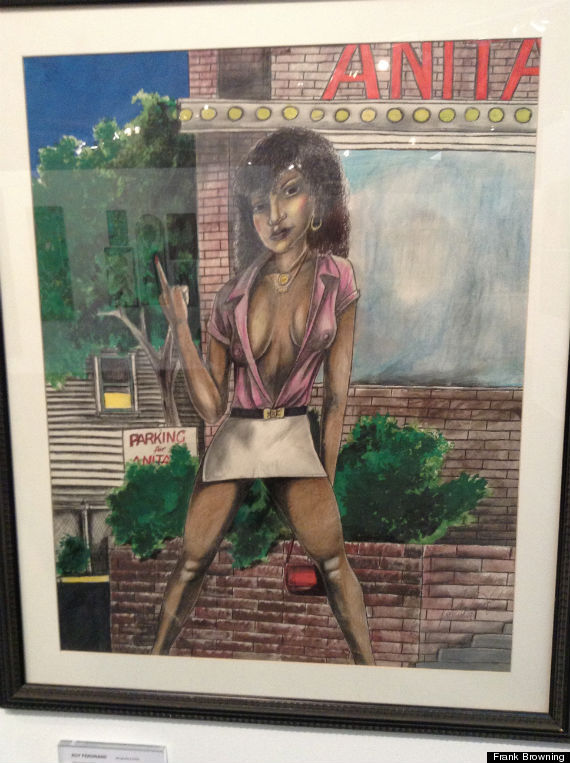 Fly across the Atlantic to what used to be the dictatorship of Zaire and is now the Democratic Republic of the Congo, where Cheri Samba took drafting classes and transformed himself into a major sign painter and then painter with a surrealist bent, dwelling on everyday life in Kinshasa: poverty, corruption, AIDS and the cultural divisions between African and western traditions.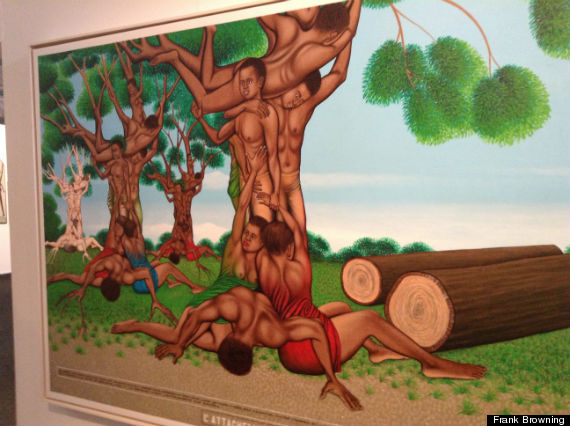 Northward to Portugal you'll find the highly sexed, often hermaphroditic carvings and sculptures (made of whatever he could find outside the house) of Jose Dos Santos, a barely literate artist who always maintained that his creations were sent to him by God and that his lifelong sense of persecution led him to identify with Christ.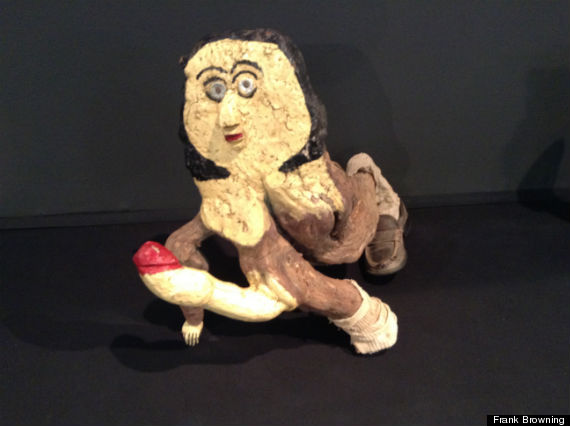 Friederich Schroeder-Sonnenstern passed his childhood on the then German-Russian border in a succession of reform school, eventually landing in an asylum, followed by an army stint and later as a circus fortune teller. His grotesques, like many others imbibe forbidden sexuality and religious punishment, concluding with his death at age 90 in 1982.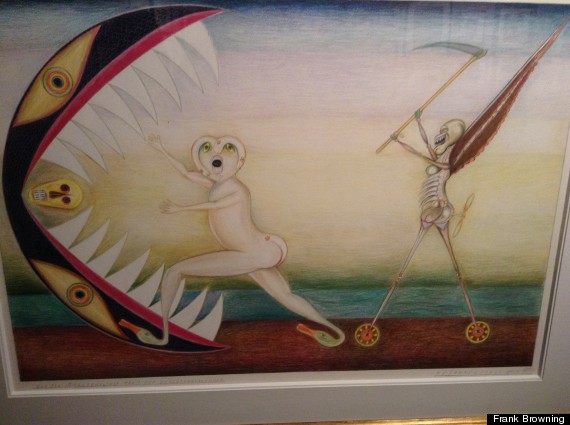 Back to New England, Joe Coleman was a Sixties and Seventies "party boy" who amused his friends by biting off the heads of mice. At later times he'd show up a parties with what seemed to be explosives strapped to his body; his work dwells on sex, sin, religion, mythology and family tragedy.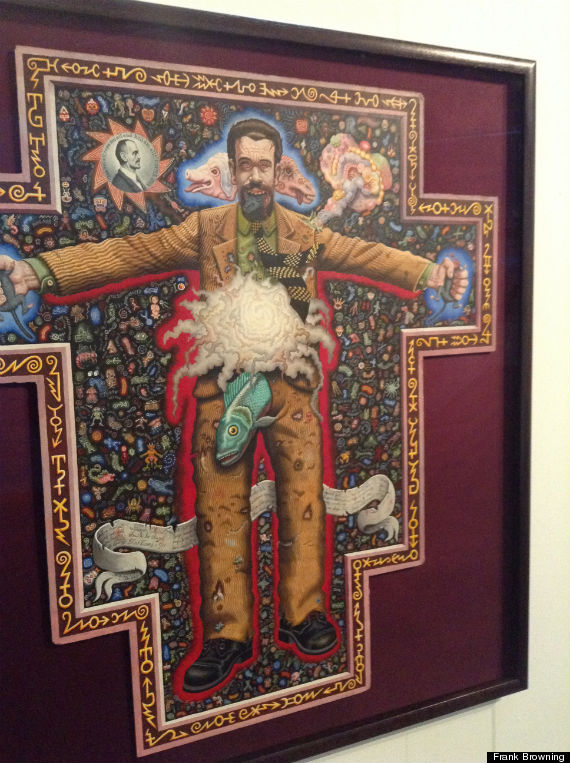 All Photos of artwork by Frank Browning