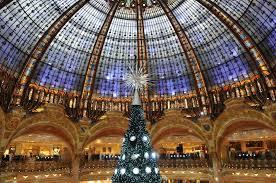 Here's the problem: Whadya do when you own the most elegant department store in the world, which happens also to be the second biggest tourist draw in Paris, and you're stuck with a non-descript 19th century building that you picked up when you bought out the competition department store and that used to house horses, said building occupying some of the most expensive real estate in the world? More the city sages warn you not to think of tearing it down. And yes it just happens to be at the center of the city's gay sex club zone.
But of course, you hire the world's most famous bad boy architect, Rem Koolhaas, and turn it a palace for contemporary art. Good for your image. Good for your brand. Good for people who, sometimes, are taken to be artists.
You organize the art project as Fondation Lafayette (cuts down on taxes) and appoint the family scion as its president.
Gallerie Lafayette started out in 1895 as small men's haberdashery a short trot from the Opera de Paris. Location. Location. Location. Within two decades it had become the most elegant place to shop en tout Paris, even constructing craftsmen's ateliers in the secondary properties it managed to buy on the cheap. Very early the family descendants gleaned the importance of marrying commerce and art. Interior decoration shifted from art nouveau to art deco to daring modernism and from time to time real artists were invited to display their work--sculpture, painting, plastic arts--amidst the gold, silver, silk and fur on tasteful display.
A bit more than two decades ago Gallerie Lafayette picked up the city's only "popular" (ie, affordably priced) department store, BHV, across the street from city hall and on the flank of the Marais district, one side of which remains Hassidic and the other side dedicated to the gay muscle class. No fools, GL opened Gallerie BHV Hommes dedicated to men with fat wallets who, thanks to hours spent heaving iron every week in the gym, have flocked to pay high prices for the sort of scant haberdashery that would have left the founders davening in embarrassment.
Still, the old iron-structured storage building down the street stood empty. Last week GL opened its doors to the usual clatch of Paris arts and real estate journalists. The prospects are promising, at least architecturally and commercially. When Rem Koolhaas and his team first took a look, they discovered just how limited were their options. First, they proposed retaining only one street-side wall. Not possible, snorted the city's deeply traditionalist architectural preservationists. The old stable and storage structure was vital to Parisian patrimoine. Only the shabby structure that had been installed within the building's U-shaped courtyard could be demolished.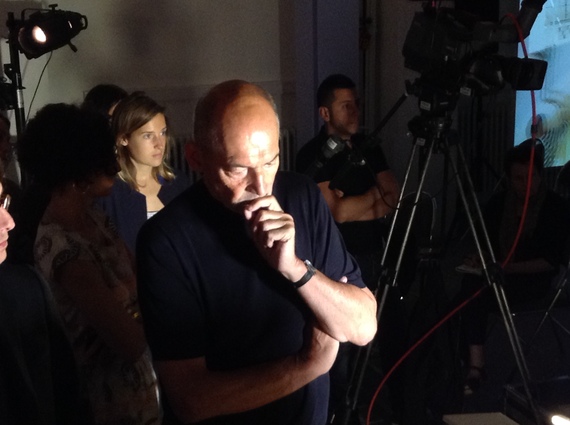 Architect Rem Koolhaas
Koolhaas is famously cited (and he insists famously misunderstood) for an essay written years ago entitled Fuck Context, which argued that the gargantuan scale of today's megalopolises renders the tidy if elegant 19th century monotony of Parisian streets useless and absurd. But, he declared at the press gathering, "I am not a destroyer." Rather, he would embrace this chance to wrestle with France's famously rigid rule makers. (One of his assistants spoke in a quiet aside of the massive French codebook detailing exactly how fire escapes (all of which are inside Paris buildings) and smoke evacuators must be constructed, a codebook larger and heavier than anything in the rest of Europe.
Beyond safety constraints and the regulators' insistence that that all the old floors and stairs of the building's three walls be retained and renovated, Koolhaas's team still managed to devise a daring innovation. A four-story glass cube with floating hydraulic floors will rise up from the small courtyard, offering 49 variable levels to house a mélange of separate or vertically mixed "art installations." It may not become the world's largest contemporary art center, but it surely stands to become one of the most radically conceived.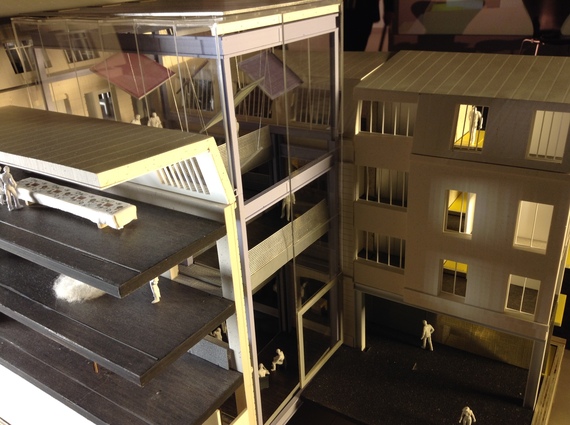 What sort of "art" Fondation Lafayette's curators choose to install is of passing interest to the Koolhass team. Their aim was to take a banal and useless space and allow it to support whatever art may follow. A temporary and preliminary collection has been selected for this summer that some may find appealing.
One of the most engaging is a closely filmed documentary of two elegant hands taking apart an expensive watch made by Quartz. Group Lafayette owns the Quartz brand.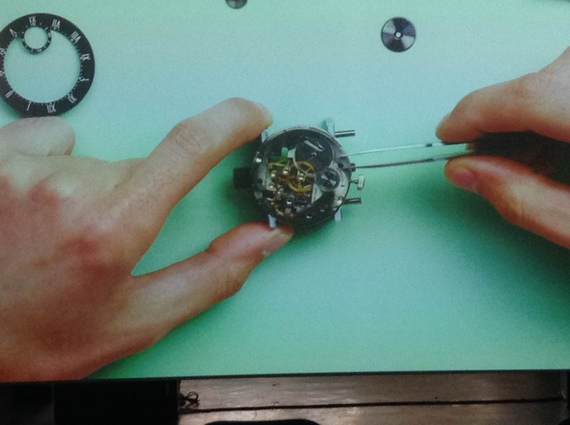 Another room contains a set of dirty brown molded chair seats lined up on the floor. It speaks of curves and folds.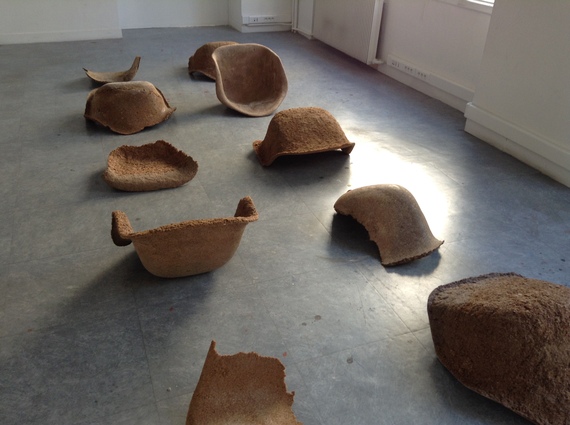 In another small side room hardly larger than a closet, a blotchy green window has been fitted into a wall; we are advised that it was fabricated of melted Perrier bottles. It asks us to question the nature of truth.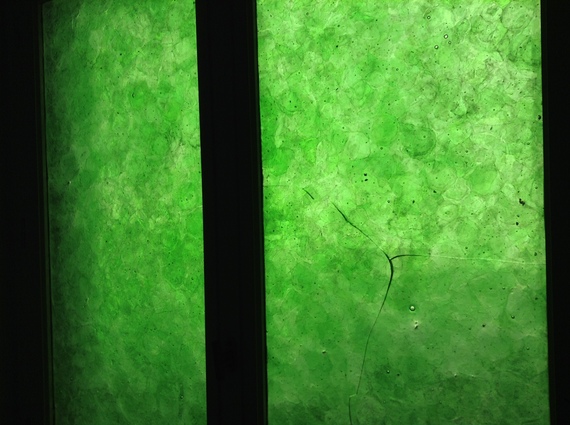 The global art market may well touch $50 billion this year according to the latest report by the European Fine Art Foundation. Sales in France and Germany rose 13 percent last year and 25 percent in the US, tracking the steep gains in wealth accumulation among the very rich across the West. Last week, a British contemporary artist's famous rumpled bed, site of her closely remembered breakup with a lost lover, snared over 2.2 million pounds ($3.7 million) at auction. Contemporary art, like old masters, is about tourism and money. Gallerie Lafayette is a master of both. Fondation Lafayette's president holds a bachelor of business administration.