Think of San Francisco in 1963, but replace the steep hills and the chilling fog with bright sun, a winding river and an ancient barge canal. That is Toulouse, possibly the friendliest town in southern France and the host to one of the country's most interesting and wide-ranging international art festivals. Toulouse and its surrounds are chock-a-block this summer with new works of sculpture, video, photography and paintings created by Americans, Ukrainians, Swiss, Dutch, Italians, Germans, and of course several French artists. Among others.
I was just there on press junket. The first stop was a breathtaking visit to the Musée des Augustins, a restored Renaissance convent that now hosts all manner of art and sculpture shows--the most compelling of which this year has been done by LA-Mexico City sculptor Jorge Pardo. The objects inside the formergreat chapel--several dozen architectural capitols mounted on concrete columns--have long been in place, but Pardo was asked to use his particular sense of light and color to transform the space. The result is something like wandering through a Technicolor forest populated by mythical animals and heroes of sacrifice and transcendence.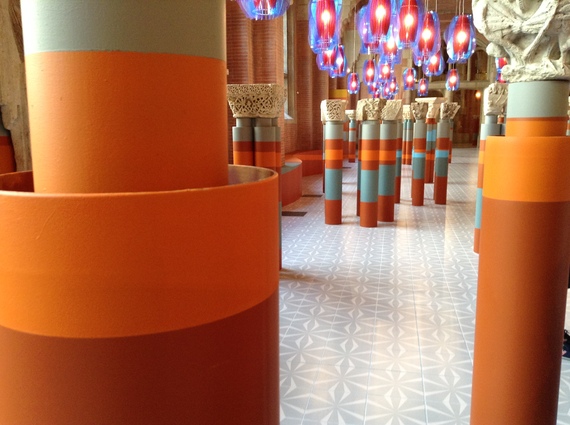 Pardo described his work in the ex-convent to a group of visiting journalists: "I came here to make a frame--an eccentric frame," he said. "Most people would think that if you take these objects and you somehow set up a more neutral framing that somehow they would be more present. I think the opposite. I use [the framing] to make the object more visual, to make it possible to see more detail in the object, and to bring the gaze of the viewer into the column.
These are questions I'm intensely interested in. How do you shape space? How do you frame visuality? What kind of experiments can you try?"
The "framing" consists of a series of computer generated color waves that rise and fall across the length of the room intersecting the columns, complemented by hot and cold lamps suspended from the fifty-foot brick ceiling. Pardo and his Mexico City team designed both the space and the form of the plastic-finned lamps using computerized robots. Then they sent the plans and software to Toulouse where it was all created and installed.
At perhaps the opposite extreme to the converted monastery--most of which still looks like a convent--are a collection of photographic and iron works assembled in a former factory building where Ukrainian Lada Nakonechna's works address gates, barriers and how it is that we see--or fail to see--those on the other side. One set of black and white photo images depict pastoral, almost Romantic scenes in the top of each frame while underneath another scene of struggle and death mounts in the same manner that images on a computer screen crawl upward consuming a previous image. These, like a tiny box enveloped around by a photo closeup image of a blinded eye pierced by a tiny bullet, follow in the footsteps of Brecht and the Russian formalist Viktor Shaklovsky to bring us inside the estranged lives of others.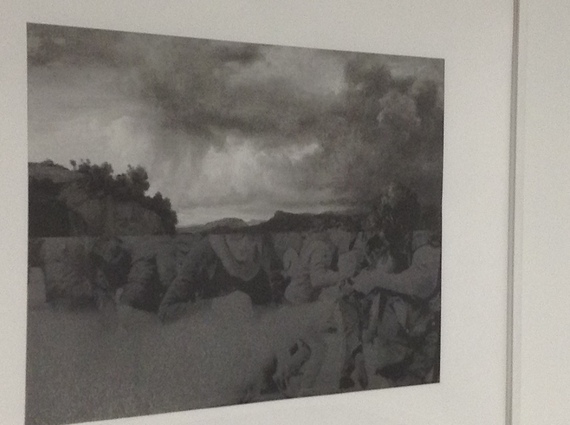 An hour's drive south of Toulouse in Saint-Gaudens--the only site not readily available by foot or public transit--you find another abandoned Catholic basilica filled with...well, it's not at all clear at first. Giant pipes of thick milk carton paper snake along the floor or recline semi-vertically against high walls.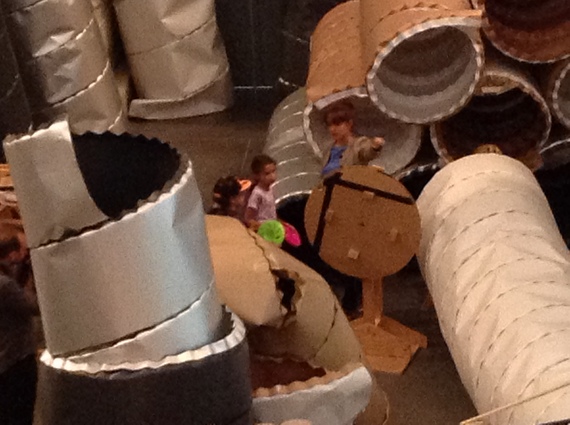 Answering a question about how ordinary visitors see the installation in what might be mistaken for a cluttered warehouse, the president of the town's art commission explains that, yes, many visitors are puzzled. "We say that they should spend time to explore what they think the artist, Michael Beutler, who lives in Berlin, might be trying to say. But visitors who come with children "get it" much more quickly, as the smaller people are captivated by the shapes and lines of the wandering tubes, wide-eyed and curious about how light and shadow play through the windows into what might be wonderful places for hide-and-seek. Beutler calls the work Pipelines.
Back in the center of Toulouse in the city's one-time slaughter house, the works of Susan Hiller, a Floridian who now works in London, occupy two floors. Descending the stairs you confront an enormous wall of old-fashioned blue and blinking cathode ray tube screens, somewhat reminiscent of Nam June Paik's 1970s installations, that Hiller has titled Channels. At one moment they are all blue, but patience rewards. Slowly on one side horizontal lines begin to wriggling on first one screen, then an another it's snow, and then more colorful lines and shapes On the other side purple and vermillion diagonals announce themselves. Soon enough a hundred screens appear to be dancing, talking and singing to one another.


Another nearby room is far more sedate. It contains two walls of what look like oscillograph engravings, or voice prints--which is exactly what they are. Hillar calls the presentation, "The Last Silent Movie." Underneath the lines are common phrases in dozens of once vibrant European and central Asian languages that are all on the cusp of disappearing now conserved on paper and framed in wood and glass.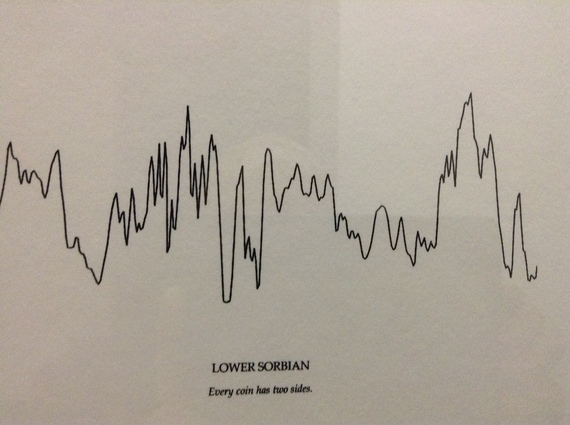 Trained as an anthropologist, Hiller abandoned anthropology as a "colonial enterprise" through which the rich white world penetrates the secret zones of "the primitives," taking back their vocal and visual treasures to great cities like Paris and London returning nothing of value to the locals. Her work is all about the life of language, what language communicates, how and to whom. She aims to examine the interiors of what journalists, scientists and politicians call facts and show us how those interiors breathe.
The Berlin painter Thomas Huber's canvases occupy another grand hall in the former hydro-electric plant that at first glance appear to be the backs or insides of the stretchers of paintings, again as with many of the artists in Toulouse, provoking the viewer to imagine what is inside the artists eye and mind as a work is being created, reminding us that all art and all sight reflects only the perspective of the moment and the artist in a particular time.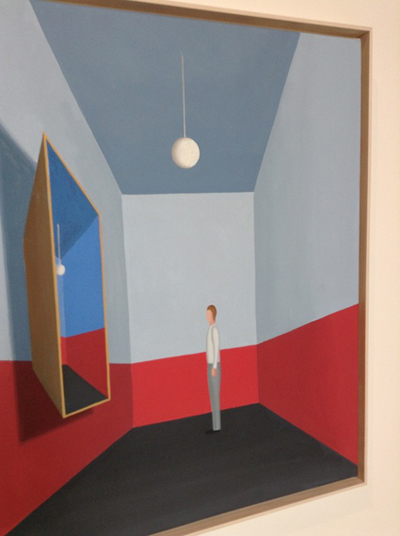 Belgian born Sven't Jolle's gray box-ish sculptures, collectively called Austerity Mums take over another former factory space. They speak without need of explanation to the growing desperation faced by tens of millions of Europeans and Americans, perhaps most acutely in the gray form of little girl entitled, "Making Ends Meet."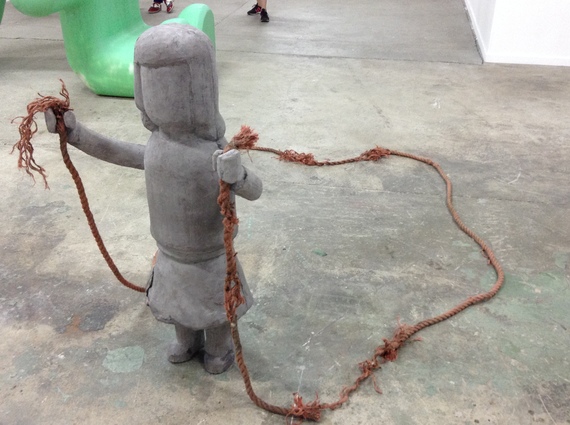 Publicly financed art festivals have grown almost epidemic across France--and they have proved powerful motors to local economies where old craft shops and factories have withered before the grasp of globalization. This year marks the second season that Toulouse has transformed a much more modest autumn art fair into spring festival (complete with jazz programs and contemporary dance) with the very plain intention of drawing summer visitors. The selection committee is equally composed of French and foreigners, and this year it's headed by an American, Christy MacLear, executive director of the Robert Rauschenberg Foundation in New York.
As with any such grand exhibition, the first question would normally be which artists to invite. But MacLear and her committee decided to turn the selection cart upside down. Instead they began with a careful visual survey of all the old and new spaces tucked away in and around Toulouse, and only then did they begin to ask themselves what sort of artist would best complement which space. In a southern town that seems to keep its cafes open all day and much of the night, it seems to work handsomely.