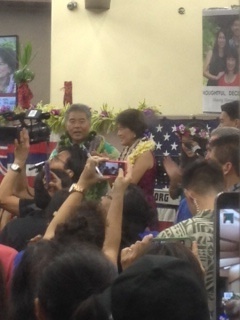 Back in 2010, everyone in Hawaii voted for a liberal hippy governor named Neil Abercrombie.
Sure, he called a special session of the state legislature to legalize same-sex marriage, but other than that, he might as well have written the definitive playbook for how not to get re-elected in the State of Hawaii.
Hawaii's citizens were shocked to discover that they got the fiscal version of a Republican, or worse yet, the World Bank. His biggest success: alienating every major voting block in the state.
In dealing with Hawaii's public school system, he played hardball with teacher contracts, refused to pay substitute teachers, and implemented ridiculous teacher evaluations. Additionally, he did not provide air-conditioning to schools and cut school funding across the board.
Regarding social services, he tried to tax the pensions of seniors, and eliminated dental care for the poor. When elected, he promised he would address Hawaii's houseless crisis -- and then did next to nothing.
But that's not all. He tried to privatize public lands, punted on the Pro Bowl, and ignored a Christmas flare-up to get death row pound animals out for Christmas.
And last, but not least, he threatened to veto relatively mild good government legislation that would call for self-reporting on conflicts of interests for members of various state boards.
Well, welcome to real politics in a semi-functioning democracy. An incumbent with $5 million, lots of organization, and access to party machinery, loses in a primary to a guy with no name recognition who, with only $500,000 to spend, had never run for a statewide office in his life, and couldn't debate if his life depended on it.
Hawaii's Eric Cantor moment, my mainland friends... The lesson to take away from here (and possibly learned too late by Governor Dan Malloy of Connecticut) is simple:
Austerity measures don't get you re-elected. Unions have made concessions before, and people have been willing to belt-tighten, if you sell it to them, but if you try and shove it down their throats, you may get your head handed to you -- electorally speaking.
President Clinton grew the economy. That works much better if you can pull it off. And whatever you do, don't be doling out huge sums of money to special interests while saying the state can't afford everything else.
The only question now is if the anyone-but-Abercrombie guy, David Ige, can wage an effective statewide race against two guys who have already done it (Aiona and Hannemann).
Ige was powered mainly by the Hawaii State Teacher's Association, along with the religious right, some Republicans, the usual lobbyists, and some sympathetic fellow legislative colleagues. But as the special interest money flows in will he lose his Mr.-Smith-goes-to-Honolulu luster?
Also, will the Hawaii Independent Party, former-Democrat, Mufi Hannemann, who is polling at around 20 percent among Democrats in a three way race -- and who has a compelling narrative for education, kids, and teachers -- go ahead and promptly shoot himself in the foot like the last time he ran for Governor?
The Republican, Aiona doesn't poll that well. He is dragged down by the Republican brand in this bluest of blue states where registered Democrats far, far outnumber all others. Nor does he have any compelling vision for the state as of yet. Will buckets of money and a pr firm allow him to overcome these hurdles? Not likely.
But they all got the Cantor/Abercrombie moment seared into their political psyches now, and that is not a bad thing.