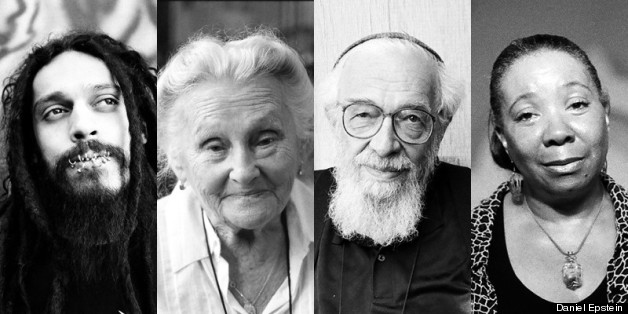 For almost nine years, Daniel Epstein, a Marketing Director at Procter & Gamble, has been travelling the world for business and for faith. Motivated by his own search to fill the "God-sized hole" in his life, he felt that if he did not develop some type of spiritual faith he would die. Born and raised a Jew, Daniel's challenges with relationships, work and "life" forced him at age 36 to get on his knees and pray to a God he did not know, a higher power not specific to either his own Judaism or any religion, and ask for help. In order to keep his new found sense of faith alive and to gain from the experience of others, Daniel created a spiritual exercise out of interviewing people around the world about the role of faith in their lives. As a photographer, Daniel also captured a moment with each person in a black and white portrait meant to evoke their true spirit.

What emerged is "Portraits In Faith," the world's most extensive oral history/testimony project conducted by one person on the subject of faith. Daniel has interviewed and made portraits of 400 people from 27 countries representing well over 50 religions, denominations and spiritual followings.
That said, Portraits in Faith is not about religion. It is about documenting the role of spiritual experience inside and outside of formal religion, expected and unexpected, told in people's own words, and brought to life with video and photography. The message of Portraits In Faith is that despite all the negative press on faith in the world today, faith is a powerful healer, transformer and changer of lives. The overriding message is that however one calls God (Jesus, Buddha, Allah, Higher Power, The Divine, Creative Intelligence...) there is a greater force that connects us all and it is good for each person to find a path that leads to a faith that works for them.
Epstein says the objective of the project is "to help heal the world by bringing people together in our greater, common spiritual journey."
To celebrate the public launch of this project, Portraits in Faith livestreamed an interfaith concert on Saturday. Seven musical groups across cultural and spiritual traditions including bluegrass gospel, African drumming, Hindu Kirtan, modern Jewish liturgy and a gospel choir livestreamed from their website. Feel free to explore the portraits themselves here, where a new photo will be added each week until all 400 are posted.
PHOTO GALLERY
Daniel Epstein's Portraits of Faith