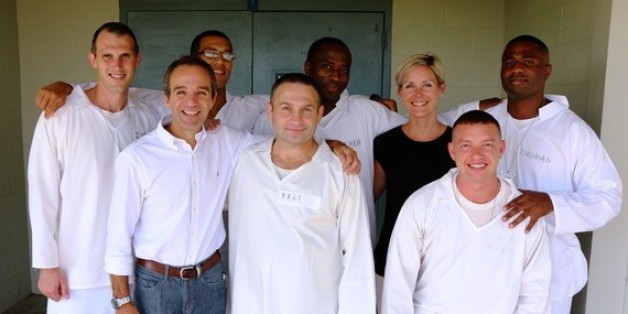 A couple weeks ago, my wife and I spoke to inmates at an Arkansas state prison about mindfulness and life skills. We were invited by the director of a highly effective pre-release program housed at the prison. I'll be honest; I was a bit nervous. I'd never been to a prison before, much less speak to a roomful of inmates.

And unbeknownst to us, we brought into the facility contraband -- raisins. Yep, sugar, fermentation and all that, we were told. We wanted to use them for a mindfulness exercise. The program director let us... this one time.
Not the ideal way to start a day-long seminar, but here are some lessons I learned from our time there:

Firstly, forgiveness still works better than permission, although I may rethink this approach the next time we walk through the gates of a maximum-security prison.

Secondly, small things really do matter, or they should. One inmate hadn't tasted a raisin in over two decades. He held it in his mouth, savoring the taste and texture for nearly an hour. It was pretty inspiring to witness present-awareness first-hand. Most others gobbled them down.

Thirdly, you really can make a difference wherever you are.
Prison is a pretty restrictive place. Inmates are told when and where to stand, sleep, eat and even talk. We were searched when we entered the unit and had to wait for guards to open doors for us. No cell phones are allowed.

And despite all this, we met men inside who were using their time to make a positive impact in the lives of other inmates.
We met two guys who served as peer counselors. Another earned his GED while in prison and discovered his passion for computer programming. He now uses his skills to create computer games that other inmates use to learn how to read and type. Another inmate helps those with mobility challenges navigate through the halls, classrooms, and chow hall.

These are just a few stories.

I couldn't help but think I was witnessing what Viktor Frankl called "tragic optimism" -- people choosing to make a positive difference in incredibly difficult circumstances. Seeing such a dramatic display of it was both inspiring and humbling.
And then at the end, seeing 200 men in white prison garb doing pranayama breathing in an otherwise silent room... it was moving, to say the least, and absolutely memorable.
Finally, my grandmother was right: A cover rarely tells us what a book is really about.
Many of the men in the unit had committed serious crimes and they were paying for them. Justice is being served.
But after spending eight hours with the men, I was struck by how complex and nuanced... well, human, they are. They aren't the uni-dimensional individuals their online mug shots might suggest, but rather living, breathing, thinking and feeling human beings with aspirations, abilities and of course, regrets.
Many were taking steps to move beyond the mistakes they made in the past. Some had earned degrees and learned job skills while behind bars and they were thirsty to learn. Just by enrolling in the pre-release program was a testament to their motivation not to return to their old way of life.
It was a powerful reminder that we need not be defined by our circumstances. Each of us has a choice. We can remain shackled to the past or we can soar into the future on the wings of purpose and resolve.
By living in the present, the inmates we met that day experienced freedom. They were alive. Full of zest.
My wife and I are still trying to find words to describe our experience and the impact it has had on us. I'm sure it will take a while. We do know this. We can't wait to go back. Next time, though, we'll be sure to leave the raisins at home.
A previous version of this post appeared at frankniles.com.
Dr. Frank Niles is a social scientist, adventure athlete, executive coach, and speaker. Learn more about Frank at frankniles.com and scholarexecutive.com. Contact Frank at frank [at] frankniles.com.