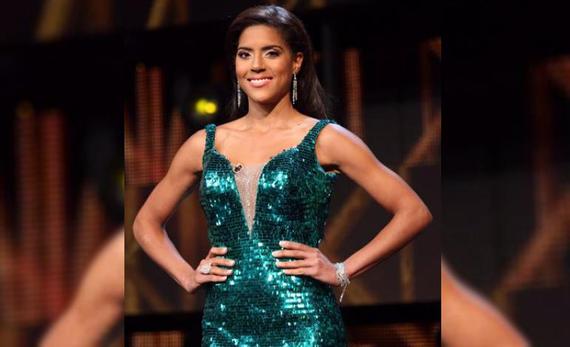 Francisca lachapel was the unlikely contestant to win Nuestra Belleza Latina 2015. The newly crowned Nuestra Belleza Latina is an Afro-Latina woman from the Dominican Republic that lives in New York City.
The three-month highly watched reality show captured the attention of millions on Sunday night. Four finalists: 2 Dominicans, 1 Honduran and 1 Puerto Rican were what was left, after hundreds tried to compete for one of 12 spots in the competition. Expectations were high for the election of Nathalia Casco. Nathalia Casco, a native of Honduras, who represented Miami, Florida where she now lives, had many challenges getting along with other contestants inside the "Mansion." Week after week, Ms. Casco ended up in danger of elimination, only to be saved by the public, whom through their votes via social media or phone calls were able to save her. Francisca and Nathalia were the finalists for the crown of the reality show.
Francisca Lachapel wins the 2015 Nuestra Belleza Latina amidst broad complaints about Univision's lack of blacks in their programming. For years, the network giant has been plagued with allegations that it mainly hires light skin Latinos, mostly of Mexican, Cuban, and Puerto Rican descent. Recently, a TV host from Univision, Rodner Figueroa, was fired from the network after he made remarks that First Lady Michelle Obama looked like she was a cast member of the film Planet of the Apes. While condemning Mr. Figueroa, many believed that his remarks were only a reflection of a culture in the network.

On its ninth season, the Nuestra Belleza Latina is a three-month beauty pageant reality show that has women compete for $200,000 and a contract with the network. The judges this year were Osmel Sousa, a Cuban-Venezuelan beauty pageant expert, Jacqueline Bracamontes, a Mexican actress and Jomari Goysoi, a beauty critic from Spain.
Osmel Sousa, sometimes called the beauty Czar, has been a judge of Nuestra Belleza Latina since the show aired in 2007. He is also credited with helping crown a number of Ms. Universe winners.

Mr. Sousa measures beauty by the European standard, and he is not shy about saying it. In 1997 in a Latina Magazine interview, he described his bias against contestants with African features saying that "black Venezuelan women are not very beautiful," he continued saying that "he would only choose a black girl if she had white features, just painted black." He has been the head judge of the competition since it started. It was no surprise to anyone why Ms. Lachapel, who has clear Afro roots, was not Mr. Sousa's favorite.

But Francisca's most avid judge fan, Jomari Goysoi, who is gay and joked throughout the season that someday he wanted to marry her, on the last night, alluded to the fact that black isn't necessarily pretty, and that that may have been what she had against her. On the last evaluation given by the judges to the four finalists, when he evaluated Francisca, he mentioned his grandmother whom he insinuated wasn't pretty because she was dark and had Afro hair, but that she was a beautiful person inside.
Francisca had to constantly address and defend her non-beauty queen flows. There was even another contestant, a Cuban who was eliminated early on in the competition, but was brought in to play an April fool's joke, who told her that she wasn't pretty because she didn't fit the beauty pageant type, citing specific examples of her hair. That remark got Francisca to shed tears.
From the beginning Fransica captured the public's attention. She auditioned for the show in New York City as a loud mouth raggedy street peasant, a character she called Mela. Mela would go on to show up in a number of talent competitions throughout the show, including on her final performance the day she won the crown.

Francisca Lachapel was born in Azua, Dominican Republic on May 5, 1989. She measures 5'4", is married, and lives in New York City. She becomes the first Dominican to win the Nuestra Belleza Latina crown.