Mark Twain said, "Suppose you were an idiot, and suppose you were a member of Congress; but I repeat myself."
Twain's ridicule of Congress is timeless and priceless, but it understates the mind-boggling ineptitude described in the following story.
KCAA Radio offered 79 California political candidates $1 radio ads to see if any of them had enough sense to accept the offer. We also wanted to see if we could stem the flow of expensive mail box stuffers which have become so prevalent in the Inland Empire region of Southern California. Only three candidates chose to accept our offer, and only one of these bought more than 100 spots.
No candidate in the race for California's 31st District accepted KCAA's offer, even though the district is located in the heart of KCAA's radio signal as demonstrated by the blue area in the center of this coverage map.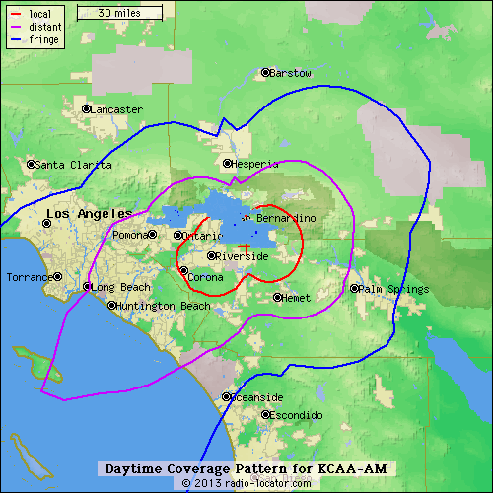 KCAA's coverage map is published online at radio locator. We overlayed the 31st Congressional District on it to prove that KCAA's strongest city grade signal (the red circle) and its regional signal, (the purple circle) provide excellent coverage to the good citizens of California's 31st.
The cost of mail box stuffers that flood Southern California mailboxes exceeds three for $1, so using this estimate, it takes approximately $15,000.00 to reach 45,000 potential voters.
Let's compare the cost of KCAA's $1 radio offer (which all congressional candidates declined) to the cost of mail box stuffers.
It's very logical to assume that each radio spot on KCAA will reach a minimum of 500 people. This is a very low estimate for a radio station that covers a population of over four million. During IMUS In The Morning, Alex Jones and Dave Ramsey's show, KCAA has thousands of local listeners and the station's local online audience regularly exceeds 500.
Using the unrealistically low listener estimate of 500, let's assume a candidate buys four spots an hour on KCAA during the week prior to the election. This purchase will reach at least 1/3 of KCAA's average quarter hour listeners (persons who listen for at least 5 minutes).
So, under our offer, candidates could buy four ads per hour on KCAA for $4.00 per hour x 24 hours x 7 days = for a grand total of $672.00, reaching thousands of potential voters.
Now, let's expand the KCAA radio buy to the absurd level of three ads in 15 minutes, or one ad every five minutes. This puts the total cost to reach 500 listeners at $3.00.
Quickly, save the women and children... because the total cost to reach 500 people by US mail is a whopping $165.00, so why in the name of 3rd grade math did these campaigns decline KCAA's offer to reach at least 500 different people every 15 minutes for only $3.00? No person of sound judgement could ignore such a bargain. This speaks volumes about California political campaign managers and the candidates themselves. One word comes to mind... STUPIDITY.
These political candidates are trying to convince voters of their wisdom and frugality while spending $15,000.00 each time they try to reach 45,000 likely voters by mail, while ignoring KCAA's offer to reach the same number of potential voters for a fraction of that amount.
Since KCAA is a news talk station and the exclusive NBC Radio News affiliate for the Riverside/San Bernardino Market, most of the station's cumulative local audience is comprised of potential voters.
If congressional candidates had bought $1 ads on KCAA, their message would have aired during Joyce Riley's Power Hour, IMUS in the Morning, Gary Garver's Controlled Chaos (Gary was Howard Stern's Hollywood reporter for over a decade), Alex Jones Info Wars, The Dave Ramsey Show and The KCAA Morning Show. Until last week, the list would have included Ed Schultz.
KCAA also produces and airs over 50 independent local and regional talk shows on subjects as diverse as the demographics of the region's population and many of the these shows are political in nature.
There are about 700,000 people in each congressional district. It's easy to understand why voter turnout is so low when every campaign blindly sends the same junk mail to the same limited number of people over and over, while ignoring a majority of the voting population.
It appears that a majority of candidates on the ballot in the Inland Empire region of Southern California and their campaign managers are incapable of understanding elementary school math, which speaks volumes about the financial mess that will follow their decisions as elected officials.
We must also ask ourselves... why would anyone of sound judgement contribute money to candidates with such poor judgment?
The voters deserve better.