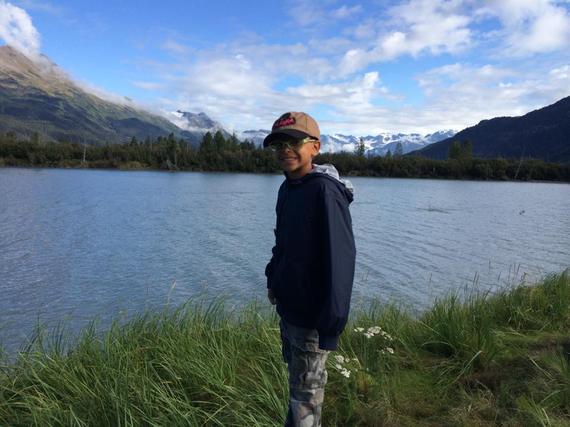 When my partner Adam and I met 10 years back, one of the first discussions we had was about parenting. I knew I wanted to have a family, and knowing Adam wanted one too absolutely accelerated him into husband material. Having experience with adoption and foster care in our own extended families growing up, we knew that adopting children from the foster care system was the best choice for us. Fast forward through months of training and certifications, not to mention long discussions and complicated decisions, and boom -- a family was born.
There have been surprises all along the way, and not all of them joyful.
Jaylen arrived a little over five years ago as an emergency placement to our home in the middle of the night, yanked from his bed and still in his pajamas, with garbage bags full of stuff. We later learned that we were the fifth home Jaylen had lived in over the near four years of his short life. Imagine that -- five homes and you're not even four-years-old. How on earth do you begin to learn to trust or grow or feel secure when you are moved like that? How do you fall asleep when you're not sure where you will wake up? Less than a week earlier, we had received word that his sister was born and in need of a home. Over a two week period, we had gone from wanting to be a permanent resource for a child to having a newborn arrive -- and having two kids. Three years later, we got a call about Noah, 18-months-old and on his fourth placement, and we were now a family of five.
Jaylen is now 9, and last week was his first full week in fourth grade and the first week of Kindergarten for his sister -- and our daughter -- now five, Jade. This year we moved to a bigger house further out in the suburbs to accommodate our growing family.
But then, as happened last year at Jaylen's previous school, part of the activities in the first week included a visit from the local Cub Scout troop, who were recruiting new families. At the new school, they were allowed access to the kids during recess and lunch, where they were given permission to put stickers on the boys' shirts with contact information for the troop leader. Here's the letter I sent to him, a copy of which I also sent to our school principal:
Hi, Will.

Hey, so our eldest son came home today with a sticker on his chest, asking him to participate in Cub Scouts. I wanted to thank you for agreeing to volunteer for the group -- both of my parents were cub and boy scout leaders (and girl scouts) and I fondly remember being a scout, particularly building cars with my dad for pinewood derby! It was a super experience for me, one that I wish my kids could participate in.

I'm writing to let you know that we regret we can't participate in your pack because of the ongoing discrimination against gay families in the Scouts. While I appreciate that you recently shifted your policies to allow gay youth to join, kids with gay parents are still told that their parents may not volunteer or participate. Moreover, gay kids will still grow up, at which point the Scouts will shun them, as well. For all of the good that scouting did for me, I don't want to have either of my sons participate in a club that actively excludes people. I hope to teach my kids love and integrity and not to judge others, which is something they cannot learn from scouting as it stands. Frankly, I'm surprised you are allowed to recruit at school given your national policies. I don't know if you are involved in communicating to your national board or leadership about these issues, but I encourage you to let them know that there are many families who will sadly not be participating in the Scouts because of their antiquated and hurtful policies. On a local level, I hope that you are able to embrace all of the families in your community and wish you all the best with Pack 240 this year. Who knows, maybe things will be different by the time our 3yo is ready for Scouts and we'll be able to join the fun! Thanks for listening!
Fred Swanson
No word back from the troop leader, though the school principal has invited me to bring up my concerns with the local school district administration. When I do, I'll tell them a bit about our incredible kids -- their resilience and their limitless potential -- and also about our complicated multicultural family that spends perhaps as much time talking about race, privilege, and discrimination as we do about spiders, princesses, and dinosaurs. "I don't understand why they won't let our family participate," was really all Jaylen had to say as he removed his Cub Scouts recruiting sticker from his shirt. "They shouldn't be allowed in our school," he added.
Maybe I'll tell them that, too.