56 years ago today, Roger Bannister accomplished the impossible. He was the first person to break the four minute mile barrier. His story is not only one of the most famous achievements in the world of individual sports, it's an excellent example of how learning from past failures and believing in yourself can lead to success.
In 1946, while studying medicine at Oxford University, Roger spent every moment he could training as a middle distance runner. After failing to medal in the 1952 Olympics, Roger was devastated, as he had been the medal hopeful for England. Because of this major disappointment, Roger considered giving up running altogether. But like every dream that matters, his desire wouldn't go away. He used his Olympic failure as fuel to establish an even more aggressive goal for himself: to break the four minute mile!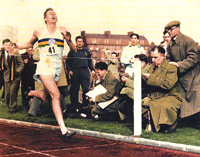 In the 1950's that goal, running a mile under 4 minutes, was considered humanly impossible. It was thought that a person's heart and lungs could not withstand the stress in under four minutes, that the body would collapse and die from the strain this effort would entail. Roger Bannister looked at it as just another record to be broken.
With the help of two friends, Chris Brasher and Chris Chataway, both accomplished runners, Roger had planned a strategy to accomplish his goal. Brasher and Chataway would alternate setting a record breaking pace for Roger to follow. Since neither friend could maintain that pace throughout the race, they would take turns leading Roger.
It was May 6, 1954 at Iffley Road in England that Roger Bannister took on the challenge. With spectators and photographers lining the track, Roger toed the starting line. When the race started Chris Brasher took the lead and set the pace for the first half mile. Bannister was right behind him and Chataway was third. Then Chataway took the lead, with Roger in second place. 250 yards from the finish line, Roger Bannister sprinted past Chataway, crossed the finish line and collapsed into the crowd. The roar from the crowd followed the announcement of his historic time of 3:59.04, breaking the four minute barrier by six tenths of a second! Roger Bannister had become the first person to run a mile in under 4 minutes.
By believing in the possibility of his goal and expecting to break the record, Roger had broken a psychological and physical barrier. Years later Bannister became an accomplished neurologist. However, he will always be remembered as the man who ran the "miracle mile".
That goal was achieved because of an unwavering belief that it could be done. No matter what your goal is, no matter how many times you've tried, no matter what anyone says, you must believe it can be done. Because it can be done!
Fred & Gladys
Whelan Stone
Executive Search and Coaching
Authors of GOAL! Your 30 Day Career Plan for Business & Career Success