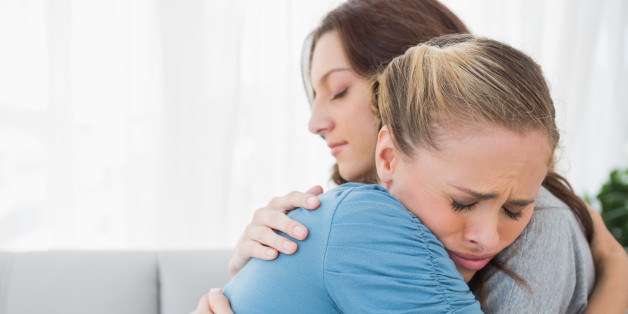 It was the December 16th. Maria had just gotten the call, threw a few essentials into her suitcase and headed for the airport to fly home immediately. Seeing other passengers at the terminal wearing Santa Claus hats and hearing Christmas music in the background seemed out of place and disorienting. As Maria stood in line waiting to board the plane, the woman behind her said in an all too cheery voice: "Are you going home for the holidays? You must be so excited." In a not so jovial tone, Maria blurted out, "No, I'm going home for a funeral."
As Maria broke down in tears, her dumbfounded fellow traveler mumbled "I'm so sorry," and quickly turned to check her boarding pass. Maria reached for her phone, called a friend and for the first time said the words aloud, "My mother died. I feel so lost and alone."
Those next few weeks are a partial blur to Maria and her sister, Angelica. They had just come off the high of Angelica's birthday celebration when they were plunged into the depths of despair. Having all this happen during the holiday season made them feel even more out of step with the rest of the world.
The pressure and expectations of the holiday season can be challenging for anyone; especially those who are grieving and even more so for those whose dear ones died at this time of the year.
There are a few painful details from those first few weeks that Maria remembers all too vividly. Like when the clerk at the candle shop, where they had gone to buy candles for the memorial, wished them happy holidays, and Angelica barked back, "Our mother just died, there's nothing happy about it." Or how they didn't receive condolences from their extended family when they went to their home for Christmas Eve. "It was painful that they didn't acknowledge that our mother had died and wasn't present this year for the first time."
Both Maria and Angelica avoided going out of the house as much as possible, particularly to the malls and the grocery stores because they were filled with too much cheer and too many decorations. "We gave ourselves time until we finally had the energy to return the clothes we had bought mom for Christmas. But looking at those wrapped packages which sat in our house for a couple of months was a constant reminder."
The past seven years have brought healing. Maria has learned that grief ebbs and flows and knows to anticipate fluctuations in her mood. Each December she notices that she is notably emotional. "Even when I'm not conscious of the date, it hits me. I start thinking more about my mom and then I realize it's going to be the 16th in a few days." With that understanding she is able to both acknowledge her grief AND enjoy the holiday season.
Finding ways to remember a loved one can help grievers cope.
One of the ways Maria and Angelica continue to honor the memory of their mother is to bake mom's savory Christmas dessert each year. "Neither my sister nor I put up a tree anymore. Seeing trees bedecked with ornaments makes us sad," comments Maria. "But Angelica and I do bake the Sopapilla Cheesecake that mom always made. We try to keep the connection meaningful by only baking it once a year so it doesn't lose its special value to us. And we always do it together."
What advice does Maria have for the holidays? "Don't assume something is going to be hard or easy for yourself or someone else who is grieving. Triggers may not be what you think." There is no specific formula for finding just the right combination of maintaining some traditions and creating new ones. And it may be different year to year.
Holiday Suggestions for Grievers
 Maintain traditions that feel comforting and let go of those that no longer feel right
 Create new traditions or meaningful rituals
 Make a toast in memory of your loved one
 Remember that it is okay to laugh, cry, sing or dance whenever you feel like it
 Prepare special foods or bring their favorite dish to a holiday party
 Allow yourself time alone as well as planning time to be with others
 Write a special holiday message in memory of your loved one
However you choose to spend the holiday season, may the memories of your loved one bring you comfort, strength, peace, and hope.
Fredda Wasserman, MA, MPH, LMFT, CT, is the Clinical Director of Adult Programs and Education at OUR HOUSE Grief Support Center, one of the nation's most respected centers for grief support and education. Fredda presents workshops and seminars on end of life and grief for therapists, clergy, educators, and medical and mental health professionals at locations throughout the country. She is the co-author of Saying Goodbye to Someone You Love: Your Emotional Journey Through End of Life and Grief. Recognized as an expert in death, dying, and bereavement, Fredda has devoted her career to life's final chapter.