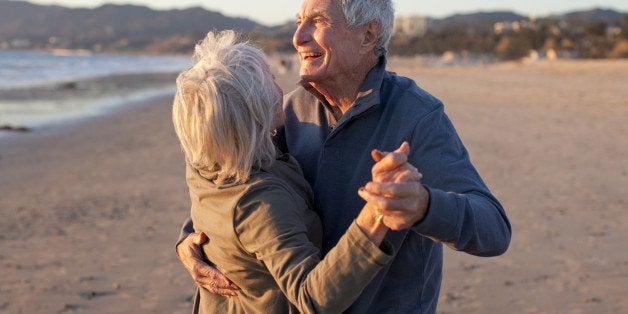 When his beloved wife Rose died on New Year's Day, 2013, Fred was unprepared for the intensity of his grief. No matter that she had been ill for nearly two years. No matter that he felt prepared for her death. There were always more life experiences to be shared, kisses to be exchanged, and hugs to be given.
Fred and Rose had met in their 20s. She had been his nurse when he was in the hospital. They fell in love, married and spent the next four decades together. In 2010 Rose began experiencing terrible headaches. She got lost driving in familiar neighborhoods. She would reach for her wallet, but didn't know how to pay her tab. She was unable to identify simple children's drawings. A visit to the neurologist revealed that there was a nine centimeter mass in her brain. Although Rose was diagnosed with a glioblastoma brain tumor and given three months to live, she survived for nearly two years.
Initially Rose underwent surgery and was able to get fully back to her routine. "We decided not to 'box with God' and not say 'Why me?'" recalls Fred. "We made the decision as a family to do the best we could." Recognizing the importance of making the most of whatever time they had left, Fred and Rose embarked upon a month-long trip to the National parks, visiting family in all parts of the country. It was a wondrous adventure. When they arrived back home, out of the blue Rose declared, "This is the last big trip we are going to take."
Now it was Fred's turn to be Rose's caretaker. For the first year and a half after her diagnosis, the only assistance Rose required was that Fred supervise her medications and assist with her meals. Later, multiple disabilities occurred. It was a painful change in their relationship. Each symptom represented a major loss. Ultimately, Rose's tumors grew and she eventually began sleeping most of the time. When she was lucid they shared intimate conversations about end of life issues. "I wouldn't trade that for the world," Fred reminisces. "I melted when she would look at me and say 'You're my everything.'"
As death approached, Fred took off Rose's bracelets, necklace, and wedding band. "I knew she was trying to let go. We prayed she would die in her sleep and I'd be with her. I was prepared for her death; and even felt some relief that she wouldn't be hurting anymore."
After Rose died, Fred began to isolate. He felt sad and angry -- not at Rose, but at the situation. A multitude of emotions emerged as the reality of her death set in. Joining a grief support group gave Fred perspective and a place to express his feelings. "The group has helped me tremendously," he reports. "I was having these crying fits, but I learned that it is okay to cry." In the company of his fellow group members, Fred feels understood and has learned that grief has many facets. Fred credits the support of his friends, therapist, and support group with not only allowing him to express his sadness, but with inspiring in him a self-confidence about moving forward in his life.
Fred has discovered that the love he and Rose shared will never be forgotten. He honors her in many ways. When he took a trip to Europe, something he and Rose had planned to do together, Fred found that while memories of Rose were often triggered, he was able to enjoy himself. His decision to make a few changes in his home was another big step. "There is still grief," admits Fred a year and a half after Rose's death, "but it's not ever-present, not over-bearing anymore."
Recently Fred began to date. "I realized I had been cloistered away, but now I feel that I have reentered the land of the living," comments Fred. "I'm still attracted to smart, independent women... like Rose was. The woman I am dating now and I talk about Rose a lot. For example, when she accompanied me to my retirement dinner, it felt good to hear her say, 'Rose should be here with you tonight.'"
Fred feels that he has grown through his experience and that loss has also produced gain. He has developed the ability to simultaneously honor his grief and create a new life. "Rose's illness and death was a game changer for me," Fred acknowledges. "I gained compassion and kindness. I am able to listen better. I also learned that for me there is a second act in life. I have to be bold and go after what I want."
Fred's journey through grief is a testament to the resilience of the human spirit. His inevitable bursts of grief are fewer, further between and do not last as long as they used to. He has been able to maintain a healthy, loving sense of connection with Rose and at the same time engage in living in the present, and allowing his life to flourish.
Fredda Wasserman, MA, MPH, LMFT, CT, is the Clinical Director of Adult Programs and Education at OUR HOUSE Grief Support Center, one of the nation's most respected centers for grief support and education. Fredda presents workshops and seminars on end of life and grief for therapists, clergy, educators, and medical and mental health professionals at locations throughout the country. She is the co-author of Saying Goodbye to Someone You Love: Your Emotional Journey Through End of Life and Grief. Recognized as an expert in death, dying, and bereavement, Fredda has devoted her career to life's final chapter.