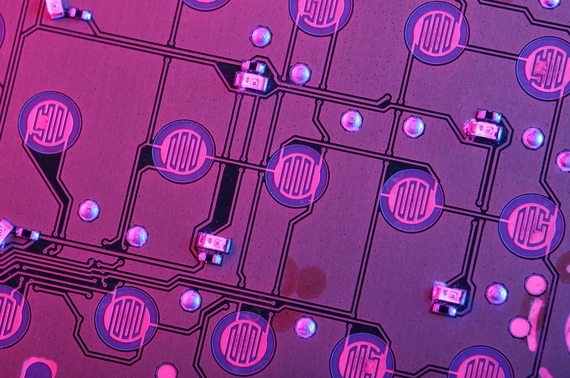 With the new iPhone release date set for September 9th, the world is anxiously awaiting the latest in mobile development. We all have our own visions and definitions of what an ideal smartphone should look like -- some people crave more storage space, while others yearn for more virtual controls or limitless storage. Instead of dreaming about the future, let's take a look at some of the latest innovations.
Bigger is Better
If you take a look at the mobile developments of the past year, you will see a trend in screen size and display features. The latest smartphones all seem to showcase bigger screens such as the HTC One, Samsung Galaxy S5, and Sony Xperia Z2.
Even the newest iPhone is rumored to have two versions of the iPhone 6: a o4.7 inch phone and a larger 5.5 inch phone. According to  Android Police, Google may also be working on a larger display for its smartphone, logging in at a whopping 5.9 inches hence the hybrid concept of a phablet.
Battery Life Immortality
If you own a smartphone, you know that daunting 'battery-low' sound all too well. How many times have you found yourself frantically searching for a charger at a friend's house or experienced a dead battery while using Google Maps to get to a meeting?
Undoubtedly, one of the biggest problems with smartphones is their short battery life.
Luckily, there seem to be many manufacturers looking to solve this energy-problem. Samsung aimed at improving this feature with their latest Samsung S5 by making use of the Ultra Power Saving Mode, a feature that extends standby time for up to 24 hours with just 10% battery.
Another solution for increasing your phone's the battery-life is Wysips, a product that turns your phone into a solar panel. Simply apply the thin layer of crystal on your watch, tablet, or smartphone to allow your device to convert sunlight into energy. It's not visible on the outside of the phone, and it starts charging as soon as it's exposed to artificial or natural light. At this year's CES they also announced that Wysips is capable of Light Fidelity Data Transmissions  -- a method of transmission data is sent and received via light waves.
The Rise of Modular Smartphones
Modular smartphones refer to phones constructed in a similar way to a puzzle. The phone consists of separate pieces that can selectively combined in order to create a smartphone as we know them today.
The concept behind a modular smartphone  is that it helps reduce e-Waste. Instead of having to replace your phone because it is outdated, you can just replace certain parts within your existing  device to upgrade it.
Think of it like a high tech legos. Plus, modular smartphone owners  only have to use the features that are relevant to them. For example, if you don't want a fingerprint scanner or a top range camera, you don't have to pay for that particular component. It will be cheaper to replace specific parts of a phone rather than buying a new phone and when certain parts break or become outdated.
Project Ara is Google's first attempt at creating a modular smartphone. We can just speculate that modular cellphones will become one of the big game changers in the mobile industry, especially if other manufacturers start jumping on-board.
Smartphone Transformers
Technology transforms and grows with its users and many users want smartphone usage to be simplified. The Asus Transformer Book V is a laptop, smartphone and tablet in one, that acts as a three in one device with modes switching between Android and Windows platforms. Switch between operating your device on a Android or Windows OS.
This transformational phenomenon is most definitely not the most aesthetically appealing product to (soon) be launched on the market, but it allows you to use the product as a laptop, tablet and smartphone because of its 3-in-1 design.
What you can get excited about is more compatibility between platforms and a possible prettier-version of a transforming smartphone/laptop/tablet. All in all, the smartphone might just turn into the PC of the future.
You Can Hear Me Now!
If you are a smartphone owner, chances are that you've been frustrated with poor signal at one point or another. Wouldn't it be such a relief to know that you are able to make contact with the outside world even though you don't have signal? The GoTenna is a product powered by a lithium-ion battery that connects to your smartphone or tablet via Bluetooth. It's a small radio transceiver that transmits on a very low frequency with a distance of about 50 miles apart.  If you get lost while hiking, you can transmit a message to your fellow GoTenna users to get in touch similarly as you would with a walkie-talkie when there is no possibility of smartphone signal.
For about $300, the GoTenna is definitely not in everyone's budget. At this point in time it won't be as accessible to the majority of smartphone users, but surely in the near future we will see a cheaper version -maybe even built into a phone.
Print Your Own Smartphone
If you are into tech news, you've most probably realized the tremendous growth in 3D printing possibilities. The 'future' of 3D printing is 'now' and people are printing anything you can imagine. So, why not a smartphone?
Forget the imagine of a useless plastic 'Lego-like' phone,  Nokia has already released  a CAD file for users to print out the Nokia Lumia 820 casing.
Imagine a time, in the not too distant future,  when all cellphone parts are available online. You will be able pick and choose the parts, patterns, and colors that you want in a device. Owning a 3D printer is currently pricey, but before we know it we might all boast with one in our 3D printed homes.
Based on the past decade's tremendous growth in the mobile industry, we should expect big things in the next ten years. From being able to build your own phone, print your own parts 4 in 1 phablet and everlasting batteries, we cannot wait to see what the future holds. What do you want the smartphones of the future to look like?