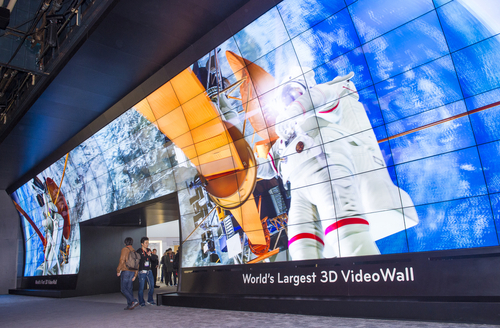 The only way to stand out in the tech industry is to have a new product or two up your sleeve. Game changers within the competitive tech sphere race to introduce ground breaking and unique products to loyal fans. Companies such as Steam and Jolla are poised to boom this year, while other leading companies such as Sony, Garmin, LG, Vivofit and Fitbug have unveiled their latest developments at the 2014 Consumer Electronics Show. Tech lovers can expect a year of innovation for smartwatches, trackers, smartphones, enormous 4K televisions, consoles and cameras.
Sony's CES Surprises
Sony is stirring the proverbial pot, introducing a range of technological innovation. At this year's CES, Sony introduced a new line of 4K televisions, varying in size and features, an interesting collaboration with Netflix, a camera described as five action cameras in one, as well as the lightest Wi-Fi mirror-less camera. The mirror-less feature is the latest in camera technology allowing light to fall directly on the sensor, instead of first reflecting form the built in mirrors. Eliminating the mirrors has made an immense difference in the size of the camera and speed of the shot.
Techies can look forward to Sony's Ultra HD TV, including the XBR X950B series and their recent partnership with Netflix, focused on the 4K content, in streaming content over the Internet with your Sony television at the speed of 60 frames per second.
The Sony HDR-AS100V video recorder is used optimally in combination with up to five of the same product, allowing filming from different angles to create the perfect action shot. The cameras are splash proof and can capture 1080p at 24 frames per second on video. The Sony HDR-AS100V can also capture slow and super slow motion, making it the amateur videographer's dream.
Another newcomer is Sony's α5000, rumored to be the lightest mirror-less camera coming in at only eight ounces. The camera includes Sony's BIONZ image-processing technology, has built in WiFi and can pair with your smartphone.
Watch Wearable Technology
A wide variety of wearable technology has entered the scene. These "life tracking" devices are focused on promoting a healthier, more active lifestyle for individuals.
Fitbug -- At this year's CES event, this low cost fitness tracker unveiled a series of subscription plans to serve as a fitness and health coach for its users. KiK is a 12-week plan created by nutrition and fitness professionals that will help you lose that last few pounds, or train for your next 5k. Instead of trying to create the next best feature, Fitbug is solely focused on inspiring users to become more health conscious.
Vivofit -- The latest entry from Garmin is a device aimed at bettering the user's habits in the field of fitness. The waterproof vivofit sets different daily goals for the user, and tracks the progress through a wristband that needs to be recharged every seven to 10 days. What makes this tracker great is that you rarely have to take it off, allowing you to have a constant fitness companion by your side.
LG's Lifeband Touch -- LG announced more than just a fitness wristband, but a touch screen interface tracker that notifies you of incoming calls, allowing you to control music and can be used in a way similar than your touch screen tablet or smartphone. This product will appeal to parties looking for a combination of a smartwatch and fitness tracker.
Steam OS
Steam is a downloading service for MAC, PC and Linux that sells development software and games. The SteamOS operating system is seem as the newcomer that will drop some bombs in the console scene because of its "adaptability." Based on the Linux Kernal, SteamOS is an operating system developed by Valve, and is used as the main operating system for the Steam Machine seen by many as the main competition for Playstation 4 and Xbox One consoles.
At the CES 2014, Digital Storm announced the hybrid Steam Machine, named Bolt II, that allows you to use both Windows and SteamOS. SteamOS will be compatible with your TV screen and allow PC gamers to have the "big screen" experience with their Steam games and have the option to use a controller instead of a mouse and keyboard. The Steam games are sold at a much cheaper price than console games.
Jolla
Last but not least is Jolla. The name might be rather fresh on the tech seen, but not for long. Soon enough Jolla will be joining the big guns like Samsung, Android, Apple and Nokia on the smartphone scene. Developed by an independent developer in Finland, Jolla is an open source smartphone running on its own operating system, Sailfish OS. The beauty of the platform is that it is open source and can be programmed to your specific needs, but for those wanting the normal Apps and functionality Jolla can operate Android applications as well. Jolla is the first from its kind to be open source and interchangeable making it a big newcomer in the tech scene.
Jolla will soon be the favorite for developers looking to "play around" with the OS features. The website, JollaTides.com even shares some tutorials to get you started.
It's seems like 2014 will be another big year for design, tech and innovation. Unveiling and launching new products at the CES has allowed the these companies to create curiosity among the public and competitors to take charge at creating even better and more unique products. Which product are you looking forward to the most?