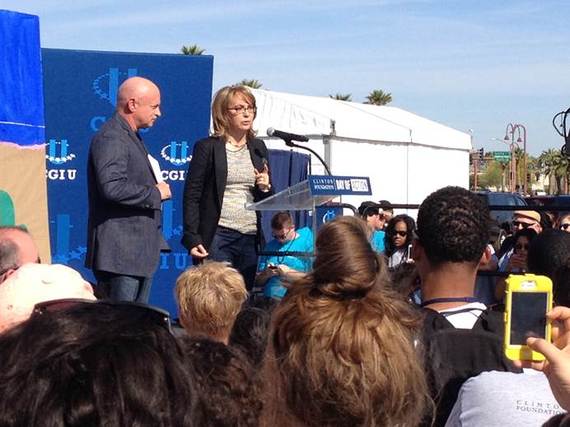 We often hear that America's young people care about nothing more than selfies and Instagram filters -- that for so many young Americans, the call to service is nothing more than an echo from the past, from a time when being a citizen meant looking beyond one's self.
Well, as we have traveled the country, we have met a lot of you. We aren't looking backwards.
Because of you, we are feeling pretty good about the future.
Like us, the young Americans we have met believe that service should be extraordinary -- that it requires grit and sacrifice, and that change will come only after some setbacks.
Take it from the two of us.
When I set my sights on being a Navy pilot and, eventually, an astronaut, I found that, at least in the beginning, I wasn't particularly good at flying airplanes.
If your goal is to be a fighter pilot, test pilot and space shuttle commander, that's a problem.
After months of training to be a Navy pilot, just landing on a runway was still really difficult for me, prompting one well-meaning flight instructor to ask, "Are you sure this career is for you?"
Then I wound up flying to space four times.
For Gabby, a bullet from a would-be assassin has meant learning how to talk again, how to walk again, and how to sign your name with your left hand. Every day is a new challenge, and the rehab is as repetitive as it is tough.
But every single day, there is progress. Another inch. Another sentence.
Your own path will be different, but preparing yourself to change the world requires the same determination. Just like Gabby's recovery is a starkly individual effort that allows her to serve a broader purpose. Just like I couldn't have served in the skies over Iraq had I not worked so hard to learn how to land the airplane, not just on a runway, but onto the deck of a moving aircraft carrier.
In 2014, achievement sometimes seems easy. After all, the answer is only a Google search away. It's possible to reach millions with a single Facebook post.
However, to truly make a difference -- to lead and to serve -- you must look past the seduction of convenience.
And once you know how rich life can be -- for you and those around you -- when you dedicate yourself to a broader purpose, you will find there is no higher calling.
Of course, to serve exceptionally, you must do more than choose service. It's not a check in the box. There will be obstacles to overcome that you must move past.
For Gabby and me, the biggest test came on the morning of January 8, 2011, when a gunman shot Gabby in the head in Tucson, Arizona, before killing six and leaving 12 others injured. In 15 seconds in a Safeway parking lot, our goals of continuing our careers -- in Congress, at NASA - were taken out of our hands.
But as Gabby began the long path of recovery, we knew that living out our days as individuals would not be enough.
We knew we wanted to return to service, to look again beyond ourselves. But the question was, "How?"
The call to action came after the tragedy at Sandy Hook Elementary when, like so many Americans, we said, "Enough!"
Now, we are taking advantage of our second chance at service by doing what we believe will be most impactful: be determined voices for the movement that can -- and will -- make our communities safer from gun violence and protect our Second Amendment rights. It won't be easy; like our paths, it will take some determination and grit.
But there are things worth fighting for, even if your goal seems frustratingly distant. After all, the two of us are living proof that the boldest goals you can think of -- like flying to outer space, being elected to the United States Congress, learning how to talk again at the age of 40 -- are within reach.
Today, you are more important than we are. It's up to you to lead. Make the choice to serve. Endeavor to do something extraordinary. And when life throws setback and challenges your way, grit your teeth and keep on going.
So, will you be one of those leaders?
Will someone from the Class of 2014 find a new breakthrough in the fight against malaria or HIV/AIDS that will save countless lives around the world? Will one of you command a human space flight to Mars -- or discover yet another frontier for human exploration? Or develop the next generation of solar technology? Or go to Congress and help end the bitter partisanship and discord that holds us back as a nation?
We think you will.
On March 23, Gabrielle Giffords and Mark Kelly joined President Bill Clinton, Chelsea Clinton and college students from around the world for the Clinton Foundation Day of Action in downtown Phoenix. The morning of community service was hosted by the Clinton Global Initiative University in partnership with PHX Renews. Click here for more images and highlights.