Taking art outside the sterility of the white walled gallery space has become a common practice these days. From the Starn Brother's scaffolding tree house, Big Bambú, which rose ad-hoc on the roof of the Metropolitan Museum of Art two summers ago, to Anish Kapoor's Sky Mirror in 2006, a stainless steel structure that inverted the heavens in Rockefeller Center, art in the public sphere has become both a routine occurrence and all the rage. We have walked under Christo's Gates, and climbed above the trees; a few years ago David Byrne allowed spectators to Play The Building down at the Maritime. We are a jaded audience of art participants, with short attention spans and high expectations for everything art. But we are hungry for more. Now, the Times Square Moment under Public Art Program Director, Sherry Dobbin, has brought video art out of the avant-garde museum world where it is more often critiqued than viewed, and into the public space.
You have to admit, you can't get more public than the agitated cacophony that is Times Square. The place, ablaze with lights and crowds, just begs to be turned into an art arena. It's the exact opposite of a serene gallery or museum space. And it absolutely requires a display that reveals this dilemma. How to grab and hold a viewer's attention amid all that hustle?
But every night, from 11:57 p.m. to midnight, a little bit of desert landscape embraces this challenge. For the month of June and for just three minutes, seven of the large outdoor video screens around Times Square display the stunning desert-scape of Seoungho Cho's ephemeral work of art: Buoy. Cho shot Buoy in the great canyons of the California's Death Valley, and it's a startling contrast to behold those barren burnt stone walls glowing orange amidst the clamorous and fractious displays of 42nd Street and Broadway.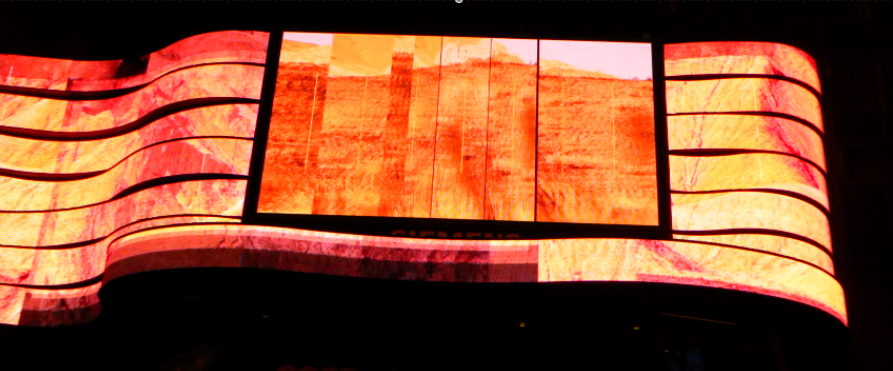 The space of Times Square, especially at night, is a deep canyon itself. Night flattens architecture, and the screens of theater and advertising rise up into the inky sky to form the towering sides of a ravine. We are in a canyon of a vast metropolis. Upon this surface it's easy to imagine that Cho seeks to transport crowds who have come to this throbbing center of the world to shop, eat and be entertained, to a remote landscape instead. A quiet contemplative world of natural splendor. Would that he'd been given a few more screens for his display. Would that for those three minutes, the throbbing activity of Times Square -- the naked, prancing cowboy, the sketch artists, the drummers, dancers, and flashbulb-clicking tourists -- all stopped in their tracks and the canyon in reality transformed into a real yellow and orange desert of solitude. As it is, just a tail of orange light flashes from screen to screen, a hint of an uninhabited place unfurls around the Square and then, like the wilderness itself, like the fleeting quality of time, disappears from view.
Buoy, whose title refers to the fact that Death Valley was once an ocean floor, is a strange luminous work. Times Square, with its emphasis on how to spend and exhaust time, is the perfect environment in which to experience this poetic reflection on extreme contrast and the ephemeral nature of time.
Photo is author's own