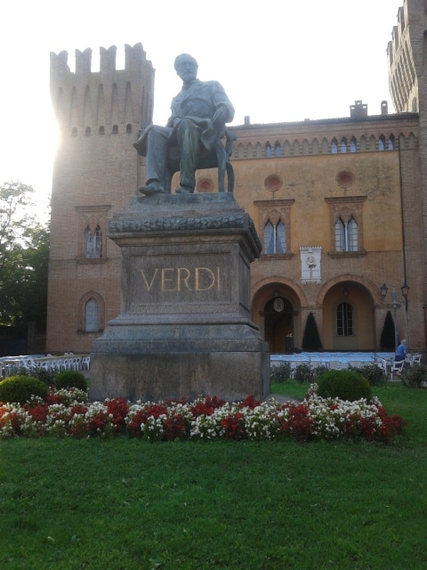 Piazza Giuseppe Verdi, Busseto-Italy
How to spur your creativity? By listening to some Rigoletto and La Traviata music from the Italian composer Giuseppe Verdi (1813-1901).
I was visiting his villa in Sant'Agata, near Busseto, Italy. The methodology of work used by Maestro Verdi to compose beautiful airs and music is extremely revolutionary. I was struck, for example, by the furniture arrangement of his bedroom. All in horizontal, the space was divided into three main areas: the first one, where the bed is, the second, his desk, straight in front of his bed to allow him to wake up right away and sit down on the chair to compose. Next, always in line, his piano, where he was ready to touch the notes and reproduce the sounds he had in mind ( and on paper).
What a creative process, perfectly following his state of mind: bed where ideas were coming from, then desk to put them on paper and finally the actual action of creating music. Passionate about the arts, food lover, voyageur and a soft spot for the ladies (although romantically linked to Giuseppina Strepponi, who was living in the summer villa with him- in two separate bedrooms to ensure Verdi's creative process was not "disturbed" by Ms. Strepponi), nominated deputy (1861-1865) of the first Italian Republic, and then senator (1874) in the Cavour era, his villa really represents what it means to be an eclectic artist. Not only interested in his close passion and work, but extremely detailed and meticulous in the choice of furniture, trees for its multicultural garden ( trees coming from Japan, Virginia in the US), wine lover and great trademan in art pieces and sculptures, strict but just owner of lands and harvest. He also had a big cellar where he used to collect the ice and snow that formed on the top of the artificial lake in his gardens to make lemon slush and to keep meat and food fresh and eatable ( ancestor of our modern fridge).
Philanthropist at the time as well, he donated a nursing home for musicians in Milan as well as he founded the hospital of Villanova to serve local people in the area ( and which actually still works). His sources of inspiration, along with Teresa Stolz, soprano soloist and main character in Aida and the Requiem, he had an extensive library in Italian, English, French and German. He got highly inspired by the English playwright William Shakespeare and the Italian novelist Alessandro Manzoni, whose paintings are hung up on his bedroom wall, to remind him of them as role models.
To get some daily pills of inspiration, here the overture of La Forza del Destino by Verdi.
What's your daily source of inspiration? Check the infographic of the daily routine of the world's most famous creative people