How do you learn courage in a society full of fear? This question was addressed at the 14th World Peace Summit of Nobel Peace Laureates. Peace makers who are changing the world. Peace makers who are leading the way by being the living example. Peace makers who motivate us to continue fighting with them for a conflict-free world.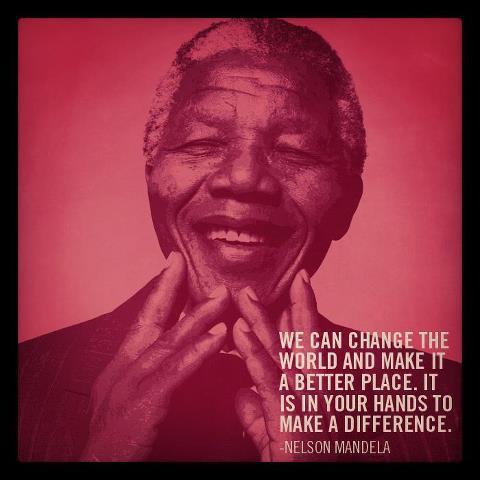 To remember the life of Nelson Mandela, the embodiment of the ideals of Peace and Freedom, women and men, peace and human rights activists, international organizations representatives and Nobel Peace Prize winners gathered in Rome-Italy to talk about Peace, trying to encourage debates, ideas-sharing, instilling inspiration to be the change we all wish to see in the world, as Mahatma Gandhi said.
Powerful momentum was created by the symbolic embrace between Nobel Peace Prize winners Iranian lawyer Shirin Ebadi and Yemeni human rights activist and journalist Tawakkol Karman, who verbally and emotionally connected and agreed on global reconciliation despite religious differences: "Sunnis or Shiites, We are All Humans, and Peace and Freedom are Universal Human Rights" they both said while shedding tears of joy. On international negotiations and conflict resolutions, new head of Europe's Foreign Policy Federica Mogherini called for a "collective responsibility" and "strong political response", stressing "the power of many acting as One by using both European rich history and wisdom to end wars in the Middle East".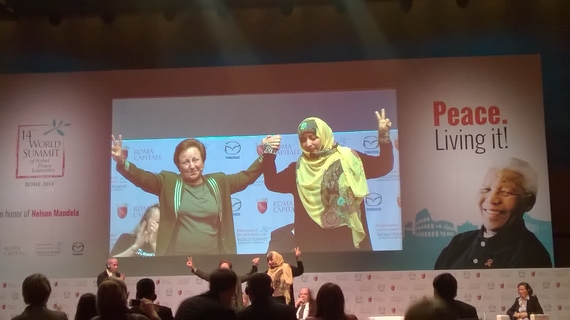 Responding to the biggest humanitarian emergency on Syrian and Iraqi refugees, and on ensuring women protection against rape and sexual violence in conflict situations, head of United Nations High Commissioner for Refugees (UNHCR) Melissa Fleming shared stories of women taking birth control pills before fleeing their homes, dramatically highlighting the fear of rape episodes along the journey. Chair of Nobel Women initiative Jody Williams included men in the talks as agents of change to protect women because "being a man does not mean abuse a woman."
Chairperson of the Intergovernmental Panel on Climate Change Rajendra K. Pachauri linked climate change to peace by expanding the view to a planetary challenge. "Human activities are extremely linked to the soil, crops, food security and livelihoods, especially in developing countries." I call for a "global movement of Youth, inspired by Knowledge, to raise awareness of carbon dioxide emissions' increase. In this way, we make sure we all know about the inevitable risks and negative impacts on our lives and on people and future generations' sustainable development, if we do not take prompt actions now."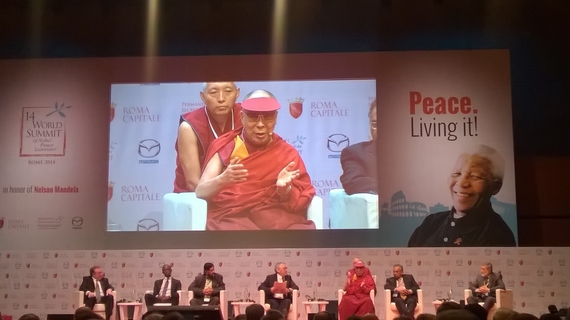 The question of courage and fear was addressed to the Dalai Lama. "Life is not easy. It is sacrifice. It is hard work, suffering, fight and death" he started. "However, if we decide to look from a wider perspective, life is good. We focus on the good things. We have a reason to be optimistic. Peace starts and builds up with trust. We all want to be trusted. We all want friends, we all want happiness. Peace starts within, inwards. By looking inwards we can look outwards and start feeling compassion. By acknowledging suffering, we are moved to help others. We need a healthy body and mind to do so. I like questions, challenging ones, because it makes my brain work more" he concluded by gently smiling. This was his reply. That peaceful smile portrayed in photos and pictures. Today I saw it for real. The smile of a person who happens to know the secret of life on Earth. And he happens to be with us to share it.
Soundtrack of Peace, Living it! Ordinary Love, U2