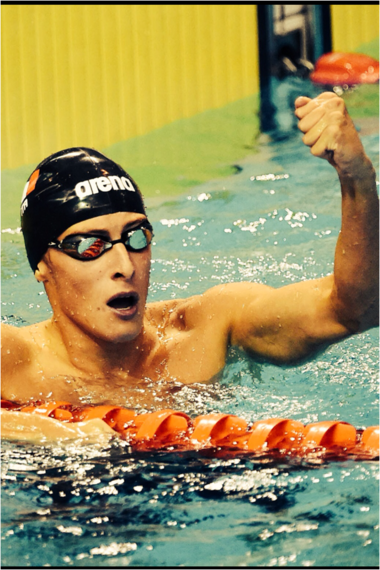 Giacomo Carini during a swimming competition
I have always been passionate about swimming, and today I had the chance of having a chat with Giacomo Carini, 17 years old young man who just flew back from the Second Summer Youth Olympic Games in Nanjing, China.
Giacomo and I met at Società Canottieri Vittorino da Feltre- Piacenza -- a sports center founded in 1883 as a rowing club and a space for weekend sports leisure, where now Giacomo trains on a regularly basis to be the next Italian Michael Phelps. The American swimmer is an Olympic gold medalist who set the world record in the 200 meter-butterfly and then broke his own record at the 2001 World Championships in Fukuoka (Japan), with a time of 1:54:58, earning his first international medal. Giacomo 's tempo is 1:58:1. The next shark in the world swimming scene.
Giacomo' s specialties are butterfly and individual medley (which include multiple swimming styles: butterfly, backstroke, breaststroke and freestyle). He brought back a bronze medal from China and he has been incessantly training to become the next junior Italian swimmer in the national spotlight. Started at 4 years old, competing at regional and national level from 8 years old, Giacomo has been collecting awards and medals, the latest ones from Nanjing itself. Now he dreams of swimming at the 16th FINA World Championships (Kazan, Russia-July-August 2015) and why not, participating in the Rio 2016 Olympic Games (Rio de Janeiro, Brazil- August 2016).
"Swimming and sports in general give you a sense of discipline, strong focus, determination and responsibility" - Giacomo starts "I train five times per week, I have two days of intensive gym workout and a dietitian follows me in my dietary habits and daily intake"- "Food is the fuel for a great performance."
"When I was in China, I felt my body was tossed by the jet lag, but thanks to a right amount of carbohydrates and a good night sleep I was able to recover and to warm up for the big event"- Giacomo commented on his experience- "once there, we were living in a big international village where all youth swimming delegations were living together, each one in their own apartments, laundry service and cafeteria, I was living on my own and independently, speaking English all the time and exchanging ideas and points of view with fellow swimmers."
And what about the stress before the competition? "The true secret is to be able to transform the strain and the fear into strength and adrenaline to move faster, putting all your best to make a good performance and improve yourself."
Sports is not only about individual development and healthy lifestyles. "Communication and social interactions are a huge part of the process. Sports is about development, social integration, participation, inclusion and promotion of equality and peace between people."
"I breathed an international Olympic atmosphere in Nanjing and I hope to meet other swimmers from around the world, set new personal records and enjoy the ride in the meantime, as a young person willing to move, improve and grow."
What's next in your swimming and professional career? "I have many dreams in my drawer. Becoming a professional swimmer is one of them. Luckily I have my friends, my girlfriend, my family who are rooting for me, but I still want to finish my high school education, specialized in scientific subjects, physics, chemistry, biology and math, and then continue studying at university to become either a physiotherapist or a army doctor."
"The road is long, but I am passionate about I do and I hope I can keep swimming and making an impact."
Talented, ambitious, but at the same humble and with a high sense of team spirit,
Let's stay tuned to see Giacomo in Rio soon!