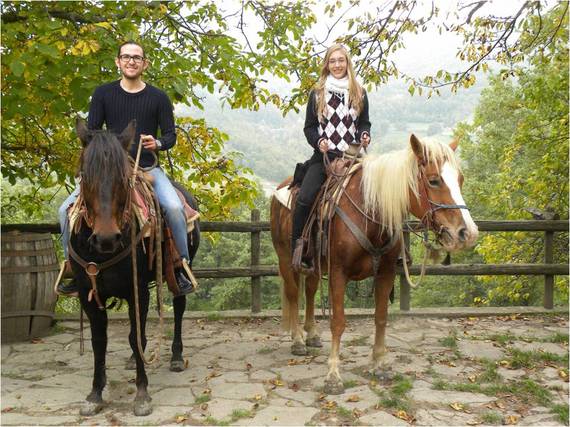 Rocco and Christina
Today I had an interesting talk with two college friends, Christina and Rocco, who have an incredible story to share. Christina comes from Germany, Rocco from Italy. They met in the United States while studying International Business administration. Surprisingly enough, in the dining hall, four years ago.
Talented viola musician and AC Milan football player, both Christina and Rocco left behind the successful careers in their countries to learn new concepts and start their own business, as life and business partners. "Learn, practice and implement," says Christina, as she learned when she was in the music industry, "that is how I was exercising to become a solo musician, by listening, observing and reproducing the sounds."
"Playing and working with people, I built my marketing and public relations skills," continues Rocco, who also worked in events management during his studies in Italy.
Curios, ambitious and independent, they had life-decisions to make at different points in their lives, last one after the college internship program in the United States. "We had the college internship at the same company, and we were both offered the job to stay," Christina tells me, "but we flew back to Italy the day after graduation because we wanted to build and run our own".
They shared the same sense of dreaming big but also the same fear of getting stuck in a 9-to-5 non-stimulating work environment with few or no opportunities for growth.
They specialized in Google adwords, writing a blog about the lessons learned and acquiring clients by getting referrals for their professionalism, high-quality work, 24-hour availability and a multicultural mindset with a superb client-orientation. Christina and Rocco believe that content market is the way to go in order to build a relationship with your audience.
The young energy brought them to run today a leading online advertisement agency and Google partners all-stars winner 2014, specialized in building brands, online marketing campaigns and advertisement.
"We love what we do because we can give the clients the best in search network and display network campaigns for several networks such as Google Adwords and Bing/Microsoft Ad center, Facebook, Twitter and Linkedin providing them with the tools to perform a great company advertisement," They tell me about their company. "On the other side, we are fully aware that people need to be given the space, the personal freedom, the ability to work independently and to manage their time to find a work-life balance that can make them happy, fulfilled and always willing to learn and improve."
All their team is online, 15 international engaged and committed employees striving to deliver an excellent client service and accurate results. The value added of their work is speed, expertise, client-orientation and results.
According to the Harvard Business Review, work-life balance is a powerful tool to be more productive and to meaningfully engage with work, family and community. A study on more than 4,000 executives in a 5-years time spam showed how they reconcile their professional and personal lives, setting priorities and personal values, avoiding multitasking and doing power hours instead, with 1 hour of creative thinking per day and an emotional support to deliver better work, sharing a vision for success.
Collaboration, passionate work and team support are keys in achieving personal and professional life goals. That's the lesson Christina and Rocco taught me and hopefully their enthusiasm will reach out to you as well.