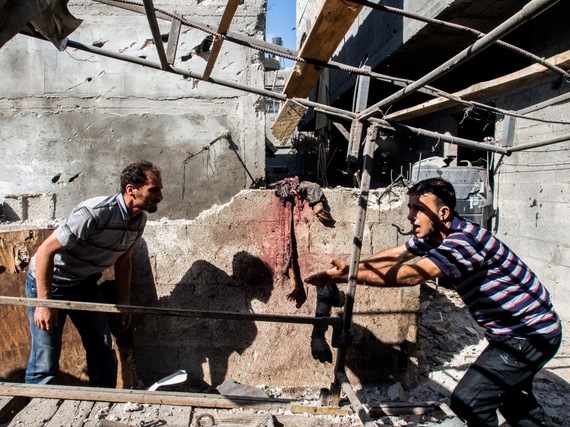 Gaza Strip, August 2014 Photo credit: Gabriele Micalizzi/Cesura
Truce proposal.
According to the latest news released from Al Jazeera and the Wall Street Journal, Hamas has agreed to a long-term cease fire deal in its seven-week war with Israel. Egyptians mediators have been the main actors for the talks between the two sides. Benjamin Netanyahu, leader of Israel and Sami Abu Zuhri, senior Hamas spokesperson agreed on a "Cairo cease-fire process."
The Palestinian death toll from the war stood Tuesday at 2,143 (most of them civilians, including more than 490 children) according to the Health ministry (since war broke out on July 8th). Sixty-seven Israelis have been killed, all but three of them soldiers. Thousands of homes have been destroyed or damaged in the conflict, while the Palestinian Center for Human Rights said 540,000 people had been displaced by the violence.
In the meantime UNRWA, the United Nations Relief and works agency for Palestine refugees in the near east, calls for $295 million to help meet the immediate needs of the population, and to support the long path to recovery, including the continued provision of water, food and non-food items, such as hygiene kits that help prevent the outbreak of diseases, and along with health care and psychosocial support (almost all families in Gaza are coping with grief and deep level of fear and violence).
In the atrocity of this, like any other war, a brave fearless and niche category of highly qualified people, normally called photojournalists, freelance independent photographers and journalists are challenging life and facing death to truthfully show us the war through their eyes.
Andy Rocchelli was one of them. Italian photographer and co-founder of Cesura, a collective of professionals sharing the passion for photography, a studio lab founded in 2008 in Pianello Val Tidone, Italy, died last May in Ukraine, while reporting in Donestk. He had been working in photojournalism for the past eight years, always driven by a fervent passion and determination to carry out his job with a keen and tactful eye on journalism.
Like him, we are hearing more deaths of talented people willing to report the truth. Last but not least, the American photojournalist James Foley beheaded by ISIS in Iraq using the latest communication technologies and videos so that the message of the Islamic State went global. German photojournalist Anja Niedringhaus was also killed in Afghanistan last April by a policeman while covering the national elections.
Fire-starters, willing to risk their lives to witness the almost unbelievable reality of injustice, violence, undemocratic actions and hatred towards human lives, photojournalists are the public enemies of the most extremists groups. Photojournalists and journalists are also called public watchdogs, meaning that their actions are directed towards the public and accessible information. They deliver precise, sourced, tested, neutral, verified and comprehensive pieces of news. They aim is to raise awareness and build a more democratic and participatory citizenship so the public can make more educated choices.
According to the International press institute, based in Vienna, the number of journalists' deaths in 2014 amounted to 48, 120 journalists killed in 2013, 133 in 2012 and 102 in 2011. The highest number are always reported in the MENA countries (Middle East and North Africa, especially Palestinian territories, Syria and Iraq).
I went to meet Cesura Group. The founders, Arianna, Gabriele, Luca and Alessandro welcomed me in their lab like a member of their family, a hug that never ends and that transports you in their deep lively eyes which are full of stories to tell. Their cameras are the extension of their eyes, so it seems that, when they do not hold it in their hands, they look through your soul to get to know your life story.
One of them, Gabriele, just came back from the Gaza strip a week ago. He was in the midst of morgues, ambulances and hospitals; fearlessly photographing gruesome scenes of destroyed families under bombs, rockets and air attacks. Hosted in a building where NGO workers are incessantly working to relieve the population, he spent three weeks as a freelance independent photographer, getting assignments from the major national Italian newspapers but also from international newspapers, agencies and magazines.
Gabriele still has some dread related to the unpredictability of a war, and especially after what happened to his beloved friend and workmate Andy, but he does not give in. "It is my passion, I cannot imagine myself doing another job." "The world there, like any war, is surreal, really. People running behind ambulances, crowded hospitals where the police is arresting members of the families of dead people on a daily basis because they cannot stay far away from dead bodies."
"The most surreal of all, he continues, is people from all ages holding small radios in their hands to closely follow the death toll, like we would listen to these small radio talks while following a football match."
Women and children are another cruel story. He showed me a photo of two men trying to save their mom over a wall (photo here above). They had managed to jump the city wall, while their mum got stuck on one side, with the dead body on one hand, and her blooded arms hanging on the other side of the wall, the part visible to Gabriele and the guys.
Babies and children dead in the streets and in the hospitals. "a vivid image of a 18 months-old dead child reminded me of my kids, when I dress them at home. A cold shiver went down my spine just thinking about it."
"The solution to the war is very difficult -- he says -- an emerging priority is education. Education can make people aware of the happenings. A solid school system like the UNRWA, with its teaching methods using new technology, like the UNRWA satellite TV channel and self-learning materials, should be further developed"- "Education- Gabriele continues- is a way to start instilling peace principles and a culture of humanity and of history, preventing the perpetration of generational hatred, intifada and military service."
He was also shocked by women military service "Israeli women until 45 years old, are recruited for the military service, everyone has arms and know how to use them." On the other side, Gabriele calls for more journalists protection against attacks. "Why are seeing so many deaths, of people who are doing their job reporting the truth and thus influencing the international community to act more and do something for the resolution of conflict? Is there an international law that protects us?"
As of now, there is not. Within Europe, the Centre for Media Pluralism and Media Freedom at the European University Institute maps the status of European journalists, listing the union membership/group associations, as well as the code of ethics, working conditions and protection of sources. At International level, many think tanks, non-for-profit organizations like Human Rights Watch, Amnesty International, Freedom House, IFEX, CPJ, Reporters without borders are doing their job but mostly acting on a regional-basis.
At International law level, the United Nations security council Resolution 1738, adopted on December 23th 2006 condemned attacks on journalists, media and associated personnel, calling for an end to such practices. It stated that these personnel were to be considered as civilians and had to be protected and respected. Additionally, equipment and installations used by the media were also considered to constitute civilian objects and thus were not to be the target of any military action.
It is not enough. Both civilians and journalists die daily and a strong voice of the international political leaders needs to be heard fast.
For more information on Cesura and their photos, here is the website here.