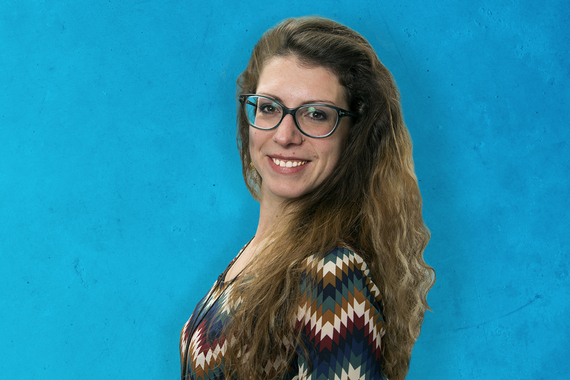 Believe in yourself: When there is something you really wish and you create it with your mind, you can make it happen. That is what I really believe, in all aspects of my life, and also in relation to work.
I joined Accenture, a global professional services company, six years ago as my first work experience. I admit I was a little worried about what some people said about it: working really hard, always travelling, no time for living outside work or for building a family...but I decided to take the challenge. And I can say based on my experience that balancing work and the life I have chosen is possible, and that combining everything enriches me.
I can tell you something about my life!
I have been practicing martial arts, specifically Kung Fu, for almost 10 years. It is my fun and my enthusiasm. And I am part of an Academy where I continuously study personal development and communication. I am learning how to really understand myself and my emotions and to direct my mood and frame of mind toward what is better for me. I am growing in communicating effectively with myself and with other people and in making it more straightforward to achieve my objectives. I love all of that, and it makes me what I am. It takes a lot of time since I usually go to Kung Fu five times a week and to the Academy at least four times.
My approach is to place importance on my work and my tasks, and on me as a unique person. Because each of us as an individual is unique, and placing value on that can have a great impact. Many people can technically perform a task, but in a positive environment where everyone can feel at ease and valued, shouldn't productivity increase?
When I feel good, I also work well. I have let my colleagues and my superiors know me, and I have expressed with my words and my behaviors that my life outside work is also important to me. They understand that some days I cannot stay late in the office because of that. Of course, this perspective has to be nourished with very good performance at work, because that is what can build trust with colleagues and superiors, including availability to stay and help whenever I can.
And that is what I want to spread around me: whichever is your desire - an enthusiasm, a wish related to family, a favorite hobby - believe in yourself. If you want something, you can communicate and act in order to make everything work together. Smile, laugh! Collaborate, love your day and enjoy what you do at work. Be yourself and make the difference as an individual, as well as in work-related activities.
And put yourself on the line. Sometimes you may get a different outcome from what you expected, but you can always take a step to the side and take a parallel path; anyway, those outcomes will be part of your experience and may be useful in other circumstances.
And if you do not see someone on whom you can model your behavior, what about being your own role model and creating a new possibility? Like any change, it requires dedication in order to demonstrate your approach as a solid view and get other people to agree with it, but we are talking about your life, and you can open a new way also for those who will come after you.
I say - it's really worth it!