Dreaming of a trip to Tokyo? Cherry blossoms, Ginza, Harajuku, the temples and shrines, Cos Play posers and that psychedelic Robot Restaurants you've heard so much about... You're not the only one. Tokyo is a top destination for Japanese travelers, too.

Japanese pour over Tokyo Guide books just like you. Photo by Gail Nakada.
Japanese travel digests like top-selling RuRuBu and Mappuru, independent travel websites, and more, highlight Tokyo's "Must-See" destinations in sample itineraries for their readers. Let's see how some of the Japanese picks stack up against yours.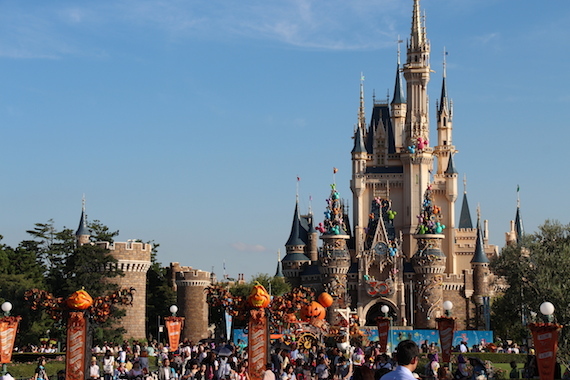 Tokyo Disneyland. Photo by Gail Nakada.
Tokyo Disney Resort
Tokyo Disneyland and Japan-only Tokyo Disney Sea parks are hugely popular. To give you an idea, only seven percent of their combined total of over thirty one million guests in 2014 were from overseas.
The attractions at Disneyland are familiar to most readers. DisneySea, however, is a unique development centered around a broad lagoon and its tributaries. There are seven themed areas including the American Waterfront, Arabian Coast, Lost River Delta, Mermaid Lagoon, and Mysterious Island.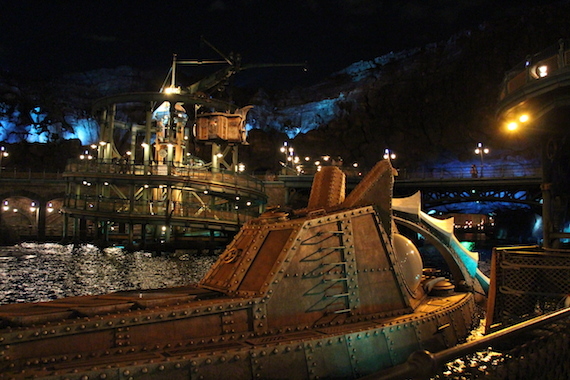 The Nautilus in Mysterious Island at Tokyo DisneySea. Photo by Gail Nakada.
The Japan Parks give visitors a break with some discount pricing on special tickets. For example, a regular one-day adult passport is 6,900 yen ($56). A Starlight Passport for 5900 yen ($48), lets visitors into one park on Saturdays, Sundays or holidays from 3 p.m. until closing. There's also the After 6 Passport for 4200 yen ($34), valid from 6 p.m., Mondays through Fridays except national holidays. Seniors 65 and older get a few yen off with an all-day Senior Passport for 6,200 yen ($50).
The parks are undertaking some big new projects to keep the magic going. Read more on the upcoming Alice in Wonderland, Beauty and the Beast, Frozen, and Finding Nemo themed areas and attractions. read more in my Huffington Post article.

SkyTree from the other side of the Sumida River. Photo by Gail Nakada.
Tokyo SkyTree and Solamachi
Sky Tree is right up there with Tokyo Disneyland for domestic visitors. It's not just the ride up to the 350-meter high viewing platform visitors are here for. The Solamachi shopping mall spread out over several floors around the base of the tower has three-hundred shops and dining venues (including the Moomin Cafe), an aquarium and planetarium.
English guide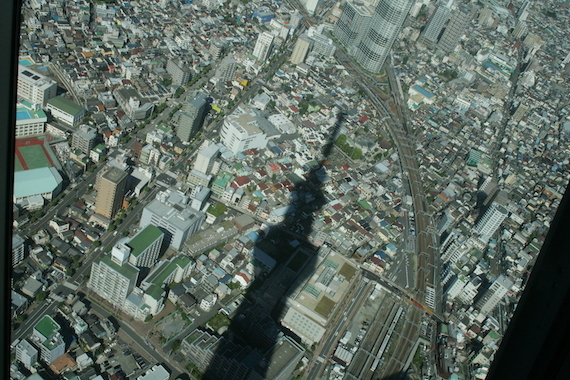 The view from the top is worth the ticket price. Photo by Gail Nakada.
The view from the tower is pretty spectacular. A ticket to the Tembo Deck, 350 meters high, is 2080 yen ($17) for an adult. If you want to go to the tip-top Tembo Galleria at 450 meters, there's an additional charge of 1030 yen ($8).

The entrance to Ueno Zoo. Photo by Gail Nakada.
Ueno Zoo, Ueno Park and Ameyoko shopping street
Japanese love pandas, really, really love pandas. Not as much as they love mascots, but almost. Though the pair at the Ueno Zoo are not the only pandas in Japan, they are the ones everybody wants to see.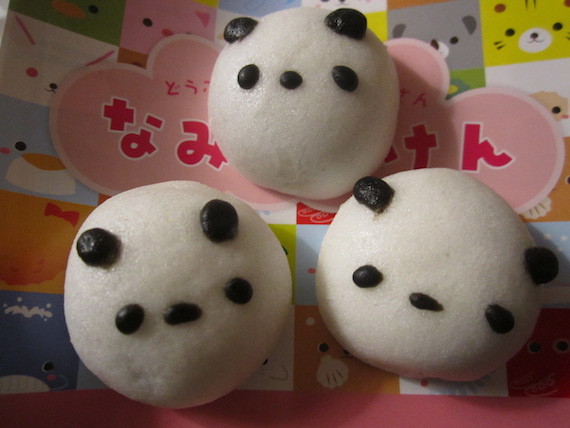 They want little panda cakes. (These are from the Namikoshiken Bakery.) Photo by Gail Nakada.

Panda cakes from other countries are acceptable. Photo by Gail Nakada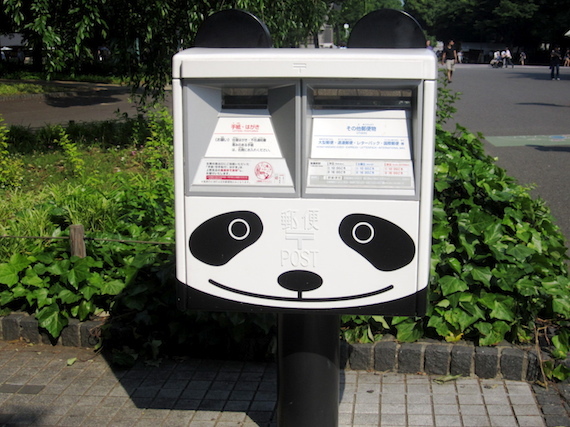 Pandas are allowed to eat their mail... Photo by Gail Nakada.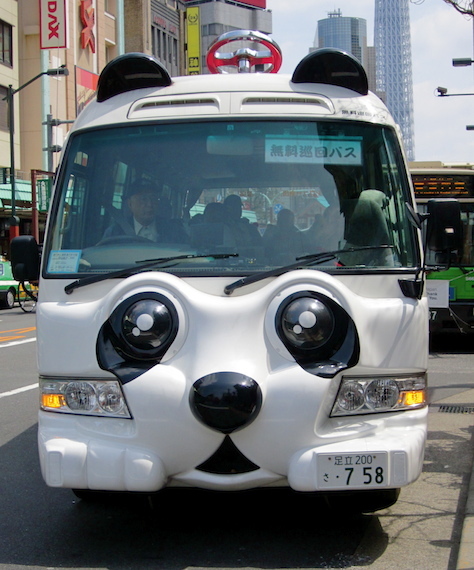 And take them places. They just really, really love pandas. Photo by Gail Nakada.
Given the panda-mania of the Japanese, the zoo is a stop on many tour itineraries.
Whether it should be a stop on yours, depends on how much you want to see pandas. Beyond that, the zoo is not terribly engaging.
Ueno Park, however, is full of interesting temples and museums and definitely worth a morning or afternoon. And the station has a selection of panda themed cakes and bread you have to see to believe. Go to the rear of the JR Park entrance for the in-station bakeries and cafes.
Ameyoko: This busy market street between Ueno and Okachimachi stations was reputedly the site of the old Blackmarket for American goods following World War II. No sign of that now, of course. 'Ame' here means 'sweets,' and there are many vendors selling large packages of assorted candy and chocolates. It's a busy, bustling place for all sorts of discount goods and has a retro-Tokyo shitamachi (blue-collar) feel many Japanese are nostalgic for. From Ueno, cross the busy street under the tracks with the station and Ueno Park at you back, Wander at will. Ameyoko pretty much follows the Yamanote Line train tracks.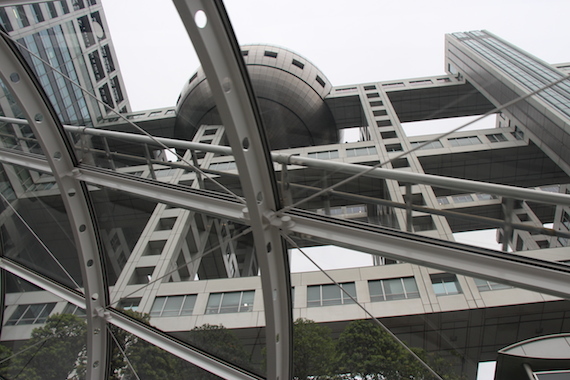 Up the escalator at Fuji TV headquarters in Odaiba. Photo by Gail Nakada.
Fuji TV headquarters and Odaiba
Fuji TV may not be the top-rated network for viewers, but Japanese tourists love the studio headquarters in bayside Odaiba. Visitors take a towering, covered escalator on the outside of the striking building to reach a free walking tour on the fifth floor. Here, they can see sets for some of the networks live shows and there are lots of mock-ups for pictures.
Animation and character items, cookies, crackers, and cakes, are featured at a large studio shop on the seventh floor, the last stop on the escalator. Mega-hit One-Piece, the pirate animation series, has its own themed restaurant right here in the building.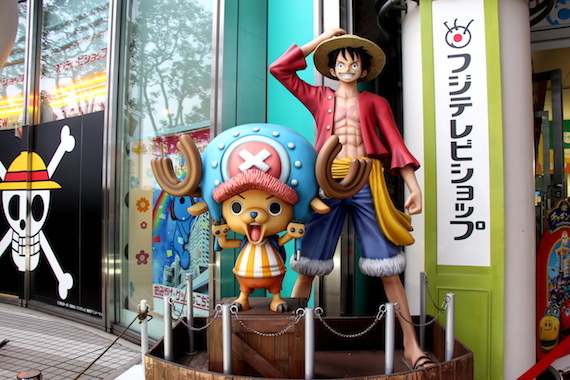 Characters from the Toei Animation series One Piece greet visitors on the 7th floor. Photo by Gail Nakada.
Unless you are an anime maniac, of more interest for visitors is a trip up to the Fuji Tama observation deck on the 25th floor with a panoramic view of the city and Tokyo Bay. Get tickets and access the elevator on the seventh-floor terrace.
At night, the Fuji TV building puts on a quite a show. Cascading colors, patterns, and animations play over the face of the entire building.
You can find all the info on the Fuji TV attractions in English at this link.
Also popular for Japanese visitors in Odaiba is the Mirai Kan, Museum of Emerging Science; the Fune No Kagakukan, Museum of Maritime Science; Diver City shopping center and the giant statue of Gundam; Venus Fort Outlets shopping mall (don't be fooled by the word 'outlets,' it's still expensive!), and the Oedo Onsen Monogatari hot springs.
Read more about what to do in Odaiba at my Huff Post article on the area.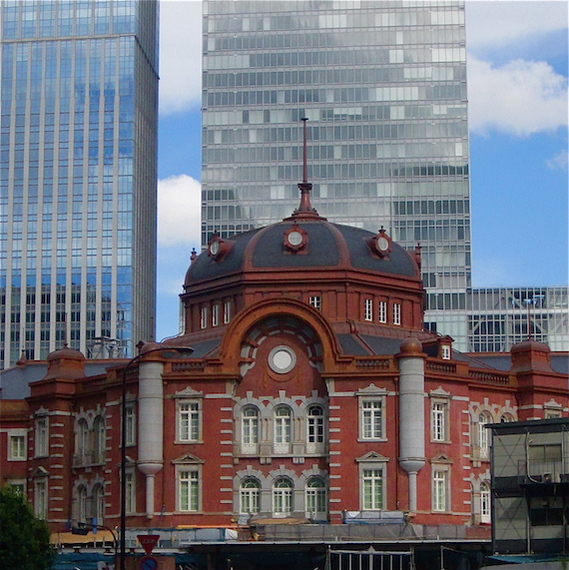 Tokyo Station from the Marunouchi entrance. Photo by Gail Nakada.
Tokyo Station and the Marunouchi Area
A train station on the must-see list? Oh, Tokyo Station is about so much more than getting from one place to another. When the landmark building underwent a complete renovation, the city planners thought, why not make it fun? And they did.
Entire Japanese tour books are devoted to getting the most out of a visit here. What to eat, where to shop, and the best souvenirs to take home. Because, good God, there are a lot of choices. The station is divided along two main concourses: Marunouchi and Yaesu. All the best developments are in the Marunouchi area. (Sorry, Yaesu.)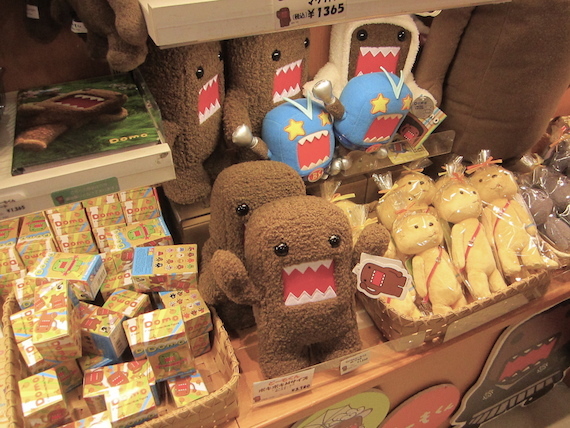 NHK Television's shop on Character Street, Tokyo Station. Photo by Gail Nakada.

Ichi Ban Cho, (First Street) in the B1 floor of the Marunouchi side is the top tourist stop within the station. Character Street, Okashi (sweets) Land, and Ramen Street line this underground promenade. Both shopping and dining is convenient, easy, and weatherproof.
Japan has a mania for mascots that borders on the psychotic. TV stations have mascots. Prefectures have mascots. Cities have mascots. Every one of Tokyo's twenty-three wards has its own mascot. Character Street is all about character goods and mascots. Characters from manga, anime, and TV stations -- like NHK's Domo-Kun - are all here in shop after shop and in every price range.
Top-rated ramen restaurants from around the country serving regional specialities make up - obviously - Ramen Street. The Ramen-Ya's get very crowded at lunchtime. Savvy travelers plan a visit before or after the lunch rush.
Okashi (sweets) Land is all about fresh and packaged sweets. Probably the most popular stops are the Glico store and Calbee Kitchen for just-cooked potato chips topped with chocolate sauce and soft serve ice cream.
Ichi Ban Cho is open 9-7, daily. Here's a link for an English guide.
If you come to Tokyo Station, come hungry. More restaurants can be found on Kitchen Street, on the main Marunouchi concourse, closer to the central exit. And several floors of food fill the basement below the Shinkansen/JR concourse in the GranSta development.
Office buildings outside the station incorporate shopping and restaurant floors and get their own write-ups in guidebooks. The most popular buildings are the Marunouchi Building and New Marunouchi Building directly across the street from the Marunouchi Exit.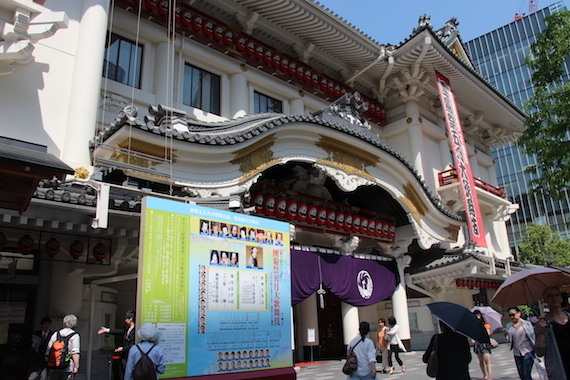 Kabuki-Za in Higashi Ginza. Photo by Gail Nakada.
Kabuki-Za theater and shops
Traditional Kabuki theater is still going strong, making the Kabuki-Za theater a famous photo-op for visitors and tour groups. When the theater was rebuilt, they created a large basement shopping arcade targeting their main demographic - the Japanese. Do not miss it! This is where locals and Japanese tourists come to shop for sweets, cookies, crackers, and souvenirs.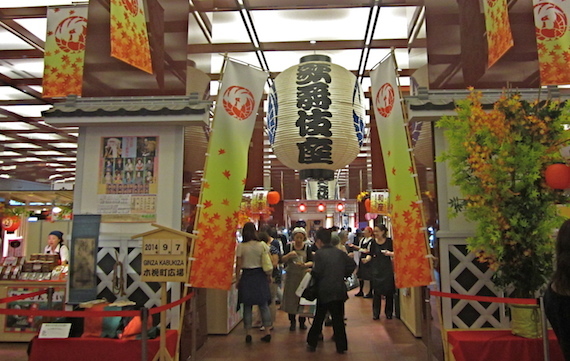 Kabuki-Za B1 arcade. Watching the other tourists is almost as much fun as shopping. Photo by Gail Nakada.
In addition to Kabuki-themed goods, the shops have many unique inexpensive items that you won't find anywhere else. I highly recommend you join the locals and take the ten minute walk here from the main Ginza intersection.
Upstairs is a Kabuki museum and terrace garden. Kabuki performances are seasonal. If you want to see some Kabuki, this website has excellent info on performances here and elsewhere around town.
Access: Higashi Ginza Metro station or walk from Ginza main crossing. If you're walking, go past the theater and turn at the tiny Shinto shrine for the escalator down to the shopping arcade.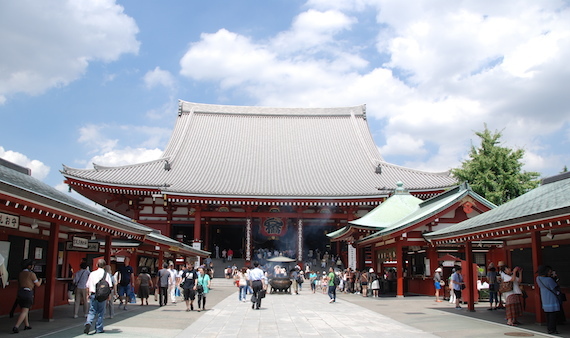 Sensoji Temple in Asakusa. Photo by Gail Nakada.
Sensoji Temple, Asakusa, and Ryogoku (sumo)
Sensoji Buddhist Temple is considered an important 'power spot,' a place of strong positive spiritual energy.
After negotiating the crowds through Kaminarimon (Thunder Gate), the Nakamise shops and stopping for a picture beneath the giant red lantern, many locals know to turn left just on the other side of the gate. Nailed to the wall is a giant (like, really giant) straw sandal. The sandal is dedicated for the safety of travelers. Visitors make a stop here to bow and pray for safe journeys.
Many Japanese also visit a smaller temple adjacent to the main shrine (take the path to the left, it's set back in a little garden) to pray to the statue of the Black Daikoku inside. Daikoku is one of the Seven Gods of Good Luck and this rare black one is part of the Good Luck pilgrimage trail Asakusa is famous for.
On the other side of the temple is the Asakusa Jinja, housing a statue of Ebisu, another of the stops on the Good Luck Pilgrimage.
The Asakusa area is full of interesting shops, eating places, a chance to ride in a Rickshaw (see my Huff article on how to do that) and many more shrines and temples.
Ryogoku, home of the Sumo arena, isn't far from Asakusa. Though not as big a draw as Sensoji, it gets its share of domestic tour groups. In you're interested in this ancient sport, the official Sumo Association website has lots of information in English and a link for tickets. There's a downloadable arena and area guide as well!
Right nearby is the striking Edo Tokyo Museum. The museum actually made the top spot on a recent ranking of 'fun things to do in Tokyo' by the Japan Travel Bureau's RuRuBu magazine. If you're really interested in Japanese culture, put this museum on your list. Here is the English website.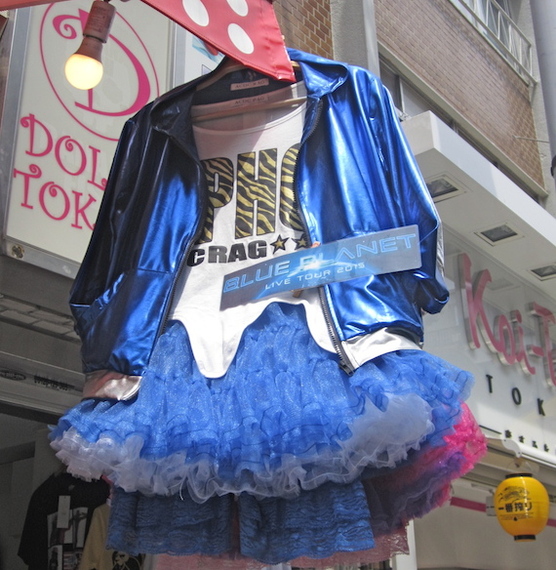 Takeshita Dori pop. Photo by Gail Nakada.
Takeshita Dori and Harajuku
Everyone wants to see the two sides of Harajuku: Iconically(and occasionally ironically) pop Takeshita Dori and sophisticated Omote Sando boulevard.
Takeshita Dori is undergoing a lot of renovation, not necessarily for the better. Studio Alta recently opened a large (for this area) new building. Cute Cube, Calbee Kitchen and other developments are transforming the street's haphazard collection of tiny boutiques into a more homogenized package.
Omote Sando is a sophisticated contrast to Takeshita Dori. Tourists come for the luxury brands and a stop in one of the popular cafes like the Max Brenner Chocolate Cafe on the first floor of Omote Sando Hills and, let's be honest, to shop at Kiddyland. Everyone likes Kiddyland.
You can read more about Harajuku here on Huffington Post with my guide to Takeshita Dori, and Omote Sando.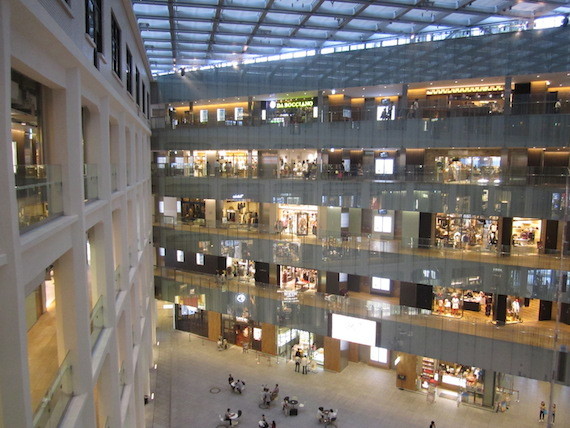 Inside the Kitte Building mall. Photo by Gail Nakada.
JP Kitte Building across from Tokyo Station
This is one local tourist destination most foreign visitors don't even know exists. The building held the old Tokyo Central Post Office (JP stands for Japan Post). During the renovations of Tokyo Station and Marunouchi, they gutted the interior of the landmark building, transforming it into an airy shopping and dining mall.
It's just across the street from the Yaesu exit (to your left with the station at your back). Famous regional restaurants in the basement make it worth a stopover for foreign visitors if you're in the area. The compact, satellite dining spots specialize in delicacies from different parts of Japan. They are fast, fun, and affordable.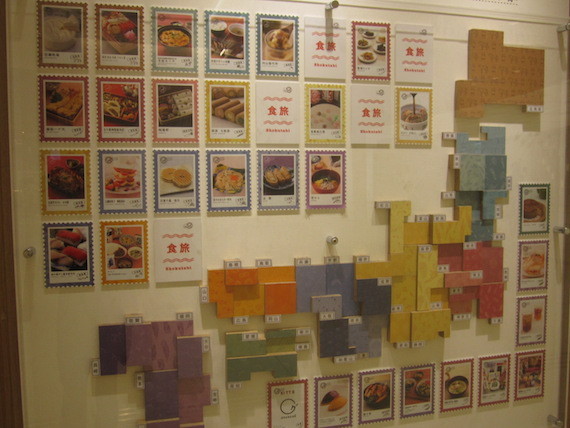 The map by the B1 escalator shows where all the restaurants are from. Photo by Gail Nakada.
In the center of the basement are venues selling rare (in Tokyo) regional cookies, crackers, and savory treats to take away. On my last trip, I found Shochu-liquor filled chocolates from Satsuma, Kyushu! Japan Post themed goods at several shops upstairs make for interesting souvenirs and the rooftop garden has a great view of the Shinkansen platforms across the street.
Most foreign visitors plan a stop at many of the places on this list. In my opinion, definitely add the Kabuki-Za theater and Ichi Ban Cho in Tokyo Station to your own.
If you go to the Kabuki-Za, pause at the tiny Shinto Shrine dedicated to the God of Rice, Inari-san. Little Inari Shrines are hidden all over the Ginza area, a favorite with shop owners and workers to ask for luck in business. (It's near the escalator to the basement.)
Two more places Japanese visitors are excited about (but which you might not be):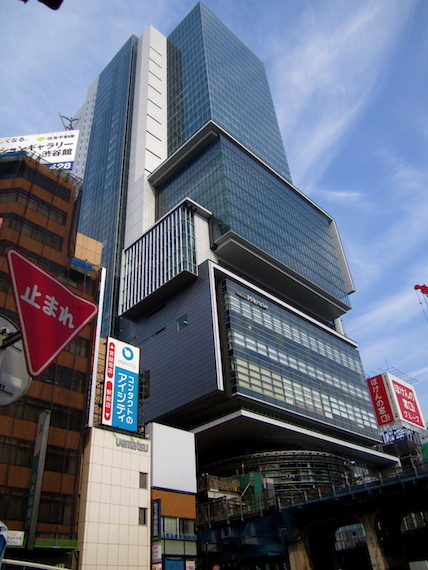 Hikarie, Shibuya. Photo by Gail Nakada.

Shibuya Hikarie Building
Any new building opening in a popular district must be investigated by reporters, TV crews and tourist magazines. The Hikarie Building is no longer new, however, as it sits atop a giant transportation hub, it's hard to avoid. The Japanese can't seem to get enough of Hikarie and the building's tiny, overpriced shops.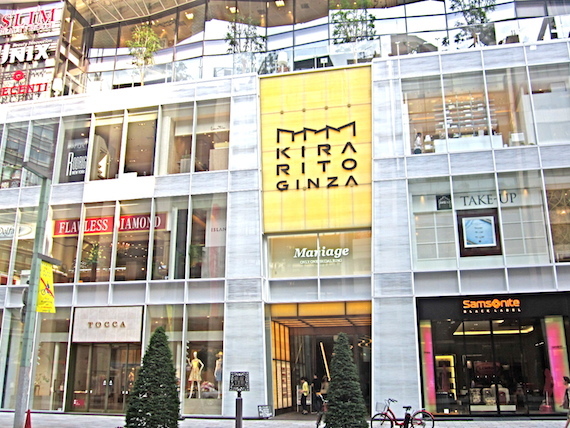 Ginza's Kirarito. Photo by Gail Nakada.
Kirarito Building
This is definitely not on your radar. Nor should it be. The building at the far end of Ginza towards Nihonbashi houses several upscale jewelers and is targeted at women, especially brides-to-be. Like Hikarie, it's shiny and new and therefore must be written about, visited, and duly photographed by visitors. It makes a nice Ginza photo-op at night, otherwise, don't bother.